---
Chamber Partners
Emerald Partner
---
Platinum Partners


---
Silver Partners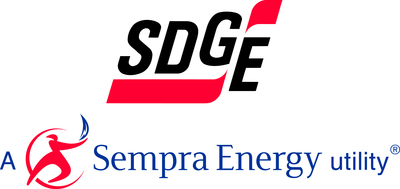 ---
Bronze Partners




---
Investors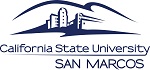 ---
---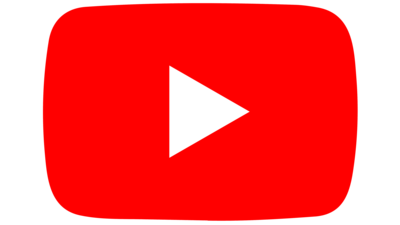 ---
---
---
*NEW*
---
10/14/2021
9:00 AM - 1:00 PM
Active Lifestyles Expo (Oceanside Senior Expo)
10/16/2021
10:00 AM - 12:00 PM
Blessed and Boujee Grand Opening Celebration
10/18/2021
8:00 AM - 9:00 AM
Military Affairs Forum
11/04/2021
8:00 AM - 9:30 AM
Emerging Issues Forum: Update on San Retention Pilot Program
---
Oceanside Emergency Operations Center Closely Monitoring Impacts of Oil Spill
Early Education Provider Preventing Spread of COVID-19
Dia de los Muertos - Largest Festival in San Diego
Scripps Gives 1,500 COVID-19, Flu Shots at Del Mar Fairgrounds Vaccine Station on First Day of Operation
Cox Presents: "Salute to Teachers" television special to air Sunday, Oct. 17 at 9 p.m. on YurView Network
Nominate an Outstanding Teacher for SDCCU Classroom Heroes®
Open this email in your web browser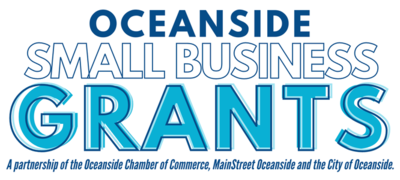 Oceanside Chamber and MainStreet Oceanside Partner to Manage City of Oceanside's Small Business Grant Funds
On March 11, 2021, the American Rescue Plan Act (ARPA) was signed into law, allocating $32.3 million of Coronavirus State and Local Fiscal Recovery Funds to the City of Oceanside. On August 4, 2021, City Council approved the spending plan for the City's first distribution of ARPA funds, which includes $300,000 to be used for grants to businesses negatively impacted by COVID-19. MainStreet Oceanside and the Oceanside Chamber of Commerce will manage grant programs to disburse the funds to eligible Oceanside businesses. MainStreet will manage a grant program for eligible Downtown businesses, and the Chamber will manage a grant program for businesses citywide (outside of MainStreet's District). More details and application.
---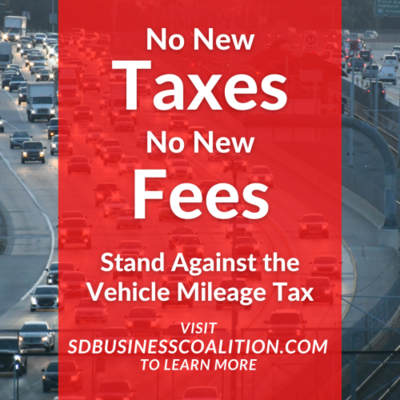 Join us in Making Your Voice Heard
In 2021, 18 Chambers of Commerce came together to form the San Diego Business Coalition. Our goal is to educate the community and businesses about proposed policies that will negatively impact San Diegans.
San Diego Elected Officials are looking to impose a new VEHICLE MILEAGE TAX to charge drivers PER MILE that we drive. This pilot program will then be implemented for all California drivers.
80-cent-per-gallon INCREASE - The Vehicle Mileage Tax would require tracking every driver's mileage and charging them $0.04-$0.06 per mile they drive. That is the equivalent of an $0.80 per gallon increase in gas tax.

$600-800 a year - The typical San Diegan driver will be forced to pay $600-800 more a year to drive on roads they already paid for with the original gas and sales taxes. When added with the current car and gas tax, a two-car family is looking at over $3,000 a year in taxes.

LOSS OF PRIVACY - The Mileage Tax is an invasion of privacy with a tracking requirement that is still being decided by the government. Proposals include a device installed in every vehicle, a tracking app on cell phones, or your odometer being inspected annually.
You Don't Get a Vote - Our elected officials are voting on this with Sandag and we encourage you to understand what this tax means to you and make your voice heard if you oppose it. Join us in making your voice heard here.
---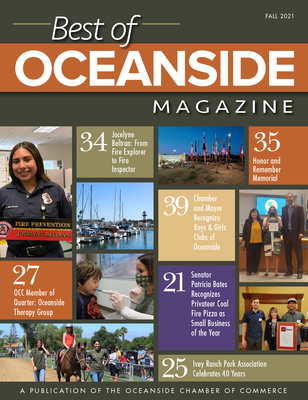 Read the 2021 Fall Edition of the Best of Oceanside Magazine
The fall edition of the Oceanside Chamber's Best of Oceanside Magazine is here! This edition highlights local Oceanside business and news! Our this edition features stories on Oceanside's sport fishing, the Privateer Marketplace and Oceanside Therapy Group. Take an inside look at Oceanside's Cultural Arts District, and check out some of our spots to shop and play local in our new "Shop and Play Local" spotlight. As always, the publication features economic development updates and various members and community news. Read the full publication.
---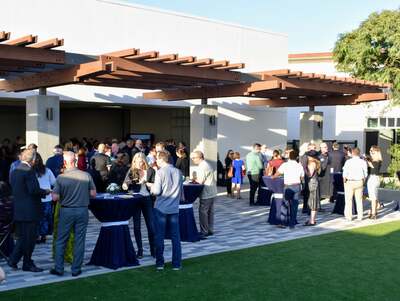 Meet the City of Oceanside Photos Now Available
A huge thank you to everyone who joined us for last Thursday's Meet the City of Oceanside event and the Oceanside Chamber's 125th anniversary celebration. It was a beautiful evening at the new El Corazon Aquatics Center. The event was catered by the O'side Kitchen Collaborative and featured a delicious 125th anniversary cake made by San Luis Rey Bakery & Restaurant. Thank you again to everyone in attendance, including Mayor Esther Sanchez who declared Sept. 30 2021 as Oceanside Chamber of Commerce Day. See photos.
---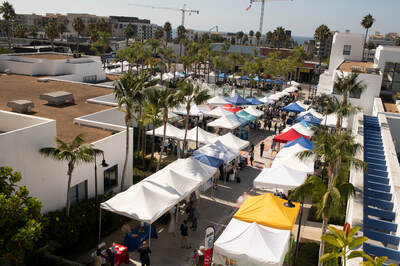 Active Lifestyles (Oceanside Senior) Expo Tomorrow
Thursday, October 14, 2021
9:00 AM - 1:00 PM
Oceanside Civic Center Plaza
300 N. Coast Hwy
Oceanside, CA 92054
This popular event will feature health-related businesses, non-profits and senior organizations. In addition, exhibitors have an opportunity to offer variety of free health-related screenings and demonstrations for the public. The event is free to the public. Booth space is available for businesses interested in promoting their products or services. More details. Download a booth registration form.
This event could not occur without corporate sponsorship. We provide our sponsors with an excellent branding opportunity, beyond what just a booth space can offer. Contact the Chamber at 760-722-1534 or email to learn about the marketing and promotional opportunities gained by sponsoring this event. Sponsorship information.
---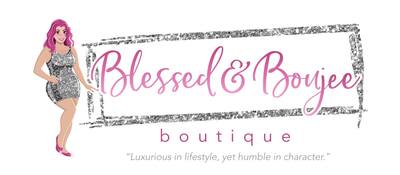 Blessed and Boujee Boutique Grand Opening Celebration
Saturday, October 16, 2021
10:00 AM - 12:00 Noon
Blessed and Boujee Boutique
4171 Oceanside Blvd., Suite 102
Oceanside, CA 92056
Did you know "Boujee" means luxurious in life style, yet humble in character? Blessed & Boujee Boutique inspires women to shop confidently! Join us for their Grand Opening celebration on Saturday, October 16th at 10am. Blessed and Boujee Boutique is located at 4171 Oceanside Blvd Suite 102 off College Blvd. The new Boujee Boutique offers accessories, shoes, fun gifts, and stylish clothing for all women including those blessed with curves! The 1st 50 people at the grand opening celebration will receive a complimentary swag bag. This event is free and open to the public, so come out and show the new Blessed and Boujee Boutique some love! More details and registration.
---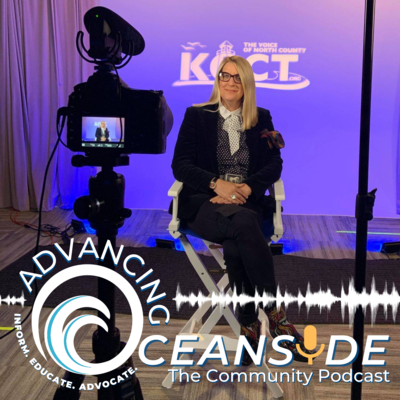 4. Giving a Voice to the Voiceless - KOCT Celebrates 40 Years | Carly Starr, Executive Director
Today on the Advancing Oceanside Podcast we are celebrating another 40 year anniversary! Joining us is Carly Starr, Executive Director for KOCT, the Voice of North County. Before coming to KOCT, Carly was an award-winning filmmaker and the founder of Love Machine Films. After leaving her hectic Hollywood life, Carly brought that same passion for film and story-telling to KOCT. Carly explains she strives to give a voice to the voiceless, and that's just what KOCT does. KOCT is a non-profit, live stream peg outlet partially funded by the City of Oceanside and powered by Cox Cable. The organization commits to programming the issues that directly impact the everyday lives of Osiders and aims to keep locals well-informed and actively engaged with the latest Oceanside news. They have consistently remained the voice of North County. Listen on Apple Podcasts. Listen on Spotify. Watch full interview.
---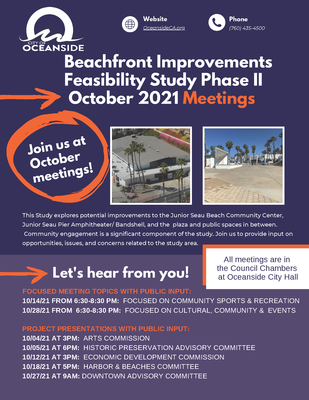 The City of Oceanside's Beachfront Improvements Feasibility Study Phase II October 2021 Meetings
The City of Oceanside is currently in the "discovery" phase of the Beachfront Improvements Phase II study effort. Please join the City for a presentation and an opportunity to provide feedback at the meetings listed in the link below. Two additional public outreach meetings have been scheduled that will specifically focus on programs and event uses at the Junior Seau Beach Community Center and the Junior Seau Pier Amphitheater/Bandshell. Community engagement is a significant component of the study. Join us to provide input on opportunities, issues, and concerns related to the study area. More details, meeting times and registration.
---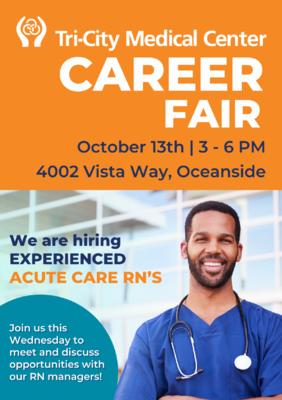 Tri-City Medical Career Fair Today!
Wednesday, October 13, 2021
3:00 PM - 6:00 PM
Tri-City Medical Center
4002 Vista Way
Oceanside, CA 92056
Join Tri-City Medical Center Wednesday, October 13th from 3 PM - 6 PM to meet and discuss opportunities with their RN managers! They are hiring experienced Acute RN's to join their successful team! More details.
---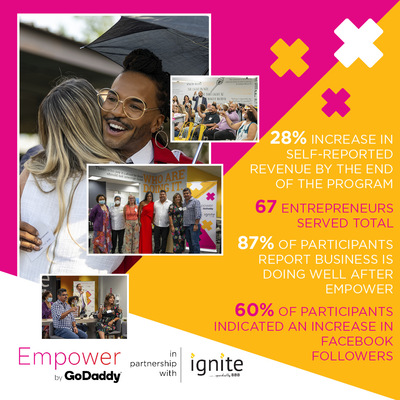 Free BBB Business Accelerator with GoDaddy
Empower by GoDaddy is GoDaddy's global community and philanthropic program equipping entrepreneurs in underserved communities with training, tools and peer networks to accelerate their journeys. Better Business Bureau® Serving the Pacific Southwest (BBB) launched Empower by GoDaddy to deliver this education to Main St. entrepreneurs who want to ignite their venture. This multiweek program is a premier Main St. Accelerator and only accepts a limited number of applicants per cohort. More details and application.
---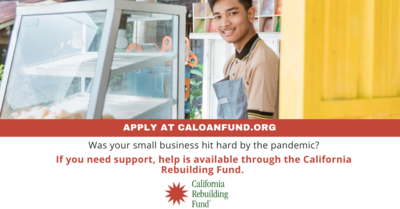 The California Rebuilding Fund is Here to Help Small Business
With the uncertainty stemming from the COVID-19 Delta variant, California's small businesses need access to flexible, affordable credit as well as business support to stay afloat and rebuild. We're helping spread the word about the California Rebuilding Fund, a partnership between public and private sector entities to provide California small businesses – particularly businesses in underbanked parts of the state – with capital to help them survive and rebuild from this crisis. The fund offers loans which have transparent terms and are designed to help sustain small businesses during these challenging economic times. The funds are administered by participating community lenders. Businesses with up to 50 full-time employees and gross revenues of $5 million or below in 2019 may be eligible to apply for loans up to $100,000. More details.
---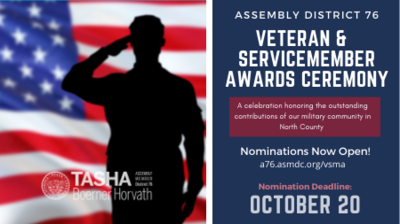 AD 76 Veteran and Service Member Awards
On November 10, 2021, Assemblymember Tasha Boerner Horvath will be holding the Veteran and Service Member Awards ceremony for the 76th Assembly District. This special recognition is the only one held in the Assembly from nominations directly from the community. Please consider nominating your favorite North County Veteran, Service member, military spouse, or young trailblazer for the 76th Assembly District's 2021 Veteran and Service member Awards. Nominees must live or work in the 76th Assembly District. Nominations can be submitted online now until Wednesday, October 20, 2021. More details.
---

McClellan-Palomar Airport: Master Plan Update
Thank you to everyone who participated in the County's virtual informational meeting on September 29, 2021 for the McClellan-Palomar Master Plan and Program Environmental Impact Report. For those could not attend, the Master Plan website has been updated to include resources from the informational meeting, including:
As explained in the County's presentation, we are seeking public input on several key items. We encourage you to participate by completing the survey before October 6, 2021. The answers will be collected and reviewed by staff to share with the Board of Supervisors at the hearing tentatively scheduled for November 3, 2021. If you have any questions, please email PalomarMP@sdcounty.ca.gov. Take survey.
---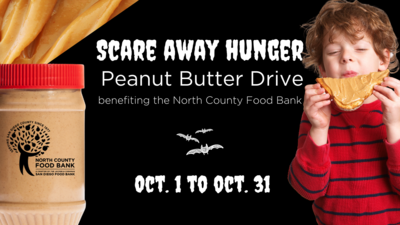 Feed Hungry Kids! Donate to the Scare Away Hunger Virtual and In-Person Food Drive
Benefiting the North County Food Bank
October 1 - October 31
Every day, 1 in 5 kids faces hunger in North County. The North County Food Bank needs your help to provide nutritious food to households with children living in poverty. The Food Bank is seeking donations of peanut butter because it is an excellent source of protein for children in need. You can make a difference in the lives of your North County neighbors. This year, the Oceanside Chamber is offering both in-person and virtual donations. In-person donations can be dropped off at the Oceanside Chamber offices. Please donate jars of peanut butter virtually by shopping our Virtual Food Drive throughout the month of October. Donate now!
---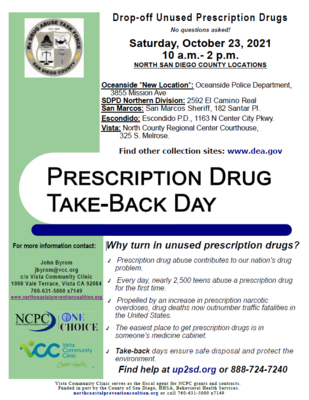 Prescription Drug Take Back Day
Saturday, October 23, 2021
10:00 AM - 2:00 PM
Oceanside Police Department
3855 Mission Ave.
Oceanside, CA 92058
The North Coastal Prevention Coalition is hosting another Prescription Drug Take Back Day on Saturday, October 23rd from 10 AM - 2 PM. The Oceanside location will be at the Police Department located at 3855 Mission Ave. Oceanside, CA 92058. Other drop-off locations include:
SDPD Northern Division: 2592 El Camino Real

San Marcos: San Marcos Sheriff, 182 Santar Pl.

Escondido: Escondido P.D., 1163 N Center City Pkwy.

Vista: North County Regional Center Courthouse, 325 S. Melrose.
---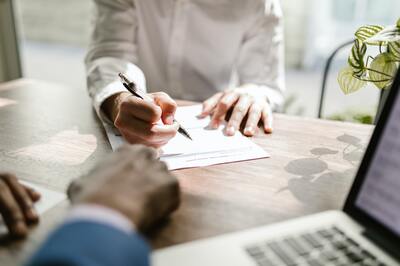 Group Life Insurance Available to OCC Members/Employees
Groups who enroll five or more employees are eligible for up to $50,000 of guaranteed issue life insurance, up to $20,000 for their spouse or domestic partner and $10,000 for their dependents. The program is voluntary, and employers are not required to pay for any of the insurance. There are no health questions, no physical exams and no doctor reports. Males and females pay the same premiums and non-smoker rates will apply for everyone. For groups enrolling 20 or more employees, the guaranteed issue increases to $100,000.
Joel Marcus, a chamber member and our broker for this program, is available to answer any questions you may have. Joel can be reached at (760) 804-6233 or jmaflac@aol.com.
---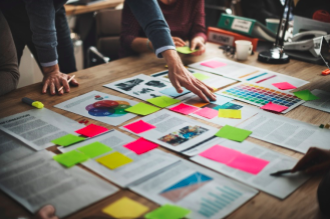 Disasters Don't Plan Ahead But You Can
(Source: SDG&E)
An estimated 25% of businesses don't open again after a major disaster, according to the Institute for Business and Home Safety. Protect your business by identifying the risks relevant to your location, both natural and man-made. Then, keep your plan of action updated.More details.