In This Issue:
Chamber Support of AB 1588 (Gloria/Gray)

City Seeks Sand Retention Project

City Council and Business Leaders Roundtable

Innovative Project Planned for Drive-In Location

Chamber's Support of City's Application for Clean Water State Revolving Fund (CWSRF) and Water Recycling Funding

Chamber's Annual Strategic Planning Session

OYPN Downtown Update with MainStreet Oceanside at Kilowatt Brewing

Thank You to Our Partners:
Emerald Partner:
​​​​​

---
Platinum Partners:



---
Silver Partners:
---
Bronze Partners:

---

The Chamber & the Community!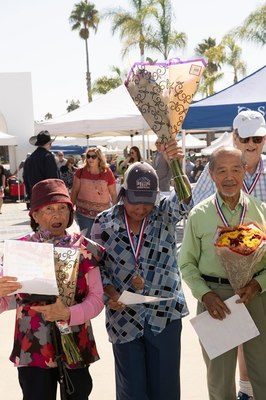 The Oceanside Senior Expo was held Thursday, October 10, 2019. It was a sold out event with over 80 exhibitors and record crowds. The event was sponsored by Kaiser Permanente, Tri City Medical Center and Primary Care Associates. Oceanside residents were chosen as City of Oceanside's Senior Volunteer of the Year of 2019: Anita Romaine and Linda Walshaw were selected for their volunteer activities and community involvement.

11/5/2019
8:00 AM - 9:00 AM
First Tuesday Coffee
11/7/2019
8:00 AM - 9:30 AM
Emerging Issues Forum
11/7/2019
10:00 AM - 11:00 AM
OYPN Committee Meeting
11/8/2019
9:00 AM - 10:00 AM
New Member Breakfast
11/12/2019
5:00 PM -6:30 PM
Business After Hours at Barrel Republic
11/14/2019
8:00 AM - 9:00 AM
Military Affairs Forum
11/15/2019
11:30 AM - 1:00 PM
Plates for 8 at Harney Sushi
11/20/2019
8:00 AM - 10:00 AM
Coffee with a Cop