Helping Businesses Prosper and our Community Thrive!
Your investment in the Oceanside Chamber is making a difference in our community! The Chamber's mission is to "stimulate economic prosperity and foster a vibrant community." Here's a quick overview if what your investment in the Chamber allowed us to accomplish in the recent weeks...

Economic Recovery
Earlier this year, the Chamber launched a new Economic Recovery Task Force made up of representatives from the business community, arts and culture community, City of Oceanside, Visit Oceanside and MainStreet Oceanside. Current promotions include…
What's Happening in Oceanside: To encourage return visits to Oceanside, the Chamber, in partnership with Visit Oceanside and MainStreet Oceanside, developed a new "What's Happening in Oceanside" window sticker to be placed at businesses through the City. The sticker features a QR code linking to Visit Oceanside's Events calendar.
Stay and Play Local Promos: The Chamber is leveraging the strong circulation of its Best of Oceanside Quarterly Journal for the purposes of Economic Recovery. The 2 newest features in the Journal include a "Stay and Play" local spread highlighting some of Oceanside's small retail, dining and entertainment establishments. A section highlighting the Oceanside Cultural Arts District has also been added.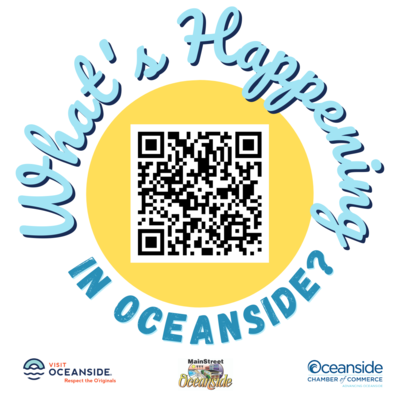 ---
Workforce Development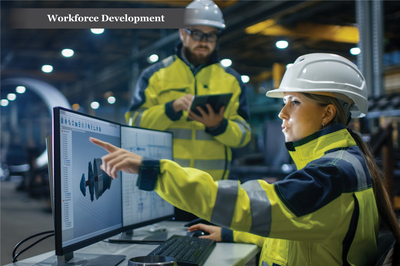 The Chamber Debuts New Workforce Development Program
In April, the Chamber launched its new workforce development program. Part of its Advancing Oceanside Workforce Development Initiative, the program plans to conduct a needs analysis to develop a thorough understanding of the short-term and long-term workforce needs of Oceanside's business community as well as explore opportunities for training of youth, transitioning our service members into the civilian workforce, and re-skilling of workers displaced by COVID-19 in order to prepare them for employment in emerging industries.
The program's coordinator, Victoria Carlborg, has been partnering with employers, employees, job seekers, and training providers such as the Oceanside Unified School District's Career and Technical Education Program (see the article on this page) in order to understand what their needs are and bridge any gaps and barriers through our health and economic recovery. An expanded Chamber website and job bank will connect members with resources to support that recovery and help keep Oceanside prosperous. To collaborate on your workforce development needs, please reach out to our coordinator at victoria@oceansidechamber.com.
Workforce Development Grant Awarded
The Oceanside Chamber has joined with the Carlsbad and Vista Chambers along with the San Diego North EDC and Tri-City Medical Center in the SOCAL workforce development initiative. Created by Tri-City Medical Center, SOCAL stands for Student Opportunities for Career Awareness and Learning.
The initiative will initially feature the development of a video library comprised of virtual tours and interviews with more than 30 businesses in high growth industries in the Tri- City region. The EDC and Chambers have been awarded a grant from San Diego County Supervisor Jim Desmond for the development of the website, video library and production of the first run of videos.
The organizations will partner with the Career Technical Education (CTE) programs at the Carlsbad, Oceanside and Vista School Districts for distribution and promotion of the videos to local students.
According to Oceanside Chamber CEO, "This program is a great opportunity to raise awareness among our students regarding the many great opportunities for careers in their own backyards. Not only do we want the students to learn about the businesses, but we want to increase their awareness of the great educational resources, such as MiraCosta College's Technical Career Institute, that can help them prepare for these opportunities".
---
Strategic Planning
As part of the development of its 5-year strategic plan, the Chamber facilitated a series of 5 business roundtables that included over 50 local business leaders. Participants were asked for their input as to what they thought were the key issues impacting Oceanside's economy and business community. They were also asked to help prioritize the issues that the Chamber should focus on over the next several years. Key issues that emerged consistently during these sessions included homelessness and safety, workforce availability, cost of housing/cost of living, impacts of legislation/regulations, and traffic/parking.
The Chamber staff and board will take this input into upcoming sessions with a strategic planning facilitator and will finalize and publish its 5-Year Strategic Plan before the end of the year.
Public Policy/Business Advocacy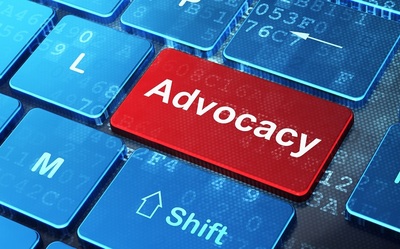 The Oceanside Chamber of Commerce signed on to numerous statewide coalition letters on business related legislation and played a role in helping defeat several anti-business bills. Bills stopped for the year included…
AB 1316: anti-charter legislation which would have fundamentally damaged the operations and missions of California's 1,300 charter public schools and erode services for hundreds and thousands of California's most vulnerable students.
AB 257: would have undermined the existence of the franchise model by holding franchisors responsible for all conduct by individual franchisees.
AB 1119: would have added any individual with "family responsibilities" as a protected class to the Fair Employment and Housing Act (FEHA), creating an automatic basis for an individual in that new classification to challenge any adverse employment action.
SB 213: would have expanded costly presumption of injury and significantly increased workers' compensation costs for public and private hospitals by presuming certain diseases and injuries are caused by the workplace and would have established an extremely concerning precedent for expanding presumptions into the private sector.
AB 995: would have imposed significant costs on small businesses by amending the Healthy Workplaces, Healthy Families Act (the Act) to increase the number of paid sick days employers are required to provide from 3 days to 5 days.
AB 650: would have imposed at least an estimated $6 billion in direct payroll costs on healthcare providers, which have lost billions of dollars during the pandemic, jeopardizing access to affordable healthcare for Californians.