---
Chamber Partners
Emerald Partner
---
Platinum Partners


---
Silver Partners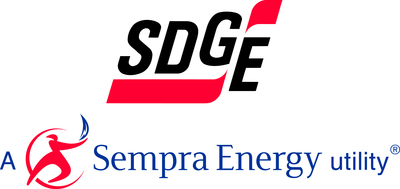 ---
Bronze Partners




---
Investors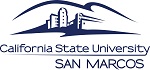 ---
---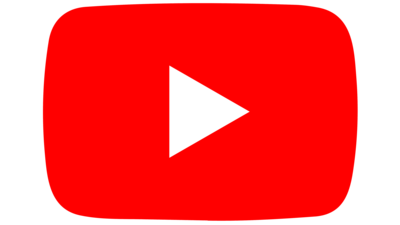 ---
---
---
*NEW*
---
11/18/2021
8:00 AM - 9:00 AM
Military Affairs Forum
12/04/2021
8:00 AM - 9:30 AM
Emerging Issues Forum: Oceanside's Economic Development Update
12/04/2021
12:00 PM - 1:o0 PM
Oceanside Young Professional Network Meeting
12/07/2021
7:45 AM - 9:o0 AM
Rising Star Breakfast
12/14/2021
8:00 AM - 9:o0 AM
Second Tuesday Coffee
---
MiraCosta College Launches New Virtual Tour Video
Cox Charities Awards $180,00 in Grants to Support Local Non-Profits
Oceanside Senior Volunteer of the Year Announced
Early Education Provider Preventing Spread of COVID-19
Scripps Gives 1,500 COVID-19, Flu Shots at Del Mar Fairgrounds Vaccine Station on First Day of Operation
Open this email in your web browser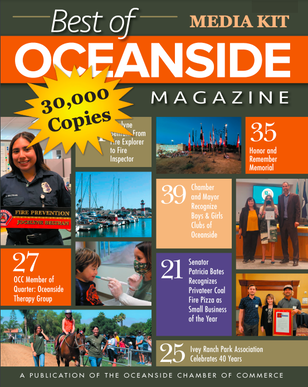 Best of Oceanside Magazine Ad Deadline Nov 18th - Distribution Expanded to 30,000 Copies
Have you considered how an ad in the Best of Oceanside Magazine? We can help expand your business' reach in Oceanside! For the next quarter, the Chamber is doubling their printing distribution to 30,000 copies of the Magazine, with over 10,000 direct mailed to local business and residents. The Magazine features a wide variety of topics of interest to residential and business communities and those who work and do business in Oceanside. In each edition, readers will find human interest stories, updates on local businesses, arts & culture highlights, community events and more. For more information on advertising opportunities, please contact the Chamber 760-722-1534 or by email at info@oceansidechamber.com.

Download Media Kit
Download Advertising Agreement
---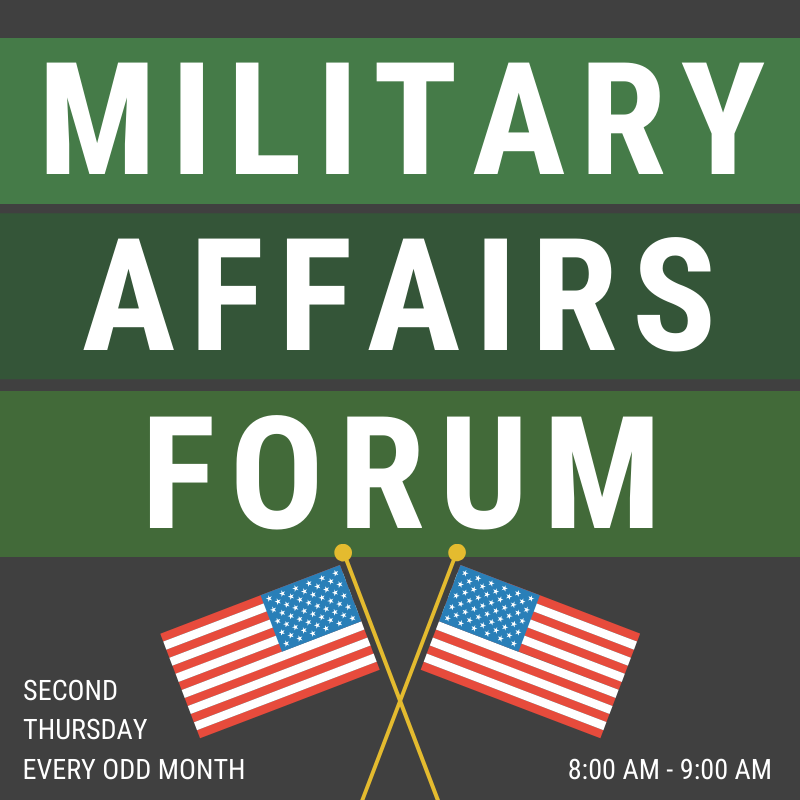 Military Affairs Forum

Oceanside Chamber
928 N Coast Hwy.
Oceanside, CA 92054
The Oceanside Chamber of Commerce Military Affairs Forum provides an avenue for Oceanside Chamber members to learn about key issues relating to Oceanside's relationship with Marine Corps Base Camp Pendleton and the servicemembers serving on the base. This meeting is open to all Oceanside Chamber members and invited guests only, and will be held the third Thursday of this month (odd numbered months), from 8am to 9:00am in the Oceanside Chamber conference room. More details and registration.
---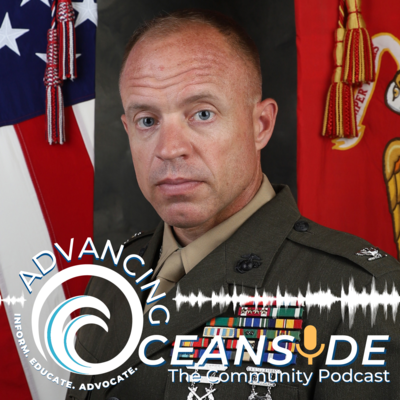 5. Marine Corps Base Camp Pendleton Update | Colonel Daniel M. Whitley, Commanding Officer, Headquarters And Support Battalion
On today's episode of the Advancing Oceanside Podcast, we have a very special guest. Joining us is Col. Daniel Whitley, Commanding Officer of the Headquarters and Support Battalion for the Marine Corps Base Camp Pendleton and the liaison to Oceanside for all things military-related. An extremely decorated officer, Col. Whitely has worked internationally in a variety of roles providing him with a significant amount of expertise and knowledge. Our interview covers a very time-sensitive, relevant information including the impacts of the pandemic on military readiness, the United States withdrawal from Afghanistan, and how the Marine Corps is preparing for national security threats. This interview provides a great amount of detail on military activities for those interested on staying informed. Watch on YouTube. Listen on Apple Podcasts.Listen on Spotify.
---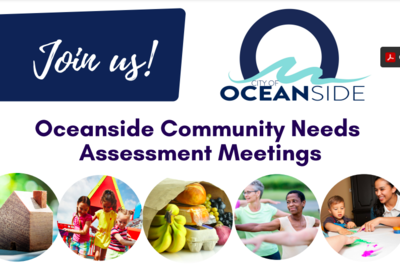 Oceanside Community Needs Assessment Meetings
As the City of Oceanside prepares to receive direct funding through the American Rescue Plan Act (ARPA), City leaders recognize the importance of engaging directly with residents to assess needs and explore how the funding can best align with local priorities. Meetings will be held throughout the City to hear from community members. Please join them at a meeting to provide your input!
Tuesday, November 9, 2021, at 6:00 p.m. at the Civic Center Library Community Rooms located at 330 N. Coast Highway
Wednesday, November 10 at 6:00 p.m. at the El Corazon Aquatic & Event Center located at 3306 Senior Center Drive
Tuesday, November 16 at 6:00 p.m. at John Landes Recreation Center located at 2855 Cedar Road
Monday, November 29, 2021 at 3:00 p.m. VIRTUAL MEETING via Zoom
Thursday, December 9, 2021, at 7:00 p.m. at Bishop Recreation Center located at 5306 N. River Road
---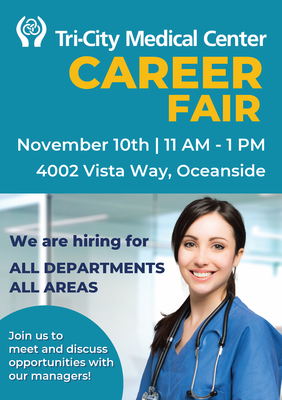 Tri-City Medical Career Fair
Wednesday, November 10, 2021
11:00 AM - 4:00 PM
Tri-City Medical Center
4002 Vista Way
Oceanside, CA 92056
Join Tri-City Medical Center Wednesday, November 10th from 11 AM - 4 PM to meet and discuss opportunities to work in any of Tri-City Medical Center's Departments. They are currently hiring for all positions to join their successful team!
---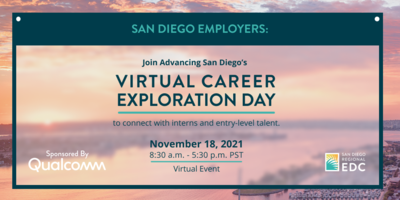 ASD's Virtual Career Exploration and Recruitment Fair
Thursday, November 18, 2021
8:30 AM - 5:30 PM
Online Event
On November 18, EDC invites your company to join us for Career Exploration Day, a program of Advancing San Diego and underwritten by Qualcomm.Companies across the region are struggling to find and hire entry level talent to support their growth. For direct access to San Diego students and new grads, join us on screen for a day of networking and recruiting, sharing industry and professional insights, and spotlighting all that San Diego and its companies have to offer students entering the workforce.We're looking for San Diego companies, large and small, to host recruiting booths among other talent and industry engagement opportunities. More details.
---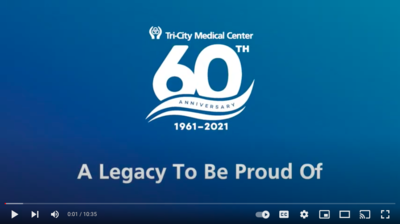 A Legacy To Be Proud Of | Tri-City Medical Center's 60th Anniversary Retrospective
Join us for a video retrospective of Tri-City Medical Center's first 60 years of commitment to the health and wellness of Carlsbad, Oceanside, Vista and our surrounding communities. Watch full video.
---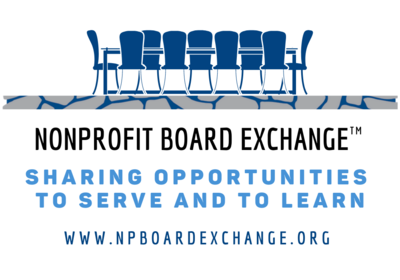 Nonprofit Board Exchange Sharing Opportunities to Serve and to Learn
Last month, with the support of over 13 community partners, Fieldstone Leadership Network San Diego launched the Nonprofit Board Exchange in hopes of expanding and equalizing opportunities for individuals to serve as nonprofit board members. The site also includes information on local educational offerings focused on board leadership. More details.
---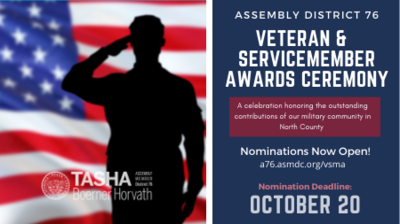 AD 76 Veteran and Service Member Awards
Wednesday, November 10, 2021
2:00 PM - 4:00 PM
VANC
1617 Mission Ave
Oceanside, CA 92056
Assemblymember Boerner Horvath will be hosting a public in-person awards ceremony with the honorees and their families at the Veterans Association of North County Resource Center on Wednesday, November 10, 2021, from 2:00 p.m. – 4:00 p.m. A live stream of the event will be featured on Assemblymember Boerner Horvath's website. The program will feature a special guest presentation of "Old Glory" by Evangelo "Vann" Morris and a musical performance by the Oceanside High School Choir. The public is invited to join, space permitting, to take part in celebrating this group of individuals and organizations. This event will be held indoors, and attendees will be required to wear face coverings at all times. The event will also be available via livestream here. Those interested in participating in person can RSVP via email here or by calling (760) 434-7605. More details.
---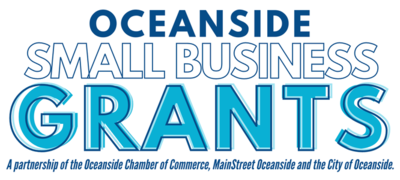 Small Business Grants Available - Application Deadline is Nov 19th
On March 11, 2021, the American Rescue Plan Act (ARPA) was signed into law, allocating $32.3 million of Coronavirus State and Local Fiscal Recovery Funds to the City of Oceanside. On August 4, 2021, City Council approved the spending plan for the City's first distribution of ARPA funds, which includes $300,000 to be used for grants to businesses negatively impacted by COVID-19. MainStreet Oceanside and the Oceanside Chamber of Commerce will manage grant programs to disburse the funds to eligible Oceanside businesses. MainStreet will manage a grant program for eligible Downtown businesses, and the Chamber will manage a grant program for businesses citywide (outside of MainStreet's District). More details and application.
---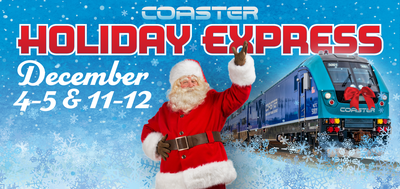 The COASTER Holiday Express is BACK and IN-PERSON!
Join the North County Transit District on December 4th, 5th, 11th, or 12th for a magical, in-person experience as we travel the coastline on the COASTER Holiday Express! Santa Claus and his merry carolers will join us for an hour of fun with songs, gifts and Santa wish list reading! Reserve your tickets!
---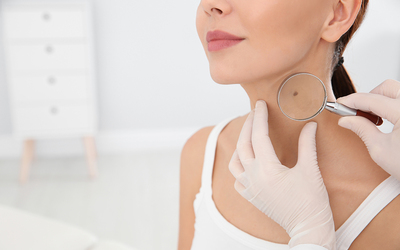 When Should I Get a Skin Cancer Screening?
(Source: Scripps Health)
Skin cancer is an ongoing health problem in the United States. More than two people die of skin cancer in the US every hour. One in five Americans will be diagnosed with some form of skin cancer in their lifetime. While skin cancer is the most common type of cancer, it is also one of the easiest to treat when detected early. More details.
---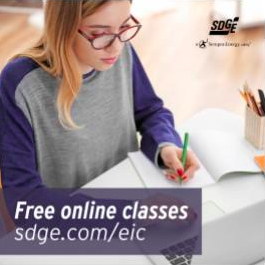 Take Advantage of No-Cost Training from Energy Experts
(Source: SDG&E)
Did you know that SDG&E provides webinars for business owners and trade professionals, and most are at no cost? You or your employees can learn about the latest in green building practices, technology and energy-saving solutions from industry experts. More details.