---
Chamber Partners
Emerald Partner

---
Platinum Partners


---
Silver Partners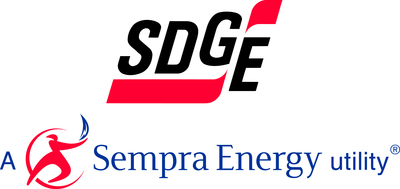 ---
Bronze Partners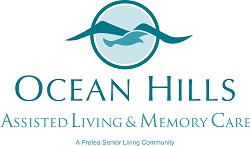 ---
Investors

---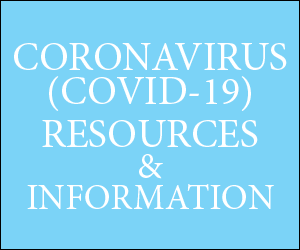 ---
---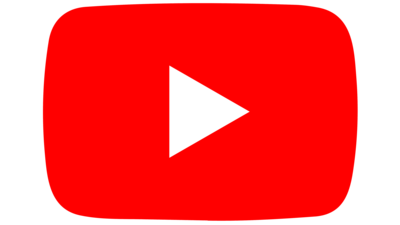 ---
---
Laurie Sloan Kotecki Agency - Farmer's Insurance
Cynthia's Artistic Expressions
---
---
2/25/2021
4:00 PM - 5:30 PM
Joint Thirsty Thursday with the San Fernando Valley, West Hollywood, Culver City and Vista Chambers
2/27/2021
12:30 PM - 5:30 PM
VETART Virtual Pop-Up Community Creative Arts Café with Oceanside Museum of Art
3/2/2021
8:00 AM - 9:00 AM
Virtual First Tuesday Coffee
3/4/2021
8:00 AM - 9:30 AM
Virtual Emerging Issues Forum: COVID-19 Vaccine Rollout Update
3/4/2021
10:00 AM - 11:o0 AM
Virtual Oceanside Young Professionals Network Meeting
3/11/2021
8:00 AM - 9:o0 AM
Virtual Military Affairs Forum
---
5 Tips to Keep Your Heart Healthy
"My Generation Speaks About Race" Writing Contest with the Oceanside Public Library
Black History Month Online Event - History of Black Music and Dance
News from the San Diego County Water Authority Chair: New Aqueduct Could Protect San Diego County Ratepayers
Boys and Girls Clubs of Oceanside Receive LA84 Grant for Scholarships and Families in Need Due to COVID-19
MiraCosta College Brewtech Program Recognized by Master Brewers Association
---
Open this email in your web browser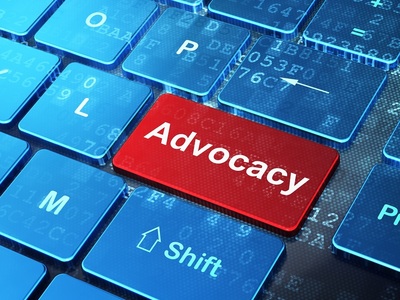 Chamber Joins Coalition to Oppose Paid Supplemental COVID-19 Sick Leave
As the State of California considers imposing a new COVID-19 paid sick leave mandate through the budget process, the Oceanside Chamber of Commerce has joined a Cal Chamber led coalition to oppose these efforts. In an email to Assemblymember Tasha Boerner Horvath, Chamber CEO Scott Ashton wrote, " We respectfully request that the Assemblymember stand in opposition to any new requirements of this type on our business community. Our businesses have not even been allowed to operate at any sustainable level and cannot afford any additional burdens." More details. Read full letter.
---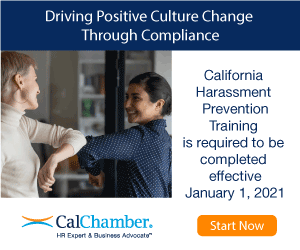 Mandatory Sexual Harassment Prevention Training Available for Discounted Price through the Oceanside Chamber
California law requires all employers with five or more employees to provide sexual harassment prevention training to all employees by January 1, 2021, and then every two years. This mandatory training for supervisors (two hours) and nonsupervisory employees (one hour) must also take place within six months of hire or promotion and again every two years. (Taking these individual-learner courses in a group setting will not satisfy the state requirements.) The Oceanside Chamber of Commerce has partnered with CalChamber to offer a 20% discount for online Employee Harassment Prevention Training, and online Manager/Supervisor Harassment Prevention Training. CalChamber makes it easy to train all your employees and managers to meet your California compliance obligations. More details.
---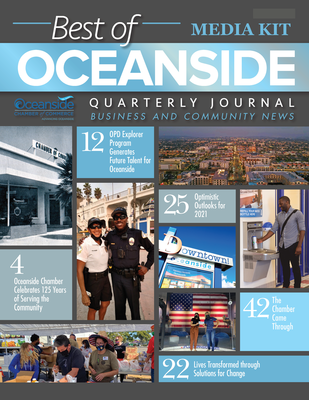 Magazine Mailed Directly to Oceanside Homes and Businesses… Deadline this Friday!
The Best of Oceanside Quarterly Magazine is mailed directly to over 14,000 Oceanside homes and businesses each quarter. The magazine is loaded with interesting articles and valuable information about our community. Your ad in this publication is a great way to reach directly into the mailboxes of potential new customers. The deadline for our Spring 2021 edition is this Friday. To learn more or reserve your space, contact Luis Barbosa at the Chamber at 760-722-1534 or Luis@OceansideChamber.com. Download Media Kit.
---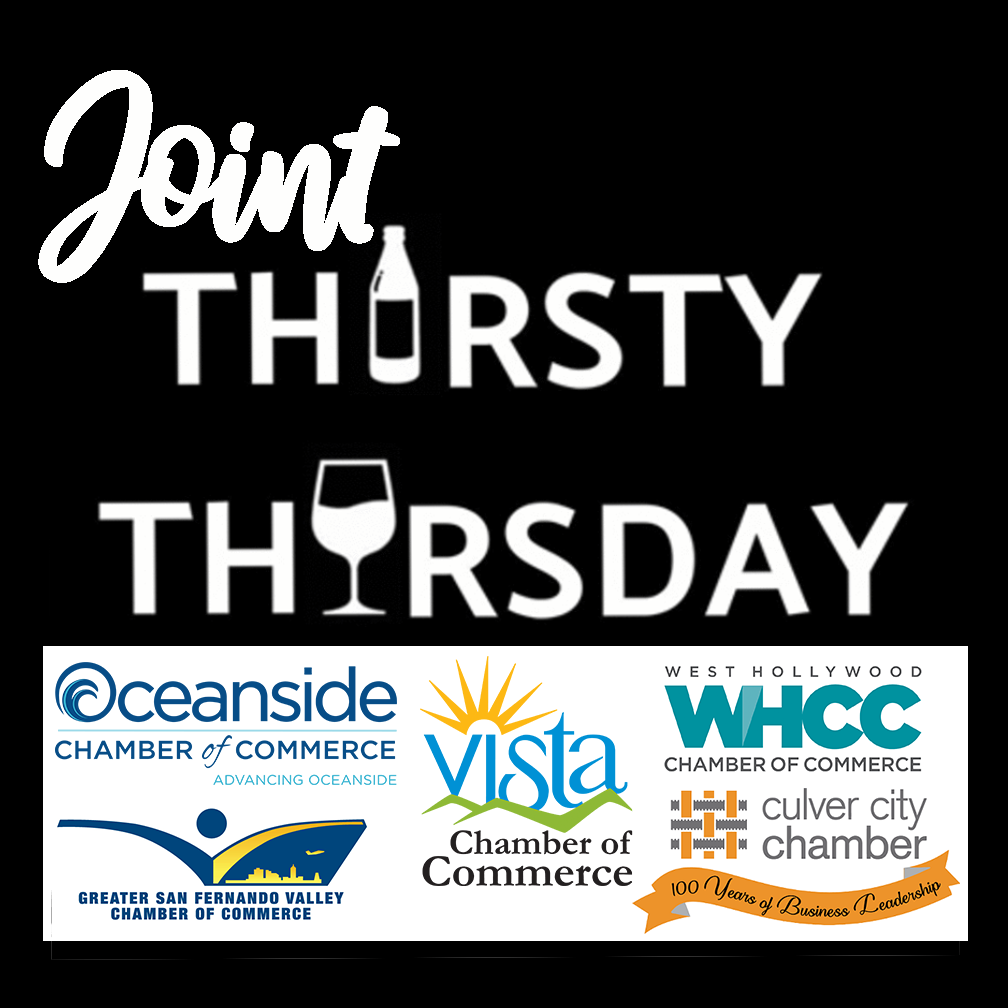 Tomorrow! Joint Thirsty Thursday with the San Fernando Valley, West Hollywood, Culver City and Vista Chambers
Thursday, February 25, 2021
4:00 PM - 5:30 PM
Online Event Via Zoom
The Oceanside Chamber has partnered with the Greater San Fernando Valley, Culver City, West Hollywood and Vista Chambers to bring you a Joint Thirsty Thursday Networking Event! Grab your favorite drink and join us Thursday, February 25th from 4 PM to 5 PM for a special virtual networking happy hour. Conducted in a speed networking format, we look forward to connecting you with other professionals not only in North County, but all the way up into the LA area! This is a great opportunity to meet some new people while maintaining a safe social distance, and is a very popular event hosted through the Greater San Fernando Valley Chamber. More details and registration.
---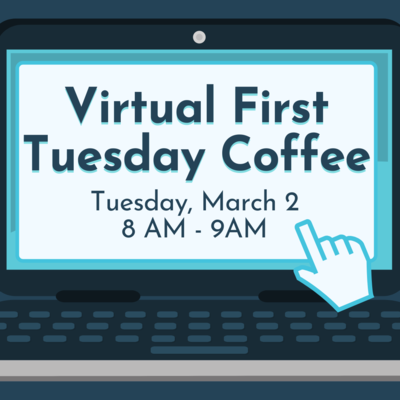 Next Tuesday! March is for Making Connections at the Chamber's Monthly First Tuesday Coffee
Tuesday, March 2, 2021
8:00 AM - 9:00 AM
Online Event via Zoom
Log into the Oceanside Chamber's Virtual First Tuesday Coffee Event. Connect with like-minded businesses over coffee, tea, or whatever your fix is on-the-go! Attendees will have a chance to give a 1-minute introduction and will have access to a participant list to stay connected after the event. The event is powered by Zoom and instructions will be sent via email after you register. This event is free to Oceanside Chamber members and $20 for prospective members. Online registration is required. Not a member? Please contact Luis Barbosa, Business Advocate and Advertising Sales Pro, for information on how to attend the event. For all other questions, please contact our Communications and Outreach Coordinator, Hana Gilbert. More details and registration.
---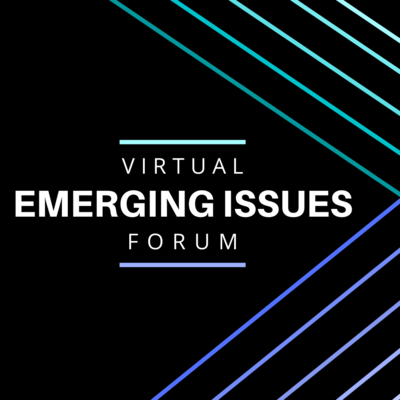 Next Thursday! Virtual Emerging Issues Forum: COVID-19 Vaccine Rollout Update
Thursday, March 4, 2021
8:00 AM - 9:30 AM
Online Event via Zoom
This month's Forum will feature an update on the COVID-19 Vaccine Rollout. Representatives from the County of San Diego Health and Human Services Agency along with Tri-City Medical Center and Scripps Health will give us the lastest details on the distribution of the vaccine. Representatives from Genentech will share about COVID-19 containment strategies used in their company. We will also have updates from our various legislative offices. This meeting is open to all Oceanside Chamber members, and is held the 1st Thursday of every month from 8 AM to 9:30 AM virtually via Zoom. More details and registration.
---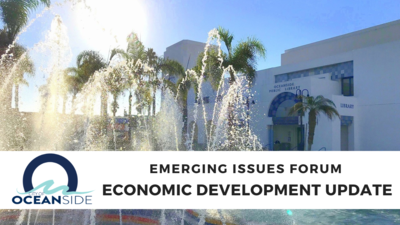 February's Emerging Issues Forum - City of Oceanside Economic Development Update on YouTube
February's Emerging Issues Forum featured the City of Oceanside's Annual Economic Development Update. Oceanside's Economic Development Manager, Michelle Geller provided an overview of recent developments in our City as well as a preview of what we can expect to see in the coming year. There are some exciting projects being proposed for Oceanside, so you won't want to miss this update! More details.
---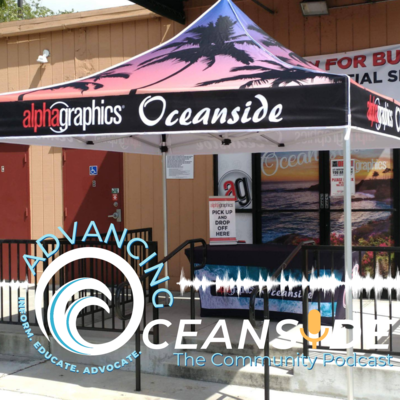 15. Chris Weiner, OYPN Chair & Alphagraphics Outside Sales Manager, Emphasizes Business Relationships & Discusses the Future of Young Professionals in North County
Joining us on this week's episode is Chris Weiner. Professionally Chris is the Outside Sales Manager for Alphagraphics Oceanside, a local, veteran owned, full-service printing and marketing facility. For the Chamber, Chris serves as the new Chair for the Oceanside Young Professionals Network and is an active member in all the Chamber's networking groups. In North County, Chris is a member of the Carlsbad Chamber, a volunteer for MainStreet Oceanside, and co-chair's OUSD's CTE Program. Chris emphasizes how important it is to make and maintain relationships to be successful, explains how the pandemic forced him to step outside the box to establish connections and reach potential clients, provides his tricks to creating memorable interactions, and discusses his plans and goals for the future of young professionals here in North County. Watch full interview. Listen on Apple Podcasts! Listen on Spotify!
---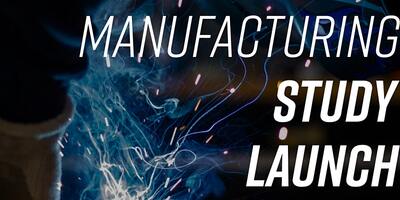 North County Manufacturing Study Launch
Thursday, February 25, 2021
12:00 PM – 1:00 PM
Online Event
Join Innovate78 on February 25 for the launch of our North County Manufacturing Study. Together with manufacturers and community partners, we'll discuss key findings from the report and highlight the industry's economic impact throughout North County and the broader region. More details and registration.
---

VETART Virtual Pop-Up Community Creative Arts Café with Oceanside Museum of Art
Saturday, February 27, 2021
12:30 PM - 5:30 PM
Virtual Event
This inaugural event is hosted in partnership with the Oceanside Museum of Art (OMA), with ongoing support from California's Mental Health Services Oversight and Accountability Commission (MHSOAC). They will be presenting a curated and interactive virtual event featuring California artists who have served in the United States Armed Forces alongside presentations from art and music therapists who work within the community. In collaboration with local communities across the state of California to produce the Pop-Up Cafes, VETART and a series of local partners will also introduce you to mental health resources available in service to our Veteran community. More details, schedule of events and registration.
---

Frontwave Credit Union is Accepting Applications for PPP Loans
As part of their commitment to fighting for their members and the communities they serve, Frontwave Credit Union announced today that they have been approved by the Small Business Administration (SBA) to accept applications for the Paycheck Protection Program (PPP). The Paycheck Protection Program, backed by the U.S. Small Business Administration, is a loan program designed to provide a direct incentive for small businesses to keep their workers on the payroll. Businesses looking for more information can email SBArelief@Frontwavecu.com.
---

Vaccination Site Information


(Source: City of Oceanside)
The County continues to open more vaccination locations. In addition to the Oceanside site in Ocean Ranch, and Tri-City Medical Center, locations have opened in Vista, Carlsbad, and San Marcos. The San Marcos site is dedicated solely to vaccinating seniors; seniors can make an appointment there by calling 211. Some pharmacies and clinics are also receiving vaccines. Active Duty Military and Veterans 75+ may be vaccinated at the Naval Hospital at Camp Pendleton. More details and vaccination site information.
---

COVID-19 Vaccines at TrueCare's Oceanside and Vista Locations
TrueCare™, a nonprofit health care provider in North San Diego and South Riverside Counties, is launching the new COVID-19 Vaccine Clinic at the TrueCare's Loma Alta health center in Oceanside, CA starting on Tuesday, February 16.
The Loma Alta COVID-19 Vaccine Clinic is open Monday-Friday from 8:30 a.m. to 11:30 a.m. at 605 Crouch Street, Oceanside, CA, 92054.
The San Marcos COVID-19 Vaccine Clinic is open Monday-Friday from 1:00 p.m. to 4:30 p.m. in its QuickCare San Marcos location at 150 Valpreda Road, San Marcos, CA 92069. More details.
---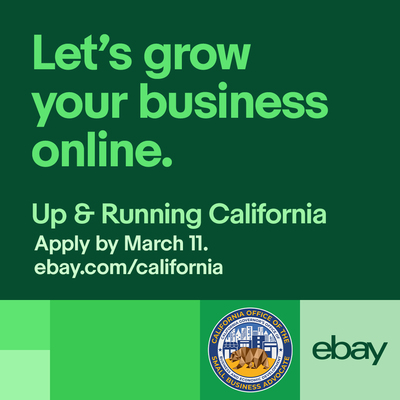 eBay's Up & Running California Program Aimed to Help Small Businesses Grow Online
In partnership with the California Office of the Small Business Advocate, eBay is announcing the launch of the Up & Running California program. Through the program, up to 300 California small businesses will be selected to participate in this six-week interactive ecommerce training program designed to help them get and grow online. Interested businesses must apply to participate in Up & Running California. The application period opens on February 18 and closes on March 11. More details.
---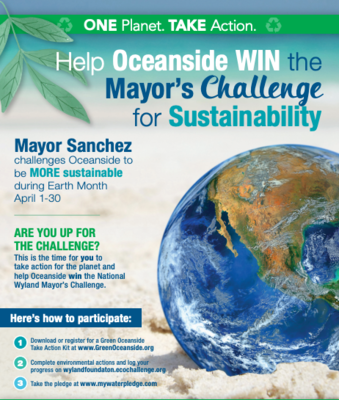 Pledge to Take Sustainable Actions this Earth Month
This Earth Month, Mayor Sanchez is challenging the Oceanside community to take action for the planet and help the City win the nationwide Mayor's Challenge competition. This annual contest measures sustainable actions within each City, and the winning cities receive prizes for their residents and funding for community improvement projects. Throughout the month of April, Oceanside residents can earn points for the City in the Challenge by pledging to take sustainable actions and logging their activities online. These easy-to-do activities can help form new habits and collectively make a difference in the quality of life for our community. Examples include neighborhood cleanups, home repairs, or simple lifestyle changes. Every action logged earns points for Oceanside and ultimately gets us one step closer to bringing home the coveted first place title! Participating residents will also be entered to receive prizes from the Wyland Foundation, such as money towards utility payments! More details. Download Mayor's Challenge Flyer to share.
---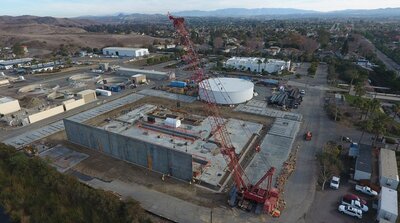 Pure Water Oceanside Project Reaches Milestone
Pure Water Oceanside construction remains on schedule for completion in 2022, with several significant milestones recently completed. The Oceanside project will purify recycled water to create a new, local source of high-quality drinking water that is safe, drought-proof and environmentally sound. "Construction has impacted many residents and businesses," said Cari Dale, City of Oceanside water utilities director. "Please know the City of Oceanside appreciates your patience. We thank people for understanding the need for this project and bearing with us during these months of construction impacts. This work is temporary, but the benefits will last for generations." More details.
---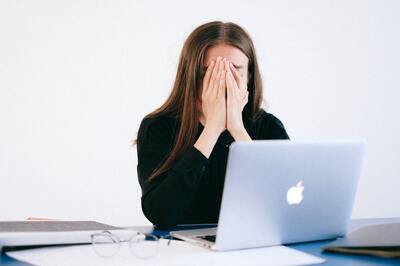 Don't Get Duped by Unsolicited Unemployment Payments
By District Attorney Summer Stephan
The figure is astounding – more than $11 billion in unemployment funds bilked from the state's Employment Development Department. Greedy cheaters and prisoners lied about who they were to receive benefits as claims soared amid the pandemic. At the same time, we saw deserving recipients of EDD struggle to get their much-needed payments. My office is working hard to bring accountability to prisoners who stole money through fraud. In the meantime, we want to provide you with information to keep you safe from becoming a victim of fraud. More details.
---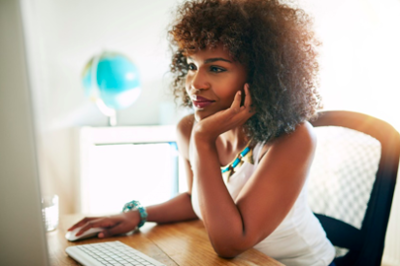 Take Advantage of SDG&E's No-Cost Tranings from Energy Experts
(Source: SDG&E)
Did you know that SDG&E provides webinars for business owners and trade professionals, and most are at no cost? You or your employees can learn about the latest in green building practices, technology and energy-saving solutions from experts in the industry. More details.