In This Issue:
Opposition of SB 37

Updates on Innovative Sand Retention Programs

BACPAC Updates

Mira Costa College's Hire Local Pilot Program

OYPN Scavenger Hunt at the Oceanside Museum of Art Recap

Thank You to Our Partners:
Emerald Partner:
​​​​​

---
Platinum Partners:



---
Silver Partners:
---
Bronze Partners:

---

The Chamber & the Community!
Lick the Plate: Eating Around Oceanside with the Chamber of Commerce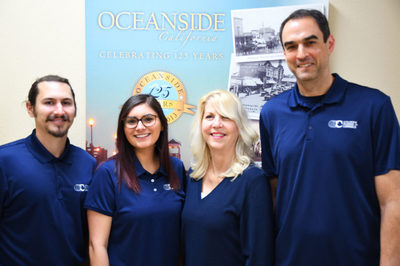 By David Boylan with The Coast News Group
"I spend the majority of my weekdays working on the northern edge of Oceanside, just off the 76, and down the street from the Oceanside Chamber of Commerce. I prefer to drive the coast home to Leucadia and it's exciting to see the culinary scene booming.
So, I thought whom better than to share their insights on that scene than some of the Oceanside Chamber of Commerce Team? With that, I'll hand it over to them for this edition of the Lick the Plate takeover column.
I'll start at the top with CEO Scott Ashton who has lived in the community for the past
20 years..."

2/4/2020
8:00 AM - 9:00 AM
First Tuesday Coffee
2/6/2020
8:00 AM - 9:00 AM
OYPN Committee Meeting
2/13/2020
8:00 AM - 9:30 AM
Emerging Issues Forum
2/14/2020
9:00 AM - 10:30 AM
Facebook Business Page Makeover Workshop
2/14/2020
11:30 AM - 1:00 PM
Plates for 8 at Master's Kitchen and Cocktail
2/20/2020
5:00 PM - 7:00 PM
North County Young Professionals Mixer
2/25/2020
11:30 AM - 1:00 PM
Plates for 8 at Oceanside Broiler
2/27/2020
5:00 PM - 7:00 PM
Business Mixer at the El Camino Country Club