---
Chamber Partners
Emerald Partner

---
Platinum Partners


---
Silver Partners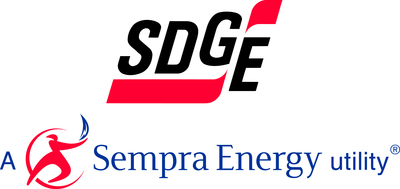 ---
Bronze Partners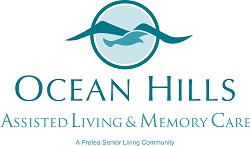 ---
Investors

---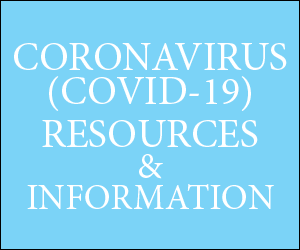 ---
---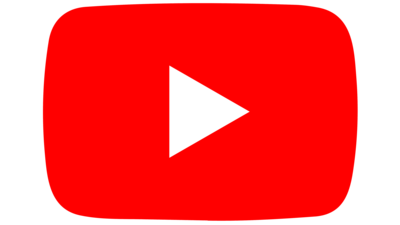 ---
Social Media Marketing Boutique
---
---
---
3/11/2021
8:00 AM - 9:o0 AM
Virtual Military Affairs Forum
4/1/2021
8:00 AM - 9:30 AM
Virtual Emerging Issues Forum: Federal Legislative Updated from the U.S. Chamber
4/1/2021
10:00 AM - 11:o0 AM
Virtual Oceanside Young Professionals Network Meeting
4/6/2021
8:00 AM - 9:0 AM
Joint Virtual First Tuesday Coffee with the Solana Beach Chamber of Commerce
---
Free Educational Resources Throughout March for National Credit Education Month
Right at Home Free CEU-Credit Webinar on Polypharmacy and the Elderly - March 17, 2021
NCTD Provides Free Shuttle to Del Mar Fairgrounds Vaccination Super Station
MiraCosta College's Spring 2021 Late-Start Classes Begin Soon – Register Now
Sen. Bates Announces COVID Funding to Help the Homeless in Orange & San Diego Counties
---
Open this email in your web browser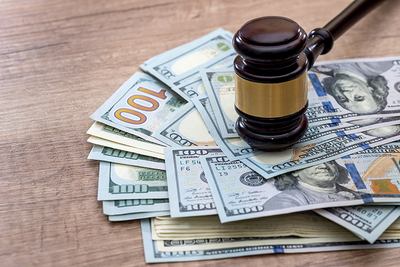 Retaliation, Disability Top Workplace Discrimination Charges
(Source: CalChamber)
In fiscal year (FY) 2020, the U.S. Equal Employment Opportunity Commission (EEOC) received 67,448 workplace discrimination charges — and, once again, retaliation was the most frequently cited claim, accounting for 55.8 percent of all charges filed. Employers should be sure to educate and train their employees, especially managers and supervisors, on what constitutes workplace discrimination. More details.
---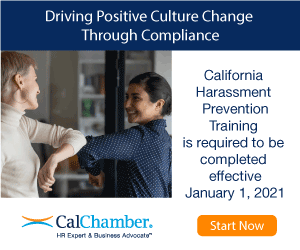 Mandatory Sexual Harassment Prevention Training Available for Discounted Price through the Oceanside Chamber
California law requires all employers with five or more employees to provide sexual harassment prevention training to all employees by January 1, 2021, and then every two years. This mandatory training for supervisors (two hours) and nonsupervisory employees (one hour) must also take place within six months of hire or promotion and again every two years. (Taking these individual-learner courses in a group setting will not satisfy the state requirements.) The Oceanside Chamber of Commerce has partnered with CalChamber to offer a 20% discount for online Employee Harassment Prevention Training, and online Manager/Supervisor Harassment Prevention Training. CalChamber makes it easy to train all your employees and managers to meet your California compliance obligations. More details.
---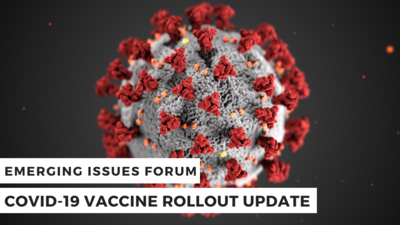 Chamber's Emerging Issues Forum Gives Update on the COVID-19 Vaccine Rollout
This month's Forum featured an update on the COVID-19 Vaccine Rollout. Representatives from the County of San Diego Health and Human Services Agency along with Tri-City Medical Center and Scripps Health gave attendees the latest details on the distribution of the vaccine. Representatives from Genentech also shared COVID-19 containment strategies used in their company. Watch full update.
---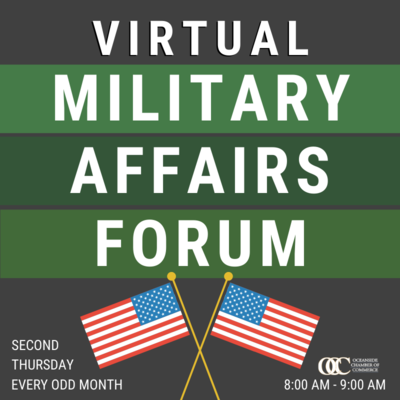 Tomorrow! Virtual Military Affairs Forum to Feature Information from Vets Community Connections and USO
Thursday, March 11, 2021
8:00 AM - 9:00 AM
Online Event via Zoom
The Oceanside Chamber of Commerce Military Affairs Forum provides an avenue for Oceanside Chamber members to learn about key issues relating to Oceanside's relationship with Marine Corps Base Camp Pendleton and the servicemembers serving on the base. This month's guest speakers are Amy Richards, Program Manager for Vets Community Connections and Kynan T. Henderson (K.T.) U.S.M.C. (Retired), USO Camp Pendleton Transition Manager. This meeting is only open to Oceanside Chamber members, and is held the 2nd Thursday of every other month (odd numbered months), from 8 AM - 9 AM online via Zoom. More details and registration.
---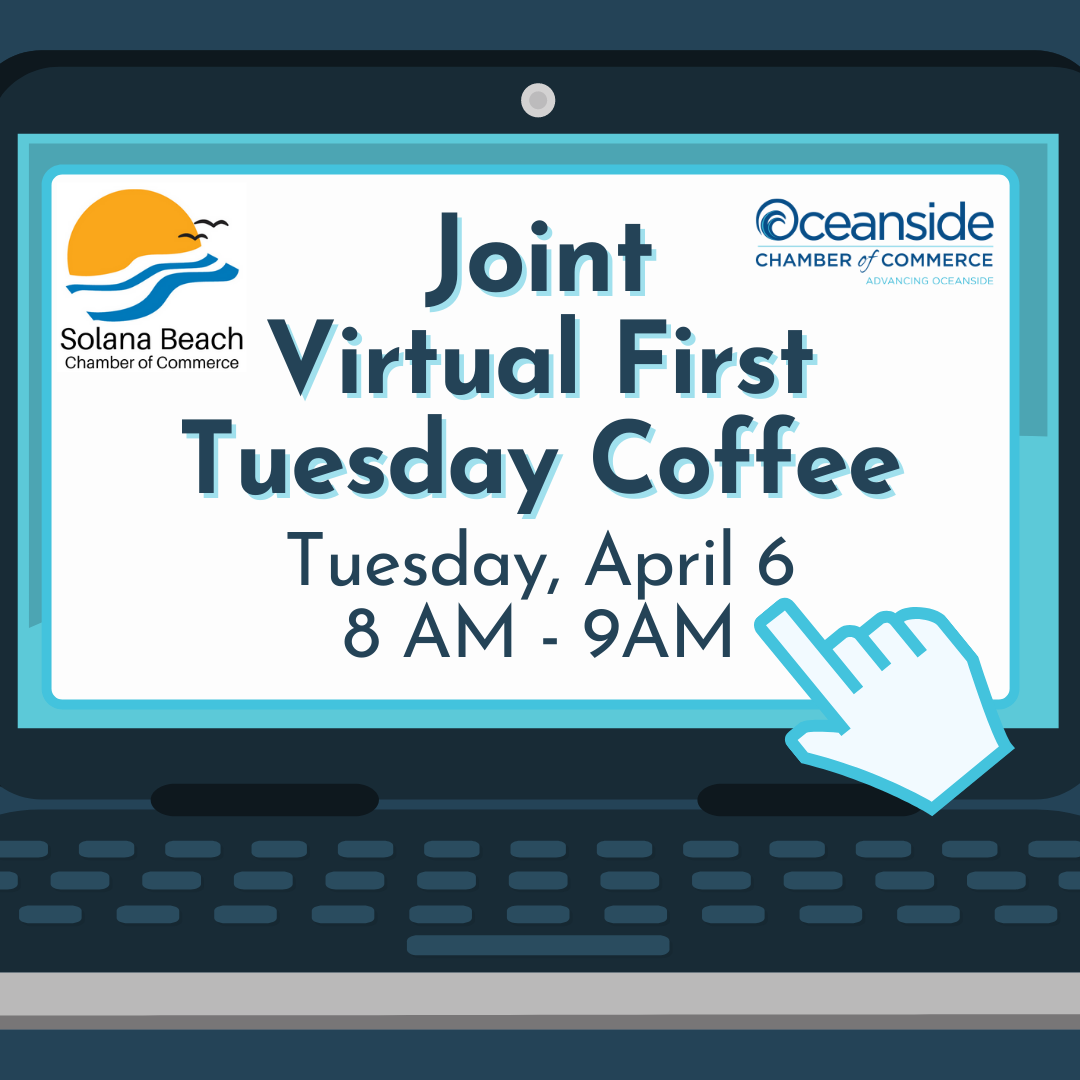 Register Early for the Upcoming Joint Virtual First Tuesday Coffee with the Solana Beach Chamber of Commerce
Tuesday, April 6, 2021
8:00 AM - 9:00 AM
Online Event via Zoom
For April's Virtual First Tuesday Coffee, we're teaming up with the Solana Beach Chamber of Commerce to expand our monthly networking meeting. Attendees will have a chance to meet not only with business and community members in North County, but all along the coast! Networking will be conducted in breakout rooms, giving attendees an ample amount of time to meet with everyone on the call! The event is powered by Zoom and login instructions will be sent via email after you register. This event is free for Oceanside and Solana Beach Chamber members. Online registration is required. More details and registration.
---
17. Jennifer Paroly,
Tri-City Hospital Foundation's President, On Advancing Healthcare to Build a Better Community
On this episode of the Advancing Oceanside Podcast, we are pleased to have with us Jennifer Paroly, President of the Tri-City Hospital Foundation. The Tri-City Hospital Foundation aims to build and support the community by helping advance exceptional healthcare. Hear how the Foundation has directly supported Tri-Cty Medical Center by raising funds for necessary improvements, new facilities and state-of-the-art equipment. Jennifer even discusses how the Foundation played a pivotal role during the pandemic and has provided PPE equipment, air filters and more to keep hospital patients and staff as safe as possible. Watch full interview. Listen on Apple Podcasts! Listen on Spotify!
---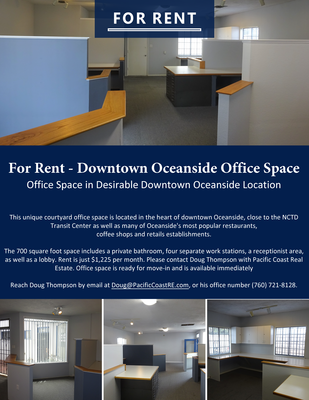 Office Space in Desirable Downtown Oceanside Location
This unique courtyard office space is located in the heart of downtown Oceanside, close to the NCTD Transit Center as well as many of Oceanside's most popular restaurants, coffee shops and retails establishments. The 700 square foot space includes a private bathroom, four separate work stations, a receptionist area, as well as a lobby. Rent is just $1,225 per month. Please contact Doug Thompson with Pacific Coast Real Estate. Office space is ready for move-in and is available immediately. Reach Doug Thompson by email at Doug@PacificCoastRE.com, or his office number (760) 721-8128.
---

Oceanside Economic Development News
Oceanside has a dynamic business climate with new restaurants, retail shops and manufacturing businesses moving into the City. The City's Economic Development Division assists businesses with expansion and relocation to Oceanside by offering site searches, business visits, demographic and statistical information, and assistance with permit processing and business license issuance. Check out the latest new and coming business news. More details.
---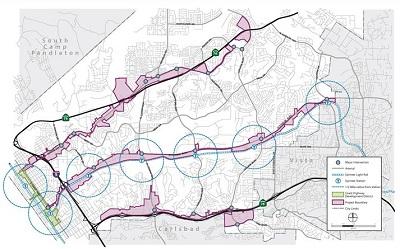 The City of Oceanside's Smart & Sustainable Corridors Virtual Workshop March 13
Saturday, March 13, 2021
10:30 AM - 11:30 AM
Online Event
Through a Smart and Sustainable Corridors Specific Plan (SCCP), the City will seek to channel future housing and employment growth into commercial corridors while maintaining the integrity of adjacent residential neighborhoods. The Smart and Sustainable Corridors Specific Plan Virtual Workshop was rescheduled to Saturday, March 13 at 10:30 a.m. More details and registration. Project details!
---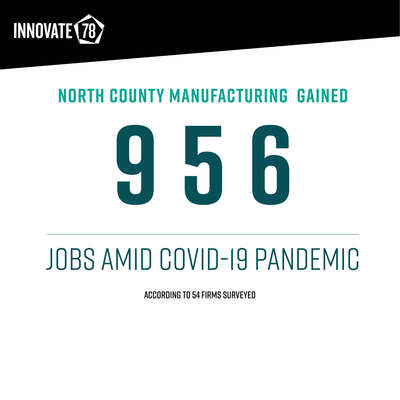 The Future of Manufacturing in North County - Innovate78's Economic Impact Analysis & Workforce Study
Manufacturing has a long history in North County San Diego, positioning the region as a key leader in the production of high-tech goods and services, including biomedical devices, telecommunications equipment and defense-related products. While the industry faces new pressures including automation, globalization and COVID-19, Manufacturing has proven its resilience as the region experiences growth in jobs and industrial space. To quantify this impact, Innovate78 has developed this comprehensive research report. More details and full report.
---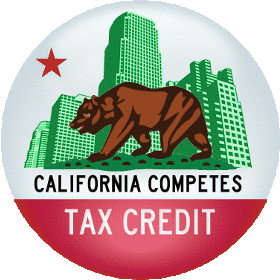 California Competes Tax Credit Application Period Starting March 8th
Application Period - March 8 - 29, 2021
The California Competes Tax Credit (CCTC) is an income tax credit available to businesses that want to locate in California or stay and grow in California. Businesses of any industry, size, or location compete for over $180 million available in tax credits by applying in one of the three application periods each year. Applicants will be analyzed based on twelve different factors of evaluation, including number of full-time jobs being created, amount of investment, and strategic importance to the state or region. For more information on eligibility and assistance, visit the Governor's Office of Business and Economic Development (GO-Biz) website.
---
New Funding Rounds Announced for the California Small Business COVID-19 Relief Grant Program
Four new rounds to address ongoing need. Funding will support small businesses and non-profits that have struggled due to the COVID-19 pandemic.
California's Office of the Small Business Advocate (CalOSBA), part of the Governor's Office of Business and Economic Development (GO-Biz), announced today four new funding rounds for the California Small Business COVID-19 Relief Grant Program following Governor Gavin Newsom signing into law a comprehensive package of immediate actions that speeds much-needed relief to individuals, families, and businesses suffering the most significant economic hardship due to COVID-19. More details.
---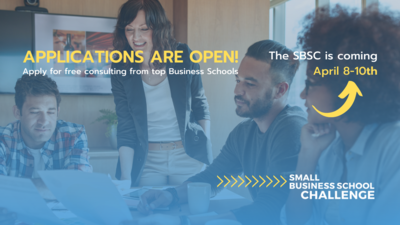 California's Small Businesses Invited to Apply for Free Consulting Support from UC Berkeley MBAs
Call for invitations to apply to participate in the third Small Business School Challenge, a national virtual business innovation and consulting event pairing real small business owners with teams of MBA students to create new strategies to succeed, open now through March 25th. Ideal applicants are small business owners in any industry with 3-30 employees who could benefit from strategy and support to improve their current business and overcome the challenges they're facing. More details.
---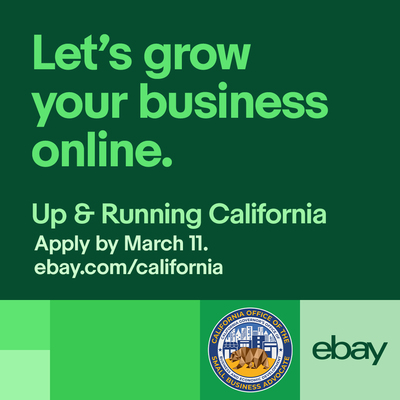 eBay's Up & Running California Program Aimed to Help Small Businesses Grow Online
In partnership with the California Office of the Small Business Advocate, eBay is announcing the launch of the Up & Running California program. Through the program, up to 300 California small businesses will be selected to participate in this six-week interactive ecommerce training program designed to help them get and grow online. Interested businesses must apply to participate in Up & Running California. The application period opens on February 18 and closes on March 11. More details.
---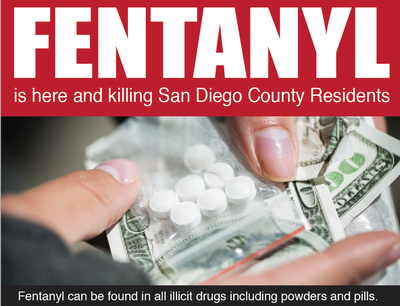 Chamber Partners with the North Coastal Prevention Coalition - Please Complete Survey on Opioid Education
As the opioid and fentanyl crises continue to have devastating impacts in our communities, the Oceanside Chamber of Commerce is partnering with the North Coastal Prevention Coalition (NCPC) to increase community education and awareness to local businesses. We'd appreciate 2 minutes of your time to help guide this effort. Take survey.
---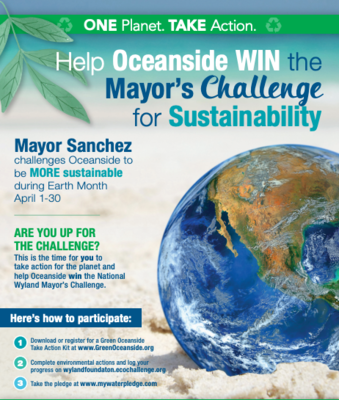 Pledge to Take Sustainable Actions this Earth Month
This Earth Month, Mayor Sanchez is challenging the Oceanside community to take action for the planet and help the City win the nationwide Mayor's Challenge competition. This annual contest measures sustainable actions within each City, and the winning cities receive prizes for their residents and funding for community improvement projects. Throughout the month of April, Oceanside residents can earn points for the City in the Challenge by pledging to take sustainable actions and logging their activities online. These easy-to-do activities can help form new habits and collectively make a difference in the quality of life for our community. Examples include neighborhood cleanups, home repairs, or simple lifestyle changes. Every action logged earns points for Oceanside and ultimately gets us one step closer to bringing home the coveted first place title! Participating residents will also be entered to receive prizes from the Wyland Foundation, such as money towards utility payments! More details. Download Mayor's Challenge Flyer to share.
Help Green Oceanside spotlight how amazing Oceanside and all of you are! To participate, you will simply need to submit a 30 second or less video about how you or your organization are taking action to be sustainable in support of the Mayor's Challenge. The videos will be featured on our social media accounts and website during Earth Month. And the best part- the top three videos with the most likes on both platforms will win a Green Oceanside Swag Bag. Once your video is completed, please email it to GreenOceanside@oceansideca.org by March 15th. For more info on the Mayor's Challenge and other Earth Month Activities, visit www.greenoceanside.org.
---
Energy-Saving Tips for Small Businesses
(Source: SDG&E)
There are a variety of ways you can reduce costs in your business when it comes to energy. By assessing the needs of your employees and customers, you'll be able to make a plan that helps you cut costs where you need it the most. More details.