---
Chamber Partners
Emerald Partners
---
Platinum Partners

---
Silver Partners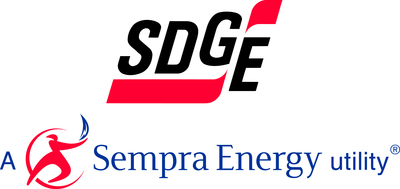 ---
Bronze Partners




---
Investors
---
---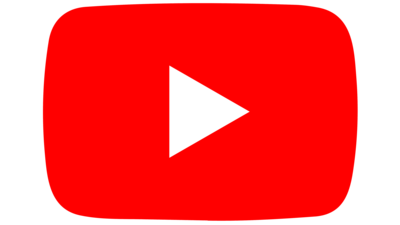 ---
---
---
Employers and Job Seekers
---
3/10/2022
8:00 AM - 9:00 AM
Military Affairs Forum
3/10/2022
2:00 PM - 4:00 PM
Century 21 Full Realty Service Ribbon Cutting Ceremony
3/10/2022
5:00 PM - 7:00 PM
Business Mixer at Arrowood Golf Course's Flight Deck
3/11/2022
8:15 AM - 9:45 AM
New Member Orientation
3/15/2022
7:45 AM - 9:05 AM
Rising Star Student Recognition Breakfast
---
New Friends of the Oceanside Public Library Bookstore
TrueCare Awarded Conrad Prebys Foundation a $200,000 grant for HealthCare Access
Scripps Memorial Hospital La Jolla Elevated to Level 1 Trauma Center
Open this email in your web browser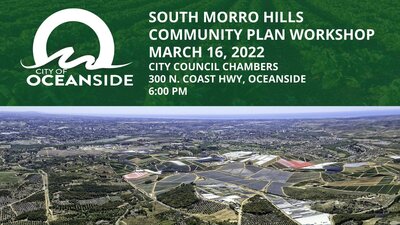 South Morro Hills Community Plan - Your Opportunity for Input
Wednesday, March 16, 2022
6:00 PM - 8:00 PM
City Council Chambers
300 N. Coast Hwy
Oceanside, CA 92054
The SMHCP is an extension of the General Plan Update currently underway, and includes goals and policies to guide future land use and development within the South Morro Hills area. As the next phase of public outreach, the design-based workshop will focus on obtaining community input for the preparation of the SMHCP and "brainstorming" on site planning and design strategies for farmland conservation. The Planning Division will host a public workshop for the South Morro Hills Community Plan (SMHCP) on Wednesday, March 16, 2022, in the City Council Chambers at 300 N. Coast Highway, Oceanside from 6:00 PM to 8:00 PM. Virtual attendance is also available via Zoom. More details.
---


Arrowood Golf Course
5201A Village Dr.
Oceanside, CA 92057
You're invited to join us for the first Business Mixer of 2022 at Arrowood Golf Course's new Flight Deck! Come out and enjoy the new Flight Deck experience on Thursday, Match 10th from 5:00 PM - 7:00 PM. Not only will guests have the opportunity to socialize with one another, but, the Flight Deck will be celebrating with a ceremonial ribbon cutting hosted by the Oceanside Chamber giving guests the unique opportunity to interact with the course's new feature! Arrowood Golf Course is a beautiful venue space with both indoor and outdoor areas to mix and mingle. This event free for Chamber members with complimentary food and drinks. Additional food will be available for purchase. Please register for the event prior to attending. More details and registration.
---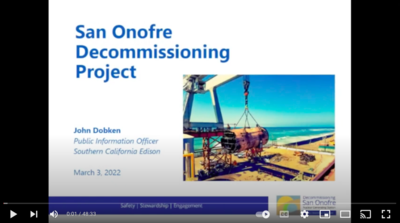 Watch March's Emerging Issues Forum: Update on Decommissioning of San Onofre Nuclear Generating Station
At the Chamber's March 3rd Emerging Issues Forum, John Dobken, the Public Information Officer for SONGS, provided an update on the decommissioning of San Onofre Nuclear Generating Station (SONGS). Watch now.
---
The Steven A. Cohen Military Family Clinic at Veterans Village of San Diego

Oceanside Chamber of Commerce
928 N Coast Hwy.
Oceanside, CA 92054
The Oceanside Chamber of Commerce Military Affairs Forum provides an avenue for Oceanside Chamber members to learn about key issues relating to Oceanside's relationship with Marine Corps Base Camp Pendleton and the servicemembers serving on the base. This month's speaker is Lindsay Livingston, Outreach Coordinator for The Steven A. Cohen Military Family Clinic at Veterans Village of San Diego. This meeting is open to all Oceanside Chamber members and invited guests only, and will be held the second Thursday of the month (odd numbered months), from 8am to 9:00am in the Oceanside Chamber conference room. More details and registration.
---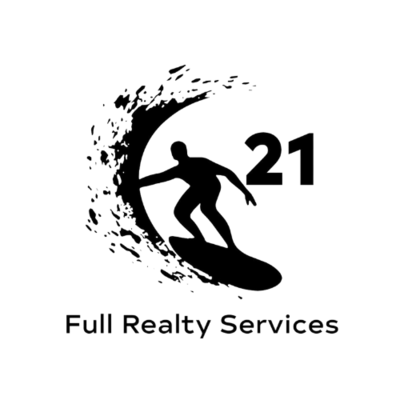 Tomorrow! Century 21 Full Realty Services Grand Opening Celebration

Century 21 Full Realty Services
1523 S Coast Hwy.
Oceanside, CA 92054
You're invited to join us for Century 21's Ribbon Cutting and Grand Opening Ceremony on Thursday, March 10th from 2 PM - 4 PM. Century 21 Full Realty Services welcomes you to their new Oceanside location. Come tour their new office, and learn why Century 21 is one of the leading real estate agencies offering the full spectrum of services. Complimentary food and drinks will be provided. More details and registration.
---
This Friday! Learn How to Maximize Your Membership Investment at Our New Member Orientation

Oceanside Chamber
928 N Coast Hwy.
Oceanside, CA 92054
You're invited to the Oceanside Chamber's New Member Orientation on Friday, March 11th from 8:15 AM - 9:45 AM in the Chamber conference room. This is a great opportunity for new members to meet other members while receiving information on the Oceanside Chamber's work and offerings. Our Oceanside Chamber team will provide an overview of the Chamber's priorities and programs you can utilize to help your business grow this year. Breakfast and coffee will be provided. More details and registration.
---


William A. Wagner Aquatic Center
3306 Senior Center Dr.
Oceanside, CA 92056
The Oceanside Chamber's monthly Rising Star Breakfast will be held Tuesday, March 15th from 7:45 AM - 9 AM. The Oceanside Chamber's Rising Star Program aims to champion students that have overcome significant challenges in their life, but have managed to keep, or get back on track, with their education. The Chamber will honor one high school senior each month from each of our area high schools at a breakfast event. Rising Star Breakfasts are open to all educators, family members of students being honored, Chamber Board Members, business leaders, community members and event sponsors. All donations (not ticket purchases) to the Rising Star program are tax deductible through the Oceanside Chamber Foundation, a 501(c)(3). Tickets are $25 for Chamber members and $40 for prospective members. More details and registration.
---


El Corazon Aquatic Center
3302 Senior Center Dr
Oceanside, CA 92056
Join us April 28th from 5 PM - 7 PM for the annual Meet the City Reception! This event gives Oceanside Chamber members and guests the opportunity to connect with local elected officials, City of Oceanside staff members, other businesses, and community leaders. The Meet the City of Oceanside event includes appetizers and a no-host bar. This indoor/outdoor event will be held at the new El Corazon Aquatic Center. Attendees can enjoy both the conference center and the outdoor patio. The cost is $55 for Chamber members, and $95 for non-members. More details and registration.
---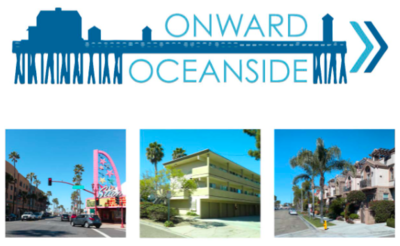 Oceanside Revised Housing Element Update
(Source: City of Oceanside)
The project team will present project alternatives for GPU Phase 2 to the Planning Commission on March 14th and the City Council on April 6th. Reflecting different distributions of future housing and employment growth, the project alternatives are meant to foster further community engagement on the General Plan Update while achieving compliance with the California Environmental Quality Act (CEQA). The consideration of project alternatives will lead to the selection of a preferred plan for GPU Phase 2. The preferred plan will then be summarized in a brief Land Use and Mobility Plan that will be shared with the community and decision-makers. More details.
---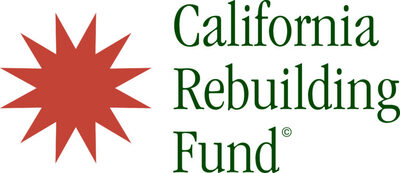 California Rebuilding Fund
Lendistry is excited to spread the word about a low-cost state-sponsored loan program available for businesses throughout California. California Rebuilding Fund loans can be used for working capital or growing your existing business – anything you need to help you succeed. They are coupled with non-profit business advising so you can confidently pay the loan back. Complete a pre-application to get matched with a non-profit lender in CA. More details.
---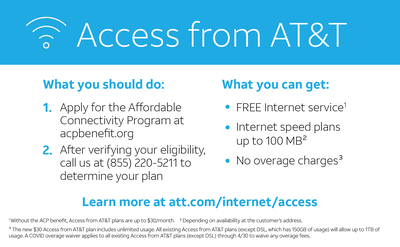 New AT&T Plan Offers Free Internet to Eligible Households
Access to affordable, reliable high-speed internet is critical, especially during these unprecedented times. That's why we want to alert you of a new plan from AT&T that provides free broadband internet for eligible households. As part of their commitment to connecting more Californians to reliable, high-speed broadband internet, AT&T has recently announced a new discount internet program for low-income customers called Access from AT&T. More details.
---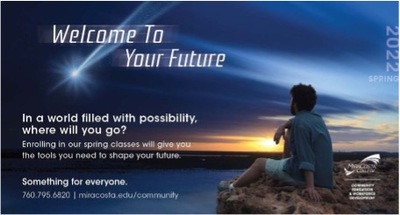 Welcome to Your Future
(Source: MiraCosta College Community Education and Workforce Development)
Unique for who you are and where you'll go, MiraCosta Com- munity Education can help pair your natural talents with the vital skills and personal development that are part of your journey. Your future is calling, why not answer today?
---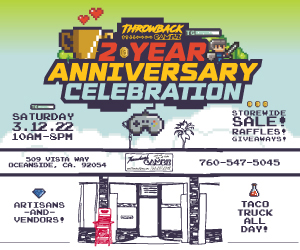 You're Invited to Celebrate Throwback Gamez 2-Year Anniversary!
Saturday, March 12, 2022
10:00 AM - 8:00 PM
Throwback Gamez
509 Vista Way
Oceanside, CA 92054
Come out and celebrate Throwback Gamez's 2-year Anniversary on Saturday, March 12th from 10:00 AM - 8:00 PM. Enjoy a storewide sale, raffles, giveaways, vendors, a taco truck and much more! Throwback Gamez is your one-stop-shop for all of your new and vintage gaming needs! They love to delight our customers and bring them back to their childhoods with their retro games and systems. They also offer new games and consoles as well. From Atari to PlayStation 5 and everything in between, they've got you covered! At Throwback Gamez, you can Buy, Sell, Trade and even Refurbish and Re-surface consoles and disks. More than just a game store, Throwback Gamez also sells gaming-related toys and accessories, Pokémon cards and merchandise, anime, books, boardgames, action figures and other retro toys. More details.
---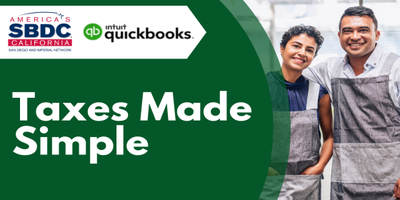 Taxes Made Simple

Taxes made easy is not only a tax preparation strategy but also a state of being. Imagine walking into your tax preparation appointment with your tax-ready books already completed and ready to be discussed with your accounting and/or tax professional. This means you've already completed the year-end checklist, taken action on the necessary steps to review your financials line by line, and now you're ready to move your financial data from books to taxes. That's what we'll be covering in Taxes Made Easy, a one-hour masterclass presented by Mariette Martinez, financial and tax accountant, who will complete the tax-ready books journey with you in this session. More details and registration.
---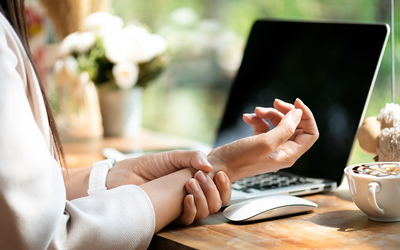 Carpal Tunnel Syndrome: Signs, Symptoms, Causes and Treatments
(Source: Scripps)
Common hand and wrist problem can be prevented and treated
You wake in the night with a painful tingling sensation in your fingers — or no sensation at all. As your condition advances, you have trouble holding the steering wheel to drive or typing on your computer keyboard. You experience weakness in your hand and begin dropping small objects. If these signs and symptoms sounds familiar, you may have carpal tunnel syndrome, which is a very common problem. The condition is often associated with overuse of the hands and wrist and other factors. More details.
---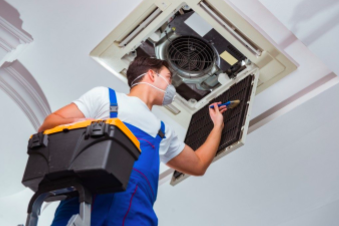 7 Ways to Reduce Your Business's Heating Bill
(Source: SDG&E)
Heating, ventilation and air conditioning (HVAC) uses around 40% of a building's electricity. In fact, it's one of the most significant factors in the operating expenses of a business. That's why it pays to pinpoint HVAC energy waste and reduce it. Here are 7 popular ways to help your business become more energy-efficient and control costs. More details.
---
5 Ways to Lower Your Gas and Electric Bill
(Source: SDG&E)
Did you know there are simple ways to lower your energy bill? Check out these quick and easy energy-saving tips to help lower your bill while staying warm and comfortable.  More details.