Helping Businesses Prosper and our Community Thrive!
Your investment in the Oceanside Chamber is making a difference in our community! The Chamber's mission is to "stimulate economic prosperity and foster a vibrant community." Here's a quick overview if what your investment in the Chamber allowed us to accomplish in the recent weeks..

Political Action/Business Advocacy
Federal COVID-19 Relief
The Oceanside Chamber of Commerce recently signed on to a US Chamber letter urging Congress to include timely, temporary, and targeted liability protections for businesses, schools, and healthcare providers in the next COVID-19 relief package. These essential protections from unfair and harmful lawsuits were left out of the relief package that passed in December.

Chamber Staff is working with Congressman Levin's office to coordinate a briefing for local restaurant owners on The Restaurants Act, Federal legislation designed to bring $120 billion in grant relief to restaurants.
State Legislation
The Chamber signed on to a CalChamber coalition to oppose SB 213 (Cortese), which "will impose an astronomical financial burden on employers in the healthcare industry that is presently grappling with the effects of the COVID-19 pandemic and create a troubling precedent for the workers' compensation system in general by creating a legal presumption that blood-borne infectious disease, tuberculosis, meningitis, methicillin-resistant Staphylococcus aureus (MRSA), cancer, musculoskeletal injury, post-traumatic stress disorder, or respiratory disease are presumptively workplace injuries for all hospital employees that provide direct care."

The Chamber joined a

CalChamber Coalition to oppose AB 84 (Ting)/ SB 95 (Skinner)

. This paid sick leave mandate would essentially negate any financial relief small employers may receive through the proposed grant programs pending in the Budget. Specifically, AB 84/SB 95 1) require employers, with only one or more employees, to provide up to 80 hours of paid sick leave per calendar year to all employees for COVID-19 related reasons, 2) apply retroactively to January 1, 2021, 3) provide no tax credit or funding to businesses to offset the

cost of the leave unlike the Families First Coronavirus Act (FFCRA), and 4) drastically expand the reasons for which an employee can take leave.

The Chamber reached out to Assemblymember Boerner Horvath's office on SB 74 which would bring $2.6 billion in relief for small businesses through grants ranging from 5k-60k. This relief package was passed as part of the State budget.

The Chamber supported a State legislative package focused on Economic Recovery. Bills included in the package addressed issues such as Financial Relief/Elimination of Fees and Costs to Struggling Employers, Telecommuting, California Labor Code Private Attorney General Act (PAGA), pro-business adjustments to California Family Rights Act Leave (CFRA) and tax credits associated with CalOSHA COVID-19 Emergency Regulations.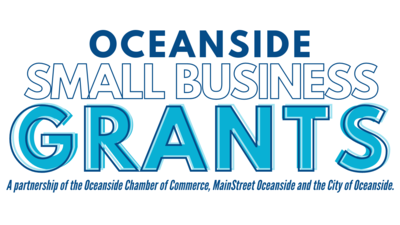 Small Business Grant Program
The Chamber has partnered with the City of Oceanside and MainStreet Oceanside to administer a $750,000 Small Business Grant program. As of early March, the Chamber was on target to distribute over $340,000 to nearly 190 businesses.
According to Chamber CEO, Scott Ashton, more than one third of the applicants reported that revenue had declined more than 50% from 2019 to 2020. "While these grants are truly helpful and greatly appreciated by our small businesses, our focus remains on advocating for government policies that will treat small businesses fairly. They need the opportunity to remain open and operate their businesses in order to survive in the long run."
Grant applications were received from a wide variety of industries including restaurants, salons, personal services, health and fitness studios, and businesses related to events and entertainment.

Public Policy
The Chamber's Advance Oceanside Political Action Committee began plans for 2021 "off-election" year activities including candidate development and fundraising to prepare for the 2022 elections.
Interested in helping business-friendly candidates get elected? Visit http://advanceoceansidepac.com for more information on how you can help.


Serving as a Champion for our Community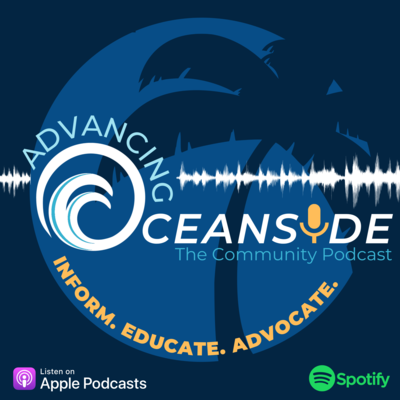 The Chamber continued its Advancing Oceanside Podcast in order to bring attention to the businesses and non-profit organizations serving our community. Recent interviews have included Chris Weiner, Chair of the Chamber's Oceanside Young Professionals Group and in honor of Black History Month, Rushell and Al Gordon speaking about their business Bliss Tea and Treats and Quantal Langford with Langfordesign.
The podcasts can be viewed on the Chamber's YouTube Channel, IGTV, Spotify and Apple Podcasts.