---
Chamber Partners
Emerald Partner
---
Platinum Partners


---
Silver Partners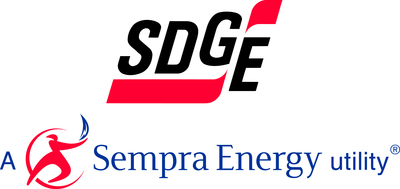 ---
Bronze Partners




---
Investors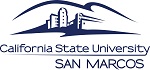 ---
---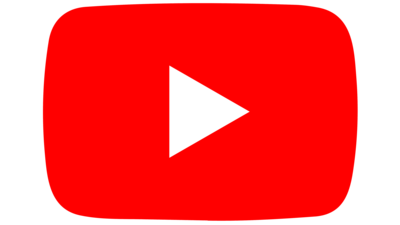 ---
---
Lennar Homes of California Inc. - San Diego Division
---
*NEW*
---
8/28/2021
11:00 AM - 3:00 PM
Oceanside Athletic Club Grand Opening Celebration
9/02/2021
8:00 AM - 9:30 AM
Emerging Issues Forum: Update from San Diego North Economic Development Council
9/02/2021
1:00 PM - 2:00 PM
OYPN Meeting at Legacy Brewing
9/02/2021
5:00 PM - 7:00 PM
Business Mixer Hosted by Agri Service
9/09/2021
8:00 AM - 9:00 AM
Military Affairs Forum
9/09/2021
11:30 AM - 1:00 PM
Plates for 8
9/14/2021
8:00 AM - 9:00 AM
Second Tuesday Coffee
9/14/2021
10:30 AM - 11:30 AM
Omni Financial Ribbon Cutting Ceremony
9/15/2021
9:30 AM - 11:00 AM
Best Practices for Business Owners Concerning Homeless Activity
9/18/2021 - 9/19/2021
9:00 AM - 5:00 PM
Oceanside Harbor Days
9/22/2021
11:00 AM - 2:00 PM
UEI College Grand Opening Celebration
9/25/2021
9:00 AM - 1:00 PM
Oceanside Job Fair
9/30/2021
5:00 PM - 7:00 PM
Meet the City of Oceanside
---
Ivey Ranch Park Association Western Hoedown
Oceanside Fire Station Project 1 of 13 Nationwide Selected for Funding
Frontwave Credit Union Named Credit Union of the Year by U.S. Department of the Navy
Brooks Theater Gallery and OMA Create Amazing Synergy
Homeschool with The Classical Academies
Write On, Oceanside Literary Festival Schedule of Events
San Diego Gives - Thursday, September 9th
Open this email in your web browser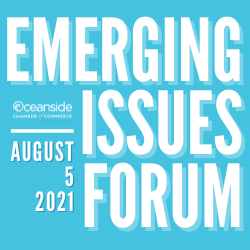 September's Emerging Issues Forum to Feature an Update from San Diego North Economic Development Council
Thursday, September 2, 2021
8:00 AM - 9:30 AM PST
Oceanside Chamber
928 N. Coast Hwy.
Oceanside, CA 92054
Join us at the Chamber's September 2nd Emerging Issues Forum for a presentation from Erik Bruvold, CEO of the San Diego North Economic Development Council. Erik's presentation will include... - An overview of the North County Economy and our Recovery from COVID - Insight into which industries in Oceanside are growing the fastest - Overview of the 3 most important issues impacting economic development and what that means for Oceanside's competitive position. Please Note: The Forum has returned to meeting in person at the Chamber's office. More details and registration.
---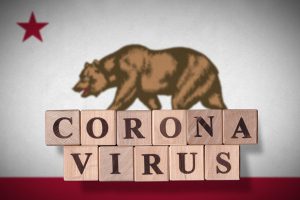 Small Business COVID-19 Relief Grant: New Funding Round to Open in September
(Source: CalChamber)
New applicants for California's Small Business COVID-19 Relief Grant Program will be able to apply in the funding round opening on September 9 and continuing through September 30. The program provides grants of $5,000 to $25,000 to small businesses hurt by the pandemic. Businesses are eligible based on annual revenue as documented in their most recent tax return. More details.
---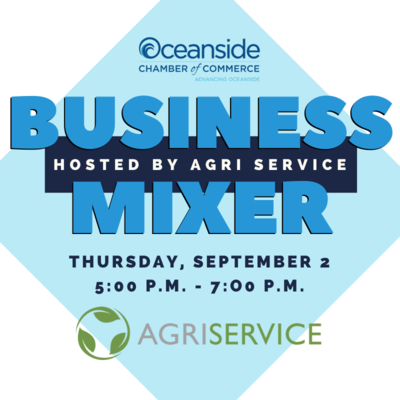 September's Business Mixer Hosted By Agri Service Next Thursday
Thursday, September 2, 2021
5:00 PM - 7:00 PM PST
El Corazon Compost Facility
3210 Oceanside Blvd
Oceanside, CA 92056
You're invited to join us for Thursday, September 2nd from 5 PM - 7 PM for a Business Mixer hosted by Agri Service at the El Corazon Compost Facility (3210 Oceanside Blvd, Oceanside, CA92056). This is a great opportunity to get out and meet our Oceanside Business Community! Enjoy free food and drinks hosted by Agri Service. You'll also get the unique opportunity to tour their El Corazon Compost Facility. Please remember to wear closed toed shoes as this is a requirement at the facility. This event will be $5 for Chamber members ($10 at the door) and $20 for prospective members. Don't forget to purchase your raffle tickets for a chance to win some fun prizes. More details and registration.
---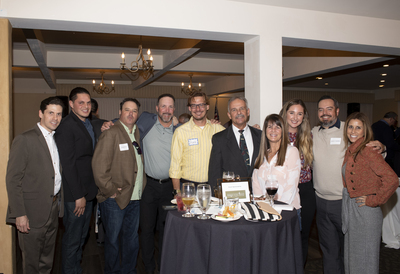 Meet the City of Oceanside and Celebrate the Chamber's 125th Anniversary - Tickets Now Available
Thursday, September 30, 2021
5:00 PM - 7:00 PM
El Corazon Aquatics Center Conference Room
3302 Senior Center Drive
Oceanside, CA 92056
Join us September 30th from 5 PM - 7 PM for the annual Meet the City Reception and to celebrate the Chamber's 125th Anniversary! This event gives Oceanside Chamber of Commerce members and guests, the opportunity to connect with local elected officials, City of Oceanside staff members, other businesses, and community leaders. The event includes appetizers and a no-host bar. This indoor/outdoor event will be held at the new El Corazon Aquatic Center. Attendees can enjoy both the conference center and the outdoor patio. The cost is $55 for Chamber members, and $95 for non-members. More details and registration. Download sponsorship flyer.
---
Chamber Launches New Job Board
We have launched a new and improved job board on our new website that includes a space for employers to list their open positions, job seekers to upload their resumes, and a new space featuring helpful resources for applicants, businesses, and organizations. Job listings are an added member benefit. The success of the job board depends on you, the members, so please visit the page to add your open positions at OceansideCareers.com. For more information about the job board, please contact our Workforce Development Coordinator, Victora Carlborg, at victoria@oceansidechamber.com. Get started.
---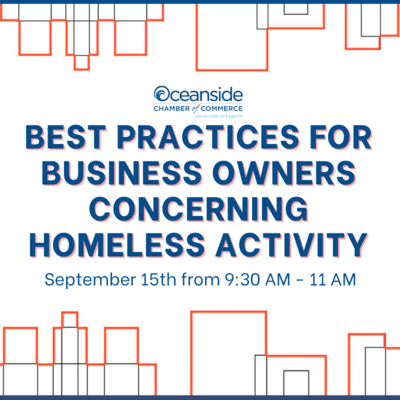 Register Now for the Best Practices for Business Owners Concerning Homeless Activity Workshop
Wednesday, September 15, 2021
9:30 AM - 11:00 AM
Oceanside Chamber
928 N Coast Hwy.
Oceanside, CA 92054
The Oceanside Chamber, in partnership with ODP's H.O.T. team, is hosting a free workshop for local businesses to learn the best practices concerning interactions with the homeless population in the Oceanside community. This event will feature a presentation from Oceanside PD's H.O.T (Homeless Outreach Team) with an overview of their program and a list of resources businesses can refer to following the workshop. The workshop will be held from 9:30 AM - 11 AM on Wednesday, September 15th with a Q&A at the end of the session. The event will be held in-person, but space is limited and registration if required. More details and registration.
---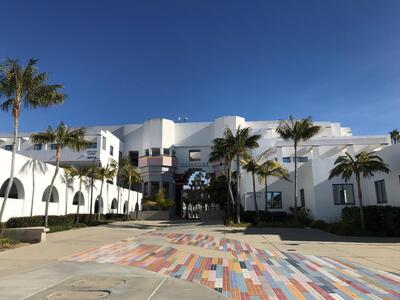 Oceanside to Host Job Fair September 25th
Saturday, September 25, 2021
9:00 AM - 1:00 PM
Civic Center Plaza
300 N. Coast Hwy.
Oceanside, CA 92054
The City of Oceanside, in partnership with the Oceanside Chamber of Commerce and Visit Oceanside, will host a job fair on Saturday, September 25, 2021 from 9 a.m. to 1 p.m. at the Civic Center Plaza located at 300 North Coast Highway in Downtown Oceanside. The job fair will feature over two dozen Oceanside employers including Genentech, Hydranautics and Steico Industries, as well as the Oceanside Police and Fire Departments, the Mission Pacific Hotel and Seabird Resort and the Oceanside Unified School District. The event will also feature Mira Costa College Technical Career Institute, which offers accelerated career training programs, and other job seeker resources. More details.
---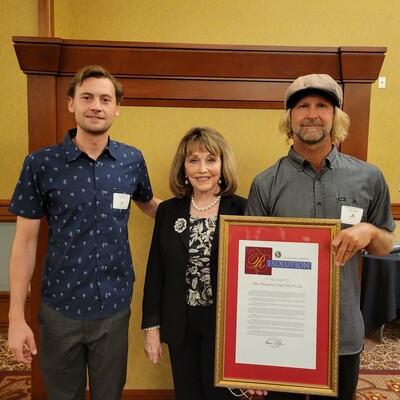 Sen. Bates Honors Oceanside's "The Privateer Coal Fire Pizza" as Small Business of the Year
Senator Patricia Bates (R-Laguna Niguel) has honored The Privateer Coal Fire Pizza (Privateer) as the 2021 Small Business of the Year for the 36th Senate District. Senator Bates recognized owners Charlie Anderson (father) and Sage Anderson (son) during the California Small Business Day awards lunch at Sacramento's Sheraton Grand Hotel. More details.
---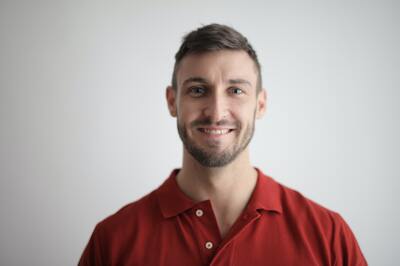 Chambers and Photographers Partner to take Headshots for Transitioning Marines
The Oceanside Chamber of Commerce, the U.S. Chamber of Commerce Foundation's Hiring Our Heroes, and Portraits For Patriots™ are collaborating to help local military families look their best as they transition to civilian life. This Friday, Aug. 27 from 10 a.m. to 2 p.m., the Oceanside Chamber of Commerce will convert its conference room into a portrait studio for service members, spouses and Gold Star families who are transitioning out of the service. Celebrated San Diego photographers Rich Soublet and Orange County's Alex Kemp will convert the Oceanside Chamber's conference room into a state-of-the-art portrait studio for our transitioning service members, spouses and Gold Star Families. More details.
---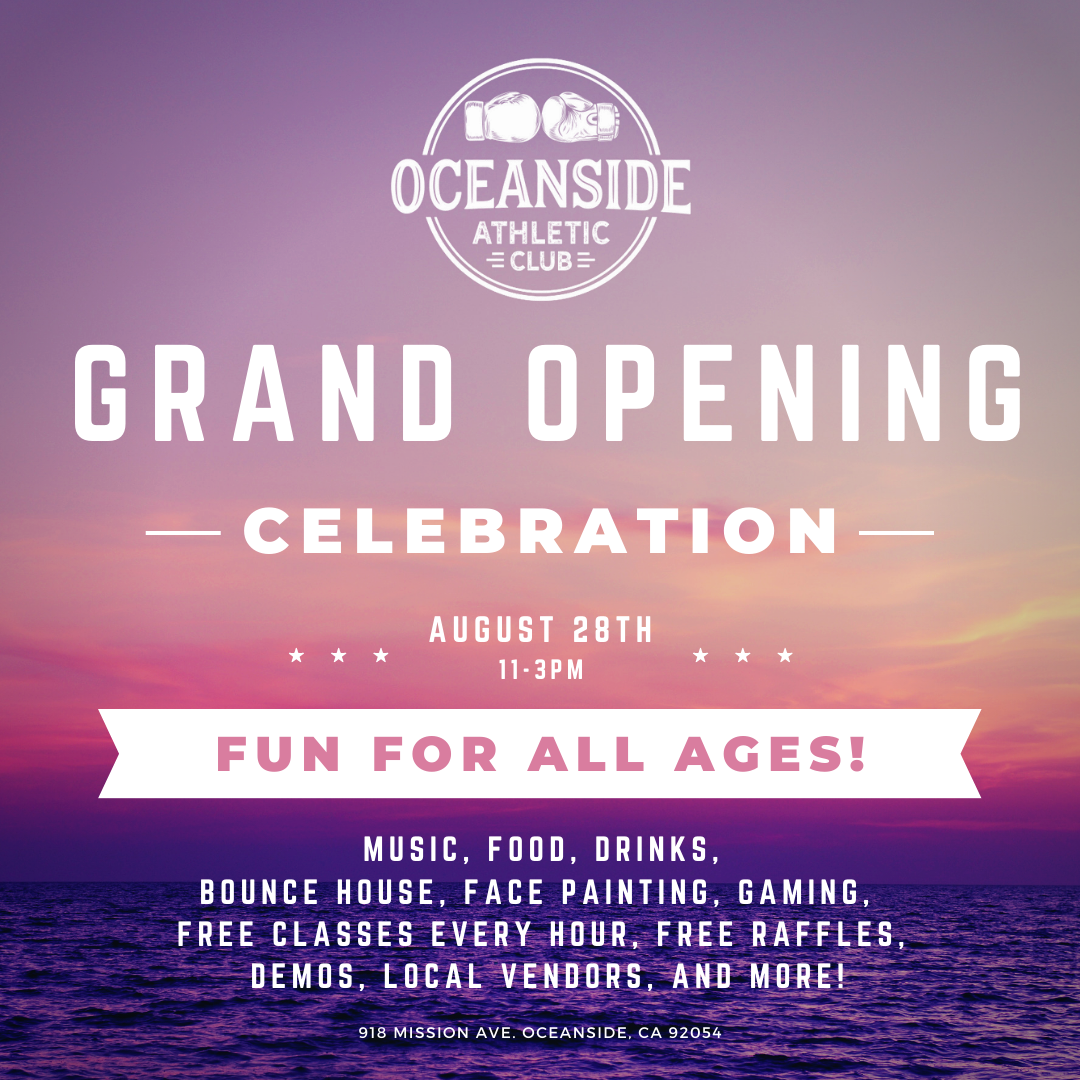 Oceanside Athletic Club Grand Opening Celebration This Saturday
Saturday, August 28, 2021
11:00 AM - 3:00 PM PST
Oceanside Athletic Club
918 Mission Ave.
Oceanside, CA 92054
Oceanside Athletic Club will be opening its doors August 28th, at 11am. The public is invited to celebrate the occasion and to experience Oceanside's Premier Martial Arts Conditioning & Fitness Studio. The grand opening is geared to be adult & kid friendly; to include face painting, dozens of giveaways, raffle prizes, a gaming station, bounce house, free 30-minute adult/youth classes, and a brilliant Martial Arts Exposé you can watch to the beat of a live DJ. Outside of the freebies, there will be plenty of additional paid experiences for our attendees; including but not limited to Booze Brother's Brewing, Drea's Soul Fix BBQ, Fugu Ice Cream, as well as a donation based Thai Massage! More details and registration.
---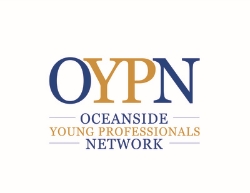 September's OYPN Meeting Next Thursday at Legacy Brewing
Thursday, September 2, 2021
1:00 PM - 2:00 PM PST
Legacy Brewing Company, Inc.
363 Airport Rd.
Oceanside, CA 92058
The Oceanside Young Professional Network (OYPN) is excited to bring back in-person meetings! This month the group will meet Thursday, September 2nd at 1 PM at Legacy Brewing. OYPN is vital to planning and executing events throughout Oceanside for young professionals to network with like-minded peers, engage in the community, and stay informed on local issues. Chamber members and non-members alike in this age group are encouraged to come to committee meetings and contribute to the program's development. Please register for the event prior to attending. The event is free to attend with the only cost being the price of your meal! More details and registration.
---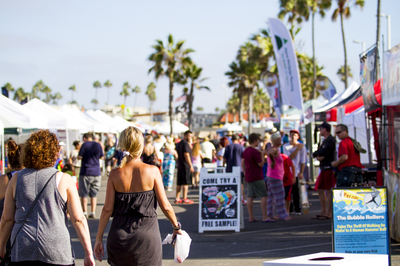 Oceanside Harbor Days Less Than a Month Away!
Saturday, September 18, 2021 9:00 AM - Sunday, September 19, 2021 5:00 PM
Oceanside Harbor District
1540 Harbor Dr. N.
Oceanside, CA 92054
On September 18th and 19th 2021 the Oceanside Chamber of Commerce along with Tri-City Medical Center and Genentech will present Oceanside Harbor Days at the Oceanside Harbor. The event will feature arts and craft exhibits, great food and fun activities for the entire family. The event is open from 9:00 a.m. to 5:00 p.m. both days.
Interested in showcasing your business at the event? Please download a booth vendor packet, which includes an application, along with full details on each type of booth space, fee, and instructions on how to submit your application, and/or contact Kennedy and Associates, to participate. We look forward to seeing you there! More details. Booth Applications.
---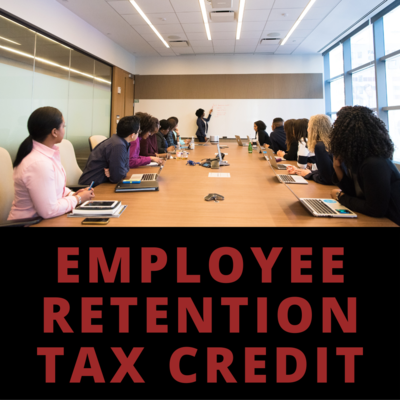 Apply Now for the Employee Retention Tax Credit
The Employee Retention Credit is a fully refundable tax credit for employers equal to 50 percent of qualified wages (including allocable qualified health plan expenses) that Eligible Employers pay their employees. This Employee Retention Credit applies to qualified wages paid after March 12, 2020, and before January 1, 2021. The maximum amount of qualified wages taken into account with respect to each employee for all calendar quarters is $10,000, so that the maximum credit for an Eligible Employer for qualified wages paid to any employee is $5,000. More details. Apply now.
---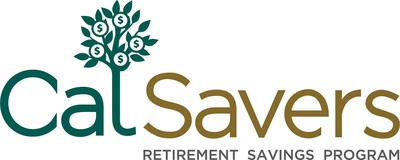 CalChamber's Conversations About CalSavers
CalChamber will be cohosting three different Zoom events with the State Treasurer Fiona Ma's office to discuss the CalSavers Retirement Program, and the deadline for small employers to register their employees. The three dates are as follows:
State law requires employers of five or more employees to register for CalSavers if they do not offer a retirement plan. There are no fees for employers and it's designed to be easy for employers and employees alike. Eligible employers must register by June 30, 2022. You can register by clicking one of the links above. If you have any questions please let us know or you can email CalSavers' Outreach Director, Jonathan Herrera, at jherrera@treasurer.ca.gov.
---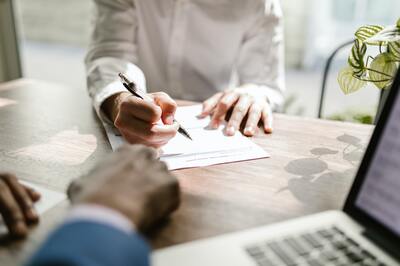 Group Life Insurance Available to OCC Members/Employees
Groups who enroll five or more employees are eligible for up to $50,000 of guaranteed issue life insurance, up to $20,000 for their spouse or domestic partner and $10,000 for their dependents. The program is voluntary, and employers are not required to pay for any of the insurance. There are no health questions, no physical exams and no doctor reports. Males and females pay the same premiums and non-smoker rates will apply for everyone. For groups enrolling 20 or more employees, the guaranteed issue increases to $100,000.
Joel Marcus, a chamber member and our broker for this program, is available to answer any questions you may have. Joel can be reached at (760) 804-6233 or jmaflac@aol.com.
---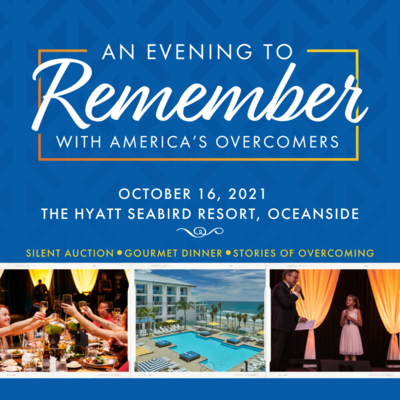 Solutions for Change Looking for Auction Item Donations
Solutions for Change is looking for silent and live auction donations for their benefit gala, An Evening to Remember with America's Overcomers, at the brand-new Hyatt Seabird Resort on October 16, 2021. The goal of this event is to raise awareness and funds to provide crucial support to struggling families through a proven, 700-day program that equips them with the skills, knowledge, and resources to grow beyond dependency and leave homelessness permanently. Auction items will be viewed by more than 400 prominent members of the San Diego and North County communities, providing a unique way to showcase your organization, demonstrate your community leadership, and become part of the solution. To make a donation, please contact Jessica Kidd, Administrative Coordinator, at (760) 941-6545 ext. 332 or via email at jkidd@solutionsforchange.org. More details.
---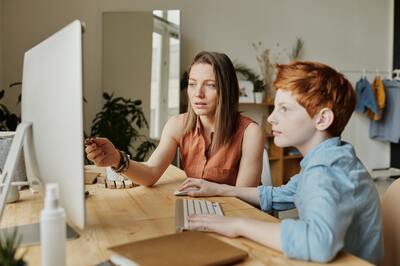 Keeping Children Safe Online
By District Attorney Summer Stephan
Given the young age at which kids are accessing the Internet and the huge role technology is bound to play in their lives going forward, speaking with them about online safety early is the best strategy to keep them safe from online predators and scammers. Not a day goes by that we don't see a news story involving a company getting hacked, personal data being leaked or a threat of infrastructure failing due to malicious actors. The same is true for predators hacking into children's lives. More details.
---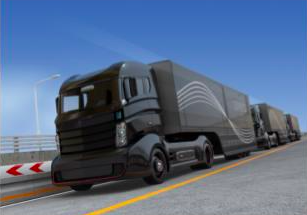 Transitioning Your Fleet to Electric Vehicles
(Source: SDG&E)
Electric fleets are the future and SDG&E wants to help get you there faster. SDG&E's new 2021 Electric Vehicle Availability Guide provides complete details on the electric medium- and heavy-duty vehicles available today. Save time and use this resource to easily compare specs from the latest electric vehicles available so you can choose the best fit for your fleet.
Download the Electric Vehicle Availability Guide to see:
Electric vehicles by weight class (GVWR)

Current stats on electric vehicle range, base price and payload

Direct OEM contacts for sales support
You can find the guide at sdge.com/EVfleets at the bottom of the page in the Fleet Resources section.
---
Notice to Members: The Oceanside Chamber Board Nominating Committee will be meeting this fall to discussion nominations for Board vacancies. Members in good standing interested in applying for consideration should email Scott@OceansideChamber.com no later than September 15th to request an application.