Helping Businesses Prosper and our Community Thrive!
Your investment in the Oceanside Chamber is making a difference in our community! The Chamber's mission is to "provide advocacy and resources that help businesses and our community thrive." Here's a quick overview if what your investment in the Chamber allowed us to accomplish in the recent weeks...

Community Development
City of Oceanside General Plan Update Project Alternatives

The Chamber has been in close touch with City leaders on Oceanside's General Plan Update (GPU). Most recently, The GPU project team presented the Alternatives Report describing three land use and development alternatives for GPU Phase 2 to the Planning Commission and will be going back to the Commission with more input on April 25th. Reflecting different distributions of future housing and employment growth, the project alternatives are meant to foster further community engagement on the General Plan Update while achieving compliance with the California Environmental Quality Act (CEQA). The consideration of project alternatives will lead to the selection of a preferred plan for GPU Phase 2. The preferred plan will then be summarized in a brief Land Use and Mobility Plan that will be shared with the community and decision-makers. The plan can be viewed at www.OnwardOceanside.com. Please direct questions and comments on project alternatives to Principal Planner Russ Cunningham at rcunningham@oceansideca.org or by phone at
(760) 435-3525.


Advocacy
As the State legislature reconvened in January, the Oceanside Chamber joined several coalition efforts led by the California Chamber of Commerce to weigh in on legislation impacting our business community.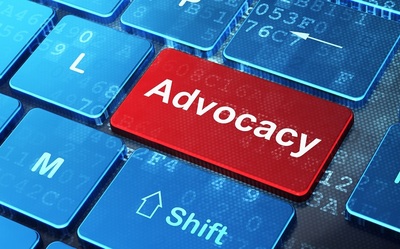 • Supported AB 1761 FLEXIBLE WORK SCHEDULES - The Oceanside Chamber joined a California Chamber led coalition to SUPPORT AB 1761. AB 1761 will allow employee-selected flexible work schedules.
California is one of the only states that requires employers to pay daily overtime after eight hours of work in addition to weekly overtime after 40 hours of work. Even other states that impose daily overtime requirements allow the employer and employee to essentially waive the daily eight-hour overtime requirement through a written agreement. California, however, provides no such common-sense alternative. Rather, California requires employers to navigate through a multi-step process to have employees elect an alternative workweek schedule that, once adopted, must be "regularly" scheduled. This process is filled with potential traps that could lead to costly litigation, as one misstep may render the entire alternative workweek schedule invalid and leave the employer on the hook for claims of unpaid overtime wages.
Currently, there are 42,494 reported alternative workweek schedules with the Division of Labor Standards Enforcement. According to the
Employment Development Department, California has about 1.2 million employers. Therefore, about less than 4% of California employers utilize the alternative workweek schedule option. Further, more realistically, given that the information in the database is according to work unit instead of employer, it is likely that less than 1% of employers in California are utilizing this process.
Employees want flexibility in their work schedules. In a recent poll conducted by the California Chamber of Commerce, 88% of voters agree (49% of them strongly) that the state's overtime laws should be changed to make it easier for employees to work alterative schedules, such as four 10-hour days.
• Opposed AB 2182 EMPLOYMENT DISCRIMINATION AND ACCOMMODATION – The Oceanside Chamber joined a coalition to OPPOSE AB 2182 which has been labeled by the Cal Chamber as a JOB KILLER. AB 2182 imposes a burdensome new accommodation requirement on small businesses to provide employees with time off any time school or a care center is unavailable. The Fair Employment and Housing Act (FEHA) applies to employers with five or more employees and includes a costly private right of action, exposing small employers to costly litigation. AB 2182 also creates a new protected class under FEHA: people with "family responsibilities". That term is broadly defined to include anyone with a child under 18 or anyone who provides care to someone in their family or household, including a non-family member. This creates an automatic basis for an individual in that new classification to challenge any adverse employment action.


Workforce Development
The Chamber's Incubator Program Graduates Second Cohort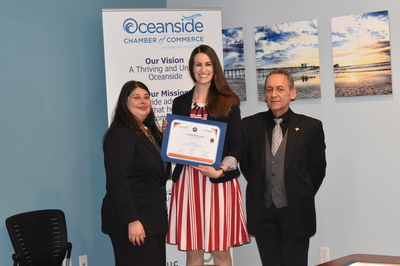 The National Veterans Chamber of Commerce, SCORE Mentors, and the Oceanside Chamber of Commerce graduated its second cohort of the Women Entrepreneur Incubator program March 10 at the Oceanside Chamber. The program provides support to female entrepreneurs from the veteran and military family community. Each participant received certificates from the three program sponsors as well as from Assemblymember Tasha Boerner Horvath. Chamber member Grand Canyon University provided refreshments for the event. The third cohort begins April 21st. Register by emailing victoria@oceansidechamber.com.
Chamber Recognizes High School Seniors as Rising Stars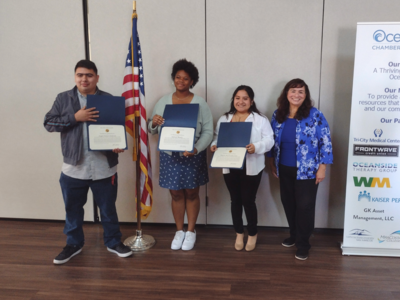 Last fall, the Chamber launched its Rising Star student recognition program to honor high school seniors at our city's high schools who have overcome significant challenges in their life but who have managed to keep, or get back on track with, their education.
March's honorees were: Landen Anthony from Pacific View Charter School (not pictured), Angel Gomez-Galvan from Surfside Educational Academy, Sabrya Mosely from Oceanside High School, and Angela Hernandez Lira from El Camino High School (pictured with Mayor Esther Sanchez).
Honorees at the monthly Rising Star breakfasts are eligible to apply for $20K higher education scholarships provided by Genentech that will be awarded in collaboration with the Chamber's Workforce Development Taskforce at a special breakfast event on May 24th.
Rising Star events are open to all community members who want to show their support for our students. Presenting sponsors are Genentech and Tri-City Medical Center. Event and Venue sponsors are San Diego Gas and Electric and Frontwave Credit Union. Food sponsor is North County Roastery. For more information, visit www.RisingStarOceanside.com.