Open this email in your web browser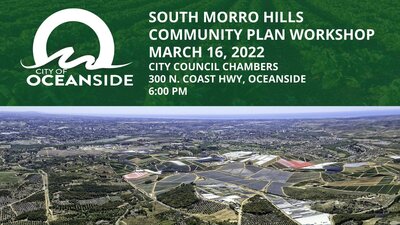 South Morro Hills Community Plan - Your Opportunity for Input
Wednesday, March 16, 2022
6:00 PM - 8:00 PM
City Council Chambers
300 N. Coast Hwy
Oceanside, CA 92054
The SMHCP is an extension of the General Plan Update currently underway, and includes goals and policies to guide future land use and development within the South Morro Hills area. As the next phase of public outreach, the design-based workshop will focus on obtaining community input for the preparation of the SMHCP and "brainstorming" on site planning and design strategies for farmland conservation. The Planning Division will host a public workshop for the South Morro Hills Community Plan (SMHCP) on Wednesday, March 16, 2022, in the City Council Chambers at 300 N. Coast Highway, Oceanside from 6:00 PM to 8:00 PM. Virtual attendance is also available via Zoom. More details.
---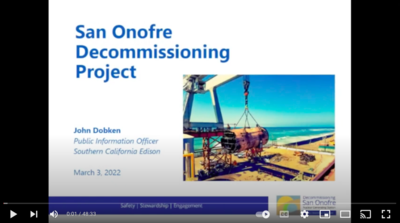 Watch March's Emerging Issues Forum: Update on Decommissioning of San Onofre Nuclear Generating Station
At the Chamber's March 3rd Emerging Issues Forum, John Dobken, the Public Information Officer for SONGS, provided an update on the decommissioning of San Onofre Nuclear Generating Station (SONGS). Watch now.
---


William A. Wagner Aquatic Center Conference Room and Patio
3306 Senior Center Drive
Oceanside, CA 92056
Join us April 28th from 5 PM - 7 PM for the annual Meet the City Reception! This event gives Oceanside Chamber members and guests the opportunity to connect with local elected officials, City of Oceanside staff members, other businesses, and community leaders. The Meet the City of Oceanside event includes appetizers and a no-host bar. This indoor/outdoor event will be held at the new El Corazon Aquatic Center. Attendees can enjoy both the conference center and the outdoor patio. The cost is $55 for Chamber members, and $95 for non-members. More details and registration.
---


Coomber Craft Wines
611 Mission Ave.
Oceanside, CA 92054
The Oceanside Young Professionals invite you to network with local YP's at Coomber Craft Wines on Friday, March 18th from 5:30 PM - 7:30 PM. Coomber will be hosting complimentary wine tastings and enjoy their spacious outdoor patio. There is no fee to attend. The Oceanside Young Professionals Network is open to all, so bring a friend. We hope to see you there! More details and registration.
---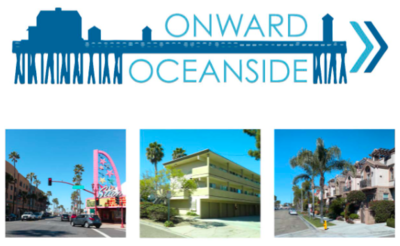 Oceanside Revised Housing Element Update
(Source: City of Oceanside)
The project team will present project alternatives for GPU Phase 2 to the Planning Commission on March 28th and the City Council on April 6th. Reflecting different distributions of future housing and employment growth, the project alternatives are meant to foster further community engagement on the General Plan Update while achieving compliance with the California Environmental Quality Act (CEQA). The consideration of project alternatives will lead to the selection of a preferred plan for GPU Phase 2. The preferred plan will then be summarized in a brief Land Use and Mobility Plan that will be shared with the community and decision-makers. More details.
---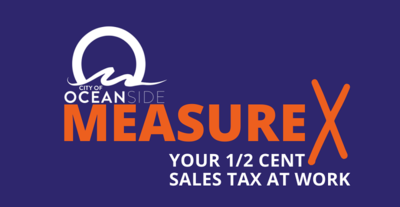 Measure X Updates
(Source: City of Oceanside)
Measure X is the 1/2 cent sales tax measure passed in November 2018 by Oceanside voters for a period of seven years. The revenue from the 1/2 cent tax helps fund public safety, road repairs, improved infrastructure, and addressing homelessness. The tax went into effect in April 2019 and provides for accountability by a Citizens Oversight Committee, separate funds, spending plans, and an annual independent audit. More details.
---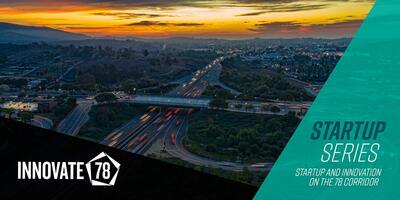 You're Invited Startup and Innovation on the 78
Thursday, April 7, 2022
5:30 PM - 7:30 PM
Cal State San Marcos
288 Campus Way, Suite 102
San Marcos, CA 92078
The landscape for startup fundraising has fundamentally changed over the past two years. San Diego's angel investor ecosystem is richer than ever, and the success of a variety of unicorn startups has sparked the interest of venture capital firms beyond the region's traditional startup industries, such as biotechnology and software. Join Innovate78 for the return of in-person Startup Innovate78 programing as we hear from a panel of founders and funders about:
Lessons learned in raising first and subsequent rounds of capital

Unique value propositions that founders look for when searching for successful companies

Advice on lessons learned from first-time founders and how founders can stand out

Best practices on leveraging local community to thrive within the local startup landscape
More details and registration.
---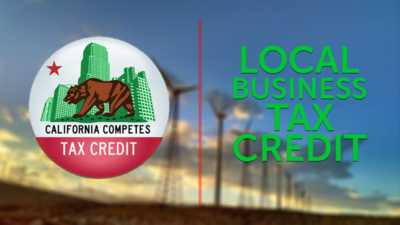 California Competes Tax Credit Program
March 7, 2022 – March 28, 2022
The California Competes Tax Credit (CCTC) is an income tax credit available to businesses that want to locate in California or stay and grow in California. Businesses of any industry, size, or location compete for over $180 million available in tax credits by applying in one of the three application periods each year. More details.
---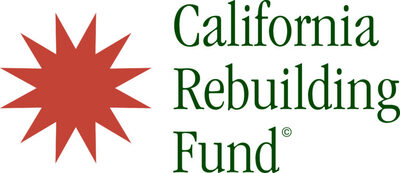 California Rebuilding Fund
Lendistry is excited to spread the word about a low-cost state-sponsored loan program available for businesses throughout California. California Rebuilding Fund loans can be used for working capital or growing your existing business – anything you need to help you succeed. They are coupled with non-profit business advising so you can confidently pay the loan back. Complete a pre-application to get matched with a non-profit lender in CA. More details.
---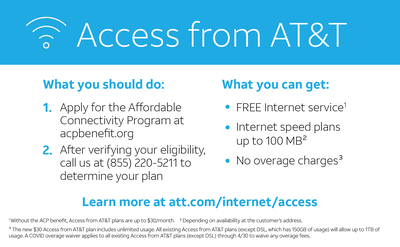 New AT&T Plan Offers Free Internet to Eligible Households
Access to affordable, reliable high-speed internet is critical, especially during these unprecedented times. That's why we want to alert you of a new plan from AT&T that provides free broadband internet for eligible households. As part of their commitment to connecting more Californians to reliable, high-speed broadband internet, AT&T has recently announced a new discount internet program for low-income customers called Access from AT&T. More details.
---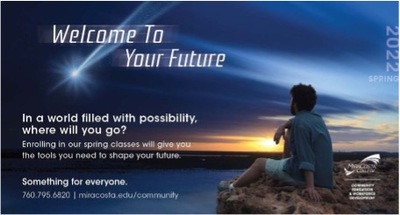 Welcome to Your Future
(Source: MiraCosta College Community Education and Workforce Development)
Unique for who you are and where you'll go, MiraCosta Com- munity Education can help pair your natural talents with the vital skills and personal development that are part of your journey. Your future is calling, why not answer today?
---

Join this interactive workshop and learn how to create a social media strategy for your business that will help you stay consistent with your posts, and stop feeling overwhelmed with what to write or what pictures to post. You will leave this workshop with a plan of action to take your social media strategy to the next level. More details and registration.
---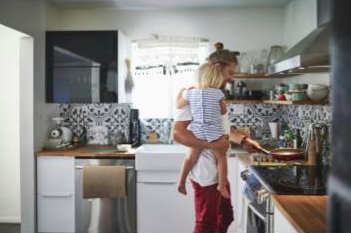 Need Help with Your Energy Bill?
(Source: SDG&E)
SDG&E recognizes that this is still a challenging time for many customers and wants to help. Check out these energy assistance programs. More details.
---
*Notice to Members
The Oceanside Chamber's 2020 audited financials have been approved by the Chamber board and are available for review upon request with 2-day advance notice at the Chamber office.