Helping Businesses Prosper and our Community Thrive!
Your investment in the Oceanside Chamber is making a difference in our community! The Chamber's mission is to "stimulate economic prosperity and foster a vibrant community." Here's a quick overview if what your investment in the Chamber allowed us to accomplish in the recent weeks...
OUR VISION: A Thriving and United Oceanside
OUR MISSION: To provide advocacy and resources that help businesses and our community thrive.

Workforce Development
SOCAL Video Project Underway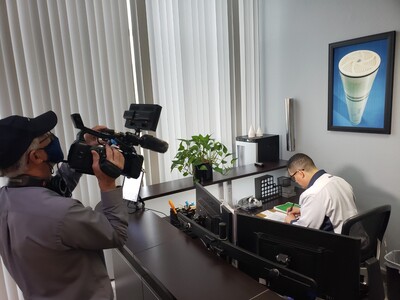 For the last several months, the Oceanside Chamber has been working as part of an extensive collaboration to launch a new workforce development project for the region. Student Opportunities for Career Awareness and Learning or SOCAL is a partnership between the Oceanside, Carlsbad, and Vista Chambers, the San Diego North Economic Development Council(SDNEDC), local educational institutions, and industry and business leaders. SOCAL's purpose is to elevate career education for students and career-seeking individuals.
Originally conceptualized and developed by Tri-City Medical Center and supported by a generous grant through San Diego County Supervisor Jim Desmond's office, SOCAL is a public-private partnership designed to bring career awareness to local students.
In phase one of the SOCAL project, the Chambers and SDNEDC are recruiting companies to participate in a video project that spotlights different occupations at their firms. The goals are to expose students or those in career transition to occupations they might not otherwise have thought about and to provide information about educational programs or other "next steps" they should further research.
The Chamber's first video shoot took place in late September with Hydranautics, a membrane manufacturer and one of Oceanside's largest employers. The company highlighted three different team members, providing a perspective of the day-to-day responsibilities and educational requirements associated with their respective positions.
The videos will be housed on a new website that is being developed by Intesa Communications and is expected to launch this December. The Career Technical Education teams from the Oceanside, Carlsbad, and Vista Unified school districts plan to use the videos as a classroom tool to assist students in exploring career opportunities that align with their skills and interests.
Job Fair Delivers Timely Connections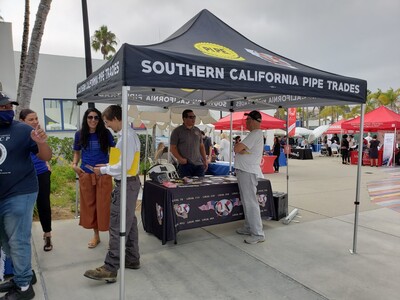 The Oceanside Job Fair, a partnership of the Oceanside Chamber, City of Oceanside and Visit Oceanside took place on Saturday, September 25th. Close to 40 employers as well as resource partners were on site to promote employment and training opportunities for those looking to re-enter the workforce. An estimated crowd of 300+ job seekers were in attendance.
Oceanside Mayor Esther Sanchez, a strong advocate for the event, was in attendance and expressed appreciation for all the employers that participated in the fair.
While the job fair was a one-day event, the Chamber is committed to continuing to provide avenues for local businesses to connect with the pipeline of prospective employees. The Chamber maintains a job board at OceansideCareers.com which now features links to more than 20 local businesses seeking employees.
---
Economic Recovery
New Round of Small Business Grants Kicks off this Month
The Oceanside Chamber, in partnership with MainStreet Oceanside and the City of Oceanside will kick off the City's 3rd Small Business Grant Program this month. Through its 2021 allotment of American Rescue Plan funds, the City has dedicated $300,000 to a small business grant program targeted toward businesses that were disproportionately impacted by mandated closures. In the first two rounds of funds, the Chamber distributed over $560,000 in grants to small businesses in Oceanside. For this round, grant awards will range from $1,000 to $7,500. More information is available at here.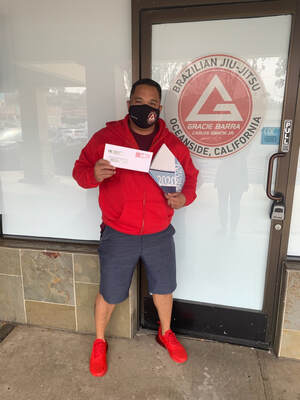 ---
Public Policy/Business Advocacy
The Oceanside Chamber of Commerce strives to provide a strong voice for our local business community. As an advocate for business, we remain engaged in many important issues…
Oceanside Chamber Joins Coalition to Oppose the Vehicle Mileage Tax
This summer, 18 Chambers of Commerce came together to form the San Diego Business Coalition. Our goal is to educate the community and businesses about proposed policies that will negatively impact San Diegans.
San Diego Elected Officials are looking to impose a new VEHICLE MILEAGE TAX to charge drivers per mile that we drive. This pilot program will then be implemented for all California drivers.
80-cent-per-gallon INCREASE - The Vehicle Mileage Tax would require tracking every driver's mileage and charging them $0.04-$0.06 per mile they drive. That is the equivalent of an $0.80 per gallon increase in gas tax.
$600-800 a year - The typical San Diegan driver will be forced to pay $600-800 more a year to drive on roads they already paid for with the original gas and sales taxes. When added with the current car and gas tax, a two-car family is looking at over $3,000 a year in taxes.
LOSS OF PRIVACY - The Mileage Tax is an invasion of privacy with a tracking requirement that is still being decided by the government. Proposals include a device installed in every vehicle, a tracking app on cell phones, or your odometer being inspected annually
Join us in making your voice heard!