---
Chamber Partners
Emerald Partner
---
Platinum Partners


---
Silver Partners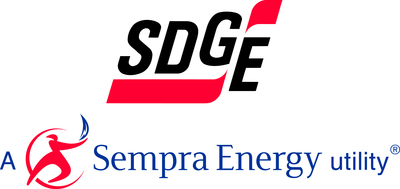 ---
Bronze Partners




---
Investors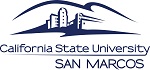 ---
---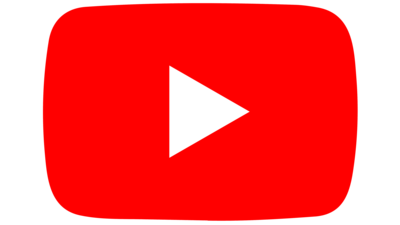 ---
Oceanside Family Counseling Center
---
Angels and Gurus Kundalini Yoga and Lifestyle Studio
---
*NEW*
---
10/07/2021
8:00 AM - 9:30 AM
Emerging Issues Forum: Impacts of SANDAG Regional Transportation Plan
10/07/2021
12:00 PM - 1:00 PM
OYPN Meeting at the Switchboard Restaurant & Bar
10/12/2021
8:00 AM - 9:00 AM
Second Tuesday Coffee
10/14/2021
9:00 AM - 1:00 PM
Active Lifestyles Expo (Oceanside Senior Expo)
10/18/2021
8:00 AM - 9:00 AM
Military Affairs Forum
11/04/2021
8:00 AM - 9:30 AM
Emerging Issues Forum: Update on San Retention Pilot Program
---
Nominate an Outstanding Teacher for SDCCU Classroom Heroes®
One Book, One San Diego and Documentary Screening
Jennifer Williams Appointed SVP/General Counsel at Frontwave Credit Union
Filipino Cultural Celebration October 9
Scripps Expert Urges Early Flu Shot Before the Season Intensifies
Sen. Patricia Bates Applauds Fire Prevention Grants for San Diego and Orange Counties
Rep. Mike Levin Honors Motivational Speaker and First Generation American as Constituent of the Month
MiraCosta College Brewers are 2021 US Open College Beer Champions
40 Years of KOCT Celebration Fundraiser
Ivey Ranch Park Association Western Hoedown
Brooks Theater Gallery and OMA Create Amazing Synergy
Homeschool with The Classical Academies
Open this email in your web browser
Emerging Issues Forum Tomorrow: Impacts of Proposed Mileage Tax
Thursday, October 7, 2021
8:00 AM - 9:30 AM PST
Oceanside Chamber
928 North Coast Highway
Oceanside, CA 92054
Join us at the Chamber's October 7th Emerging Issue Forum for a presentation on the impacts of SANDAG's proposed $163B regional transportation plan. We will also have updates from our various legislative representatives. Please Note: The Forum has returned to meeting in person at the Chamber's office. More details and registration.
---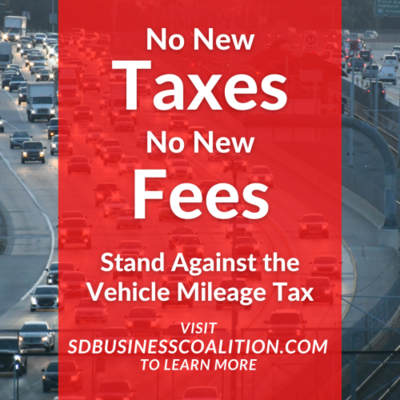 Join us in Making Your Voice Heard
In 2021, 18 Chambers of Commerce came together to form the San Diego Business Coalition. Our goal is to educate the community and businesses about proposed policies that will negatively impact San Diegans.
San Diego Elected Officials are looking to impose a new VEHICLE MILEAGE TAX to charge drivers PER MILE that we drive. This pilot program will then be implemented for all California drivers.
80-cent-per-gallon INCREASE - The Vehicle Mileage Tax would require tracking every driver's mileage and charging them $0.04-$0.06 per mile they drive. That is the equivalent of an $0.80 per gallon increase in gas tax.

$600-800 a year - The typical San Diegan driver will be forced to pay $600-800 more a year to drive on roads they already paid for with the original gas and sales taxes. When added with the current car and gas tax, a two-car family is looking at over $3,000 a year in taxes.

LOSS OF PRIVACY - The Mileage Tax is an invasion of privacy with a tracking requirement that is still being decided by the government. Proposals include a device installed in every vehicle, a tracking app on cell phones, or your odometer being inspected annually.
You Don't Get a Vote - Our elected officials are voting on this with Sandag and we encourage you to understand what this tax means to you and make your voice heard if you oppose it. Join us in making your voice heard here.
---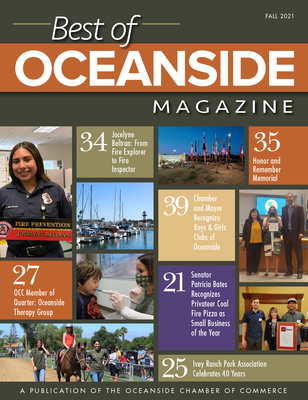 Read the 2021 Fall Edition of the Best of Oceanside Magazine
The fall edition of the Oceanside Chamber's Best of Oceanside Magazine is here! This edition highlights local Oceanside business and news! Our this edition features stories on Oceanside's sport fishing, the Privateer Marketplace and Oceanside Therapy Group. Take an inside look at Oceanside's Cultural Arts District, and check out some of our spots to shop and play local in our new "Shop and Play Local" spotlight. As always, the publication features economic development updates and various members and community news. Read the full publication.
---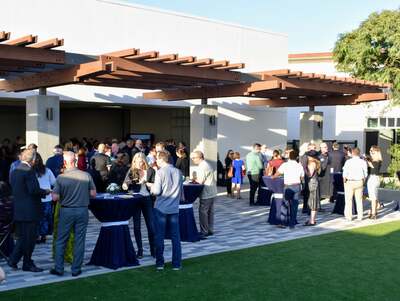 Meet the City of Oceanside Photos Now Available
A huge thank you to everyone who joined us for last Thursday's Meet the City of Oceanside event and the Oceanside Chamber's 125th anniversary celebration. It was a beautiful evening at the new El Corazon Aquatics Center. The event was catered by the O'side Kitchen Collaborative and featured a delicious 125th anniversary cake made by San Luis Rey Bakery & Restaurant. Thank you again to everyone in attendance, including Mayor Esther Sanchez who declared Sept. 30 2021 as Oceanside Chamber of Commerce Day. See photos.
---

Oceanside Young Professionals Network Meeting at The Switchboard Restaurant & Bar Tomorrow
Thursday, October 7, 2021
12:00 PM - 1:00 PM
The Switchboard Restaurant & Bar
131 S. Coast Hwy.
Oceanside, CA 92054
The Oceanside Young Professional Network (OYPN) is excited to bring back in-person meetings! This month the group will meet Thursday, October 7th from 12:00 PM - 1:00 PM at The Switchboard Restaurant and Bar. OYPN is vital to planning and executing events throughout Oceanside for young professionals to network with like-minded peers, engage in the community, and stay informed on local issues. Chamber members and non-members alike in this age group are encouraged to come to committee meetings and contribute to the program's development. Please register for the event prior to attending. The event is free to attend with the only cost being the price of your meal! More details and registration.
---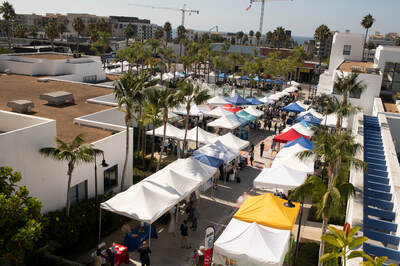 Active Lifestyles (Oceanside Senior) Expo Next Week
Thursday, October 14, 2021
9:00 AM - 1:00 PM
Oceanside Civic Center Plaza
300 N. Coast Hwy
Oceanside, CA 92054
This popular event will feature health-related businesses, non-profits and senior organizations. In addition, exhibitors have an opportunity to offer variety of free health-related screenings and demonstrations for the public. The event is free to the public. Booth space is available for businesses interested in promoting their products or services. More details. Download a booth registration form.
This event could not occur without corporate sponsorship. We provide our sponsors with an excellent branding opportunity, beyond what just a booth space can offer. Contact the Chamber at 760-722-1534 or email to learn about the marketing and promotional opportunities gained by sponsoring this event. Sponsorship information.
---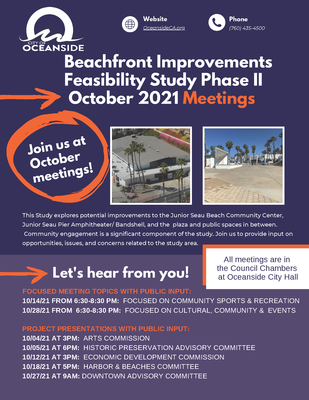 The City of Oceanside's Beachfront Improvements Feasibility Study Phase II October 2021 Meetings
The City of Oceanside is currently in the "discovery" phase of the Beachfront Improvements Phase II study effort. Please join the City for a presentation and an opportunity to provide feedback at the meetings listed in the link below. Two additional public outreach meetings have been scheduled that will specifically focus on programs and event uses at the Junior Seau Beach Community Center and the Junior Seau Pier Amphitheater/Bandshell. Community engagement is a significant component of the study. Join us to provide input on opportunities, issues, and concerns related to the study area. More details, meeting times and registration.
---

McClellan-Palomar Airport: Master Plan Update
Thank you to everyone who participated in the County's virtual informational meeting on September 29, 2021 for the McClellan-Palomar Master Plan and Program Environmental Impact Report. For those could not attend, the Master Plan website has been updated to include resources from the informational meeting, including:
As explained in the County's presentation, we are seeking public input on several key items. We encourage you to participate by completing the survey before October 6, 2021. The answers will be collected and reviewed by staff to share with the Board of Supervisors at the hearing tentatively scheduled for November 3, 2021. If you have any questions, please email PalomarMP@sdcounty.ca.gov. Take survey.
---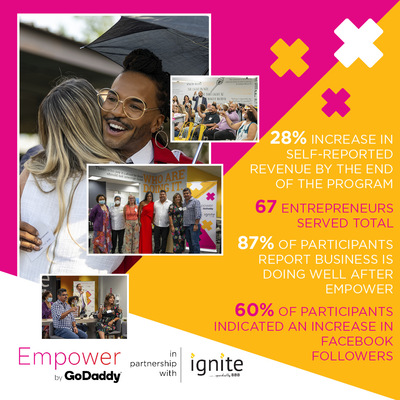 Free BBB Business Accelerator with GoDaddy
Empower by GoDaddy is GoDaddy's global community and philanthropic program equipping entrepreneurs in underserved communities with training, tools and peer networks to accelerate their journeys. Better Business Bureau® Serving the Pacific Southwest (BBB) launched Empower by GoDaddy to deliver this education to Main St. entrepreneurs who want to ignite their venture. This multiweek program is a premier Main St. Accelerator and only accepts a limited number of applicants per cohort. More details and application.
---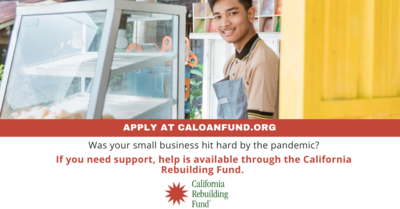 The California Rebuilding Fund is Here to Help Small Business
With the uncertainty stemming from the COVID-19 Delta variant, California's small businesses need access to flexible, affordable credit as well as business support to stay afloat and rebuild. We're helping spread the word about the California Rebuilding Fund, a partnership between public and private sector entities to provide California small businesses – particularly businesses in underbanked parts of the state – with capital to help them survive and rebuild from this crisis. The fund offers loans which have transparent terms and are designed to help sustain small businesses during these challenging economic times. The funds are administered by participating community lenders. Businesses with up to 50 full-time employees and gross revenues of $5 million or below in 2019 may be eligible to apply for loans up to $100,000. More details.
---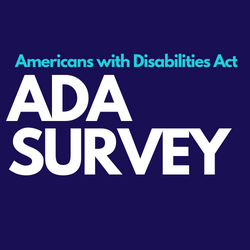 Americans with Disabilities Act (ADA) Survey
In keeping with ongoing efforts to serve all members of the public, the City of Oceanside is updating its Americans with Disabilities Act (ADA) transition plan and self-evaluation. The accessibility plan provides for people with disabilities to City facilities, programs, services, and events. The City is seeking input from the community and local organizations assisting those with disabilities. Your feedback will help us address and prioritize current and future accessibility needs. Survey.
---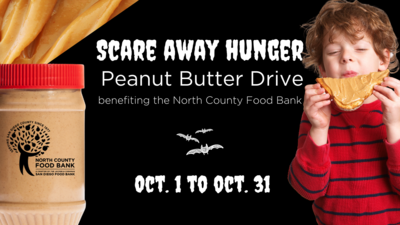 Feed Hungry Kids! Donate to the Scare Away Hunger Virtual and In-Person Food Drive
Benefiting the North County Food Bank
October 1 - October 31
Every day, 1 in 5 kids faces hunger in North County. The North County Food Bank needs your help to provide nutritious food to households with children living in poverty. The Food Bank is seeking donations of peanut butter because it is an excellent source of protein for children in need. You can make a difference in the lives of your North County neighbors. This year, the Oceanside Chamber is offering both in-person and virtual donations. In-person donations can be dropped off at the Oceanside Chamber offices. Please donate jars of peanut butter virtually by shopping our Virtual Food Drive throughout the month of October. Donate now!
---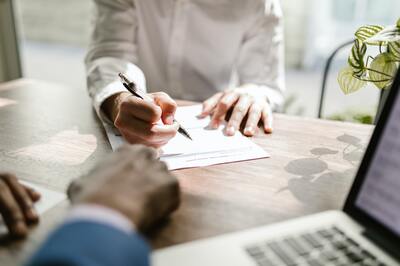 Group Life Insurance Available to OCC Members/Employees
Groups who enroll five or more employees are eligible for up to $50,000 of guaranteed issue life insurance, up to $20,000 for their spouse or domestic partner and $10,000 for their dependents. The program is voluntary, and employers are not required to pay for any of the insurance. There are no health questions, no physical exams and no doctor reports. Males and females pay the same premiums and non-smoker rates will apply for everyone. For groups enrolling 20 or more employees, the guaranteed issue increases to $100,000.
Joel Marcus, a chamber member and our broker for this program, is available to answer any questions you may have. Joel can be reached at (760) 804-6233 or jmaflac@aol.com.
---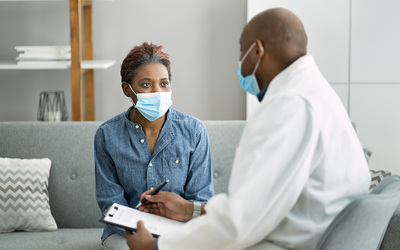 8 Ways to Build a Strong Relationship with Your Doctor
(Source: Scripps Health)
You've waited several weeks to see your doctor, but after you leave the office you still have questions, and you don't quite understand your diagnosis. If this sounds familiar, it's time to improve your relationship with your physician.A good patient-physician relationship can go a long way in helping you stay healthy — and getting the care you need when you're not feeling well. More details.
---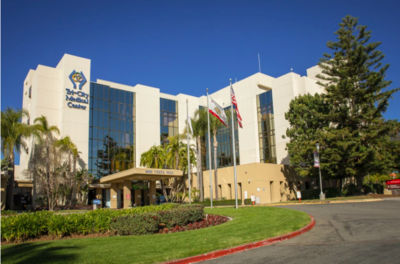 Tri-City Recognized as a Community Hero
(Source: San Diego Union Tribune)
Representatives from Tri-City Medical Center's executive team, Chief Compliance Officer Roger Cortez and Tri-City Hospital Foundation President Jennifer Paroly, accepted a Community Heroes Award as part of the San Diego Union Tribune's "San Diego's Best" awards program. This year's Community Heroes Award was given to four organizations who went above and beyond for their employees and the community during the pandemic. Tri-City Medical Center is proud to be recognized by the San Diego Union Tribune with this special award. More details.
---
Energy Saving Tips for Small Businesses
(Source: SDG&E)
According to the EPA's ENERGY STAR®program, U.S. small businesses together spend a whopping $60 billion on energy each year. A survey conducted by theNational Federation of Independent Business (NFIB) found that energy costs are a top three business expense for more than one-third of the nation's small businesses. But small businesses also have significant energy savings potential. Depending on the building and business type, small businesses can reduce their energy without sacrificing service or comfort. More details.