---
Chamber Partners
Emerald Partner

---
Platinum Partners


---
Silver Partners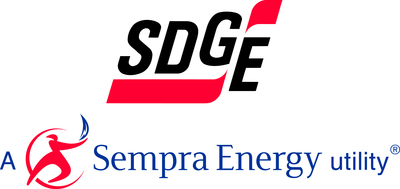 ---
Bronze Partners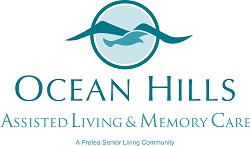 ---
Investors

---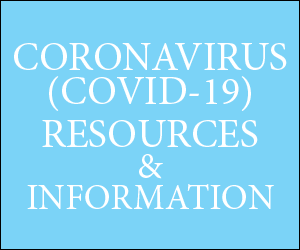 ---
---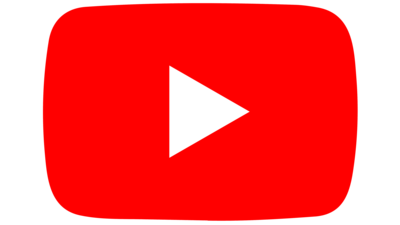 ---
---
Buffalo Soldiers Motorcycle Club Oceanside
Oceanside Longboard Surfing Club
---
---
2/25/2021
4:00 PM - 5:30 PM
Joint Thirsty Thursday with the San Fernando Valley, West Hollywood, Culver City and Vista Chambers
2/27/2021
12:30 PM - 5:30 PM
VETART Virtual Pop-Up Community Creative Arts Café with Oceanside Museum of Art
3/2/2021
8:00 AM - 9:00 AM
Virtual First Tuesday Coffee
3/4/2021
8:00 AM - 9:30 AM
Virtual Emerging Issues Forum: COVID-19 Vaccine Rollout Update
3/4/2021
10:00 AM - 11:o0 AM
Virtual Oceanside Young Professionals Network Meeting
3/11/2021
8:00 AM - 9:o0 AM
Virtual Military Affairs Forum
---
3rd Annual Black History Month Celebration
Visit Oceanside Provides Safe Reopening Demonstration Video for Endurance Sports
MiraCosta Technology Career Institute in Carlsbad Upcoming Courses for Job Enhancement
Boys and Girls Clubs of Oceanside to Offer Free Program for Parents of Young Children
Rail Service to be Suspended from Oceanside to San Diego February 20 - 21
Cox Communications' Sam Attisha Named 2021/2022 Board Chair for the California Cable and Tele-communications Association
---
Open this email in your web browser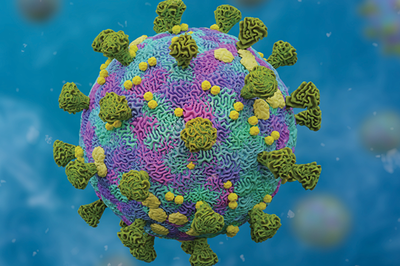 CalChamber Urges Pull Back of Emergency COVID Rules
(Source: CalChamber)
The California Chamber of Commerce urged the California Legislature this week to correct a series of costly COVID-19 workplace mandates imposed through an emergency regulation order. The regulation, issued by the California Division of Occupational Safety and Health (Cal/OSHA) late in 2020, requires employers to take a number of extraordinary steps that include providing costly unlimited paid time off for workers. It further creates an overly broad testing scheme that ignores the realities of current testing availability. More details.
---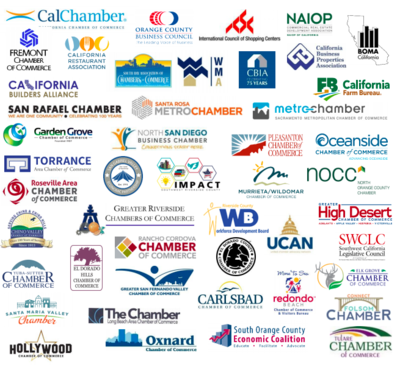 Chamber Supports New Small Business Grant Program
The Oceanside Chamber signed on to a CalChamber coaltion in support of SB 74 (Borgeas), a bill that creates a new grant program for the state's small businesses and non-profit organizations. Known as the Keep California Working Act, the bill provides grant awards between $5,000 and $60,000 for selected businesses that have been negatively impacted by COVID-19. If approved, the funds can be used toward payroll, healthcare benefits, paid leave, rent, as well as costs associated with safely re-opening. More details.
---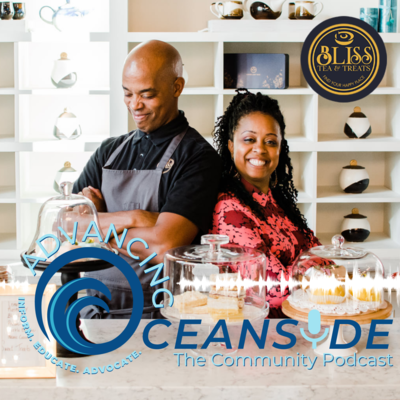 Black History Month Special - Rushell & Al Gordon on the Tea Experience, Oceanside's Culture & What Black History Means to Them
In honor of Black History Month, we're joined by Rushell and Al Gordon, the brother and sister duo behind Bliss Tea Treats, a local Tea Room here in downtown Oceanside. Rushell and Al start by diving into Oceanside's black history specifically, and then broaden their discussion by sharing with us their perspective on black history overall. They explain that, to them, black history's significance lies in the appreciation for their ancestors and what they did to create opportunities and pave the way for generations today. Watch full interview. Listen on Apple Podcasts! Listen on Spotify!
---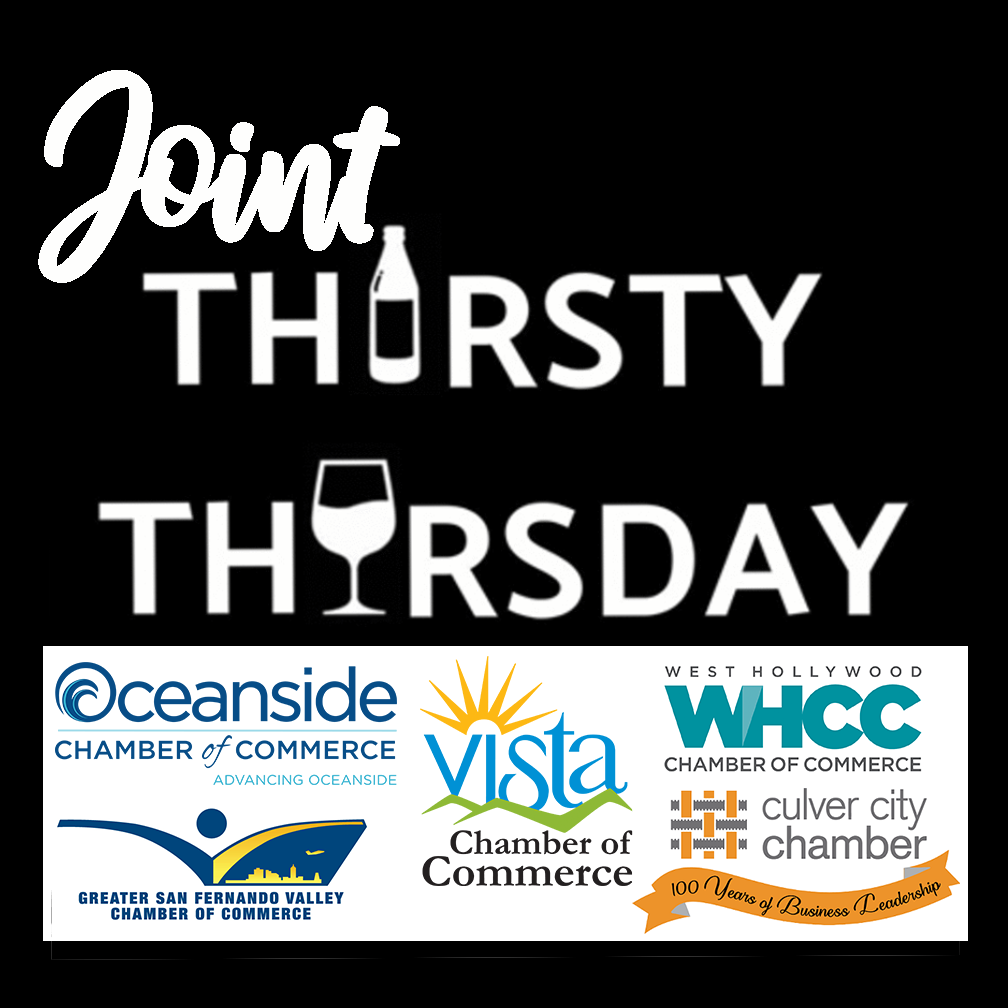 Next Thursday! Joint Thirsty Thursday with the San Fernando Valley, West Hollywood, Culver City and Vista Chambers
Thursday, February 25, 2021
4:00 PM - 5:30 PM
Online Event Via Zoom
The Oceanside Chamber has partnered with the Greater San Fernando Valley, Culver City, West Hollywood and Vista Chambers to bring you a Joint Thirsty Thursday Networking Event! Grab your favorite drink and join us Thursday, February 25th from 4 PM to 5 PM for a special virtual networking happy hour. Conducted in a speed networking format, we look forward to connecting you with other professionals not only in North County, but all the way up into the LA area! This is a great opportunity to meet some new people while maintaining a safe social distance, and is a very popular event hosted through the Greater San Fernando Valley Chamber. More details and registration.
---

VETART Virtual Pop-Up Community Creative Arts Café with Oceanside Museum of Art
Saturday, February 27, 2021
12:30 PM - 5:30 PM
Virtual Event
This inaugural event is hosted in partnership with the Oceanside Museum of Art (OMA), with ongoing support from California's Mental Health Services Oversight and Accountability Commission (MHSOAC). They will be presenting a curated and interactive virtual event featuring California artists who have served in the United States Armed Forces alongside presentations from art and music therapists who work within the community. In collaboration with local communities across the state of California to produce the Pop-Up Cafes, VETART and a series of local partners will also introduce you to mental health resources available in service to our Veteran community. More details, schedule of events and registration.
---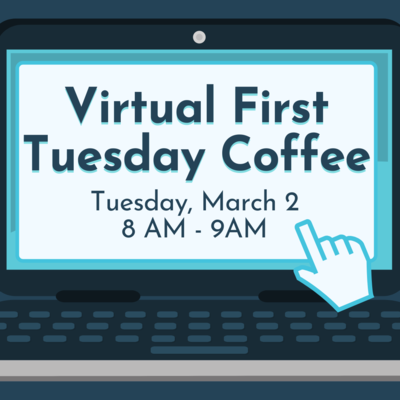 March is for Making Connections at the Chamber's Monthly First Tuesday Coffee
Tuesday, March 2, 2021
8:00 AM - 9:00 AM
Online Event via Zoom
Log into the Oceanside Chamber's Virtual First Tuesday Coffee Event. Connect with like-minded businesses over coffee, tea, or whatever your fix is on-the-go! Attendees will have a chance to give a 1-minute introduction and will have access to a participant list to stay connected after the event. The event is powered by Zoom and instructions will be sent via email after you register. This event is free to Oceanside Chamber members and $20 for prospective members. Online registration is required. Not a member? Please contact Luis Barbosa, Business Advocate and Advertising Sales Pro, for information on how to attend the event. For all other questions, please contact our Communications and Outreach Coordinator, Hana Gilbert. More details and registration.
---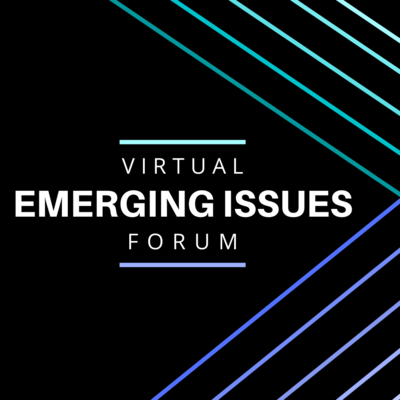 Virtual Emerging Issues Forum: COVID-19 Vaccine Rollout Update
Thursday, March 4, 2021
8:00 AM - 9:30 AM
Online Event via Zoom
This month's Forum will feature an update on the COVID-19 Vaccine Rollout. A representative from the County of San Diego Health and Human Services Agency along with representatives from Tri-City Medical Center, Scripps Health and Genentech will give us the latest details on the distribution of the vaccine. We will also have updates from our various legislative offices. This meeting is open to all Oceanside Chamber members, and is held the 1st Thursday of every month from 8 AM to 9:30 AM virtually via Zoom. More details and registration.
---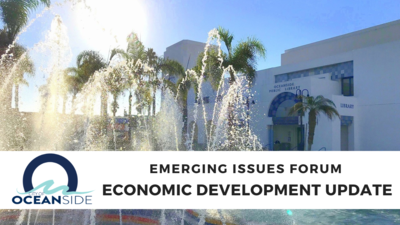 February's Emerging Issues Forum - City of Oceanside Economic Development Update on YouTube
February's Emerging Issues Forum featured the City of Oceanside's Annual Economic Development Update. Oceanside's Economic Development Manager, Michelle Geller provided an overview of recent developments in our City as well as a preview of what we can expect to see in the coming year. There are some exciting projects being proposed for Oceanside, so you won't want to miss this update! More details.
---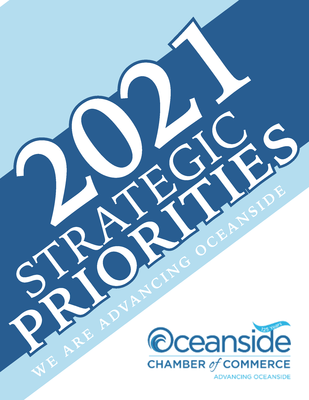 Read the Oceanside Chamber's 2021 Strategic Priorities for Advancing Oceanside
The Oceanside Chamber of Commerce has embarked on an incredibly ambitious plan of work for 2021. In addition to the development of our Multi-Year Strategic Plan, we have several key priorities to focus on this year. We have provided an overview of our Strategic Priorities for 2021 and why your investment in the Chamber continues to be critical to the advancement of Oceanside. Our areas of focus for 2021 include, Business Advocacy, Workforce Development, Economic Recovery, Restructuring Events and Political Action/Candidate Endorsements. Read our 2021 Strategic Priorities.
---

Frontwave Credit Union is Accepting Applications for PPP Loans
As part of their commitment to fighting for their members and the communities they serve, Frontwave Credit Union announced today that they have been approved by the Small Business Administration (SBA) to accept applications for the Paycheck Protection Program (PPP). The Paycheck Protection Program, backed by the U.S. Small Business Administration, is a loan program designed to provide a direct incentive for small businesses to keep their workers on the payroll. Businesses looking for more information can email SBArelief@Frontwavecu.com.
---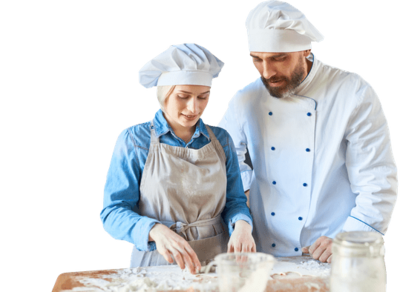 DoorDash Local Restaurant Grants Available
DoorDash is providing grants to restaurants selected through an application process in select cities across the US and Canada. The grants are the second round of funding distributed as part of DoorDash's Main Street Strong Pledge to help restaurants recover and succeed amidst COVID-19 related challenges. They have committed to providing $225,000 in local grants as part of its expanded COVID-19 relief program to help restaurants. Owners will be able to apply to receive $5,000 grants for use of offsetting costs associated with the ongoing pandemic. San Diegans can submit applications through Feb. 17th, with notifications set to take place by March 1st. More details.
---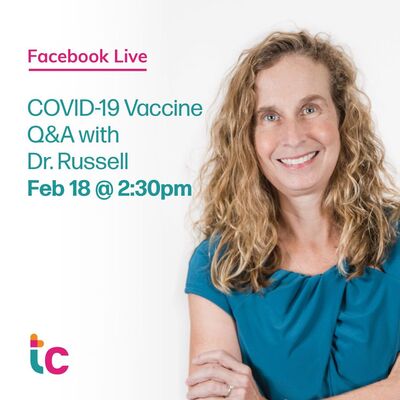 TrueCare Now Offering COVID-19 Vaccines to Patients at Oceanside and Vista Locations Plus Get Your COVID-19 Vaccine Questions Answered
Live During Q&A with Dr. Marie Russell
Thursday, February 18, 2021
2:30 PM - 3:30 PM
Online Event Via Facebook Live
TrueCare™, a nonprofit health care provider in North San Diego and South Riverside Counties, is launching the new COVID-19 Vaccine Clinic at the TrueCare's Loma Alta health center in Oceanside, CA starting on Tuesday, February 16.
The Loma Alta COVID-19 Vaccine Clinic is open Monday-Friday from 8:30 a.m. to 11:30 a.m. at 605 Crouch Street, Oceanside, CA, 92054.
The San Marcos COVID-19 Vaccine Clinic is open Monday-Friday from 1:00 p.m. to 4:30 p.m. in its QuickCare San Marcos location at 150 Valpreda Road, San Marcos, CA 92069. More details.
TrueCare welcomes the public to a Live Facebook Q&A about the COVID-19 Vaccine with Dr. Marie Russell on Thursday, February 18 at 2:30 p.m. PDT. More details and registration.
---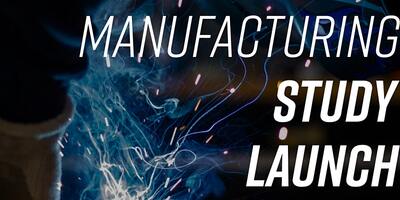 North County Manufacturing Study Launch
Thursday, February 25, 2021
12:00 PM – 1:00 PM
Online Event
Join Innovate78 on February 25 for the launch of our North County Manufacturing Study. Together with manufacturers and community partners, we'll discuss key findings from the report and highlight the industry's economic impact throughout North County and the broader region. More details and registration.
---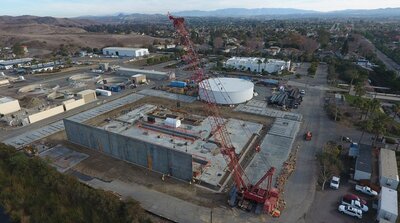 Pure Water Oceanside Project Reaches Milestone
Pure Water Oceanside construction remains on schedule for completion in 2022, with several significant milestones recently completed. The Oceanside project will purify recycled water to create a new, local source of high-quality drinking water that is safe, drought-proof and environmentally sound. "Construction has impacted many residents and businesses," said Cari Dale, City of Oceanside water utilities director. "Please know the City of Oceanside appreciates your patience. We thank people for understanding the need for this project and bearing with us during these months of construction impacts. This work is temporary, but the benefits will last for generations." More details.
---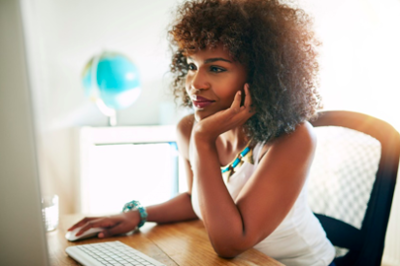 Take Advantage of SDG&E's No-Cost Tranings from Energy Experts
(Source: SDG&E)
Did you know that SDG&E provides webinars for business owners and trade professionals, and most are at no cost? You or your employees can learn about the latest in green building practices, technology and energy-saving solutions from experts in the industry. More details.
---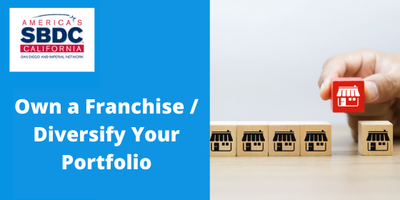 Own a Franchise / Diversify Your Portfolio
(Source: SBDC)
Wednesday, February 24, 2021
9:00 AM - 10:00 AM
Free Online Event
Own a franchise/diversify your portfolio. If you're not experiencing personal, professional and financial fulfillment, perhaps it's time to consider business ownership. Attend this training to get informed on your options. During the workshop, SBDC will discuss:
The possibility of running your own business while staying employed
The REAL pros & cons of business ownership

Three entrepreneurial paths that can help you reach your personal, professional and financial goals.

How to control your own career, income and calendar in business ownership

How the SBA & SBDC can support you