Open this email in your web browser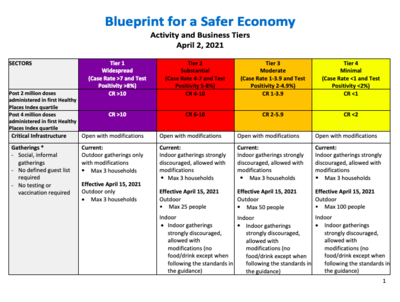 San Diego County Entering Orange Tier - Effective Today
(Source: San Diego County News Center)
The County will move into the Orange Tier of the state's COVID-19 prevention framework today further easing restrictions and allowing more indoor activities. The region can move into the Orange Tier of the Blueprint for a Safer Economy because its case rate has been under 6 cases per every 100,000 residents for the last two weeks, after moving to the Red Tier on March 17. The move comes after the state raised the case rate threshold for counties to meet after meeting a goal to vaccinate more than 4 million Californians who live in areas with the least healthy community conditions. View the full list of activites here.
Additionally, the state announced it will fully reopen the economy June 15th, if the state reaches two important benchmarks.
If vaccine supply is sufficient for Californians 16 years and older who wish to be inoculated

If hospitalization rates are stable and low
---

Beyond the Blueprint for a Safer Economy
As we reach 20 million vaccines administered and COVID-19 case rates and hospitalizations have stabilized, California is looking to move beyond the Blueprint for a Safer Economy to fully reopening our economy. On June 15, all industries across the state can return to usual operations with common-sense risk reduction measures such as masking and vaccinations. We will only progress to this stage if we continue to stay vigilant, keep wearing our masks and getting vaccinated. The state will monitor hospitalization rates, vaccine access, and vaccine efficacy against variants with the option to revisit the June 15 date if needed. More details.
---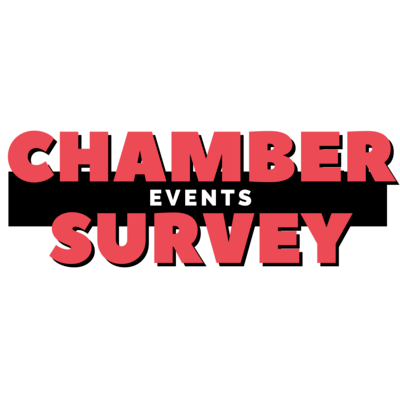 Oceanside Chamber Events Survey – What Works Best for You?
With San Diego County's move into the orange tier, the Oceanside Chamber is looking to begin hosting some small in-person networking events. We are asking for feedback from the community regarding the interest in attending in-person events or continuing with the virtual format. Our goal is to provide both in-person and virtual events in a hybrid style. Take survey.
---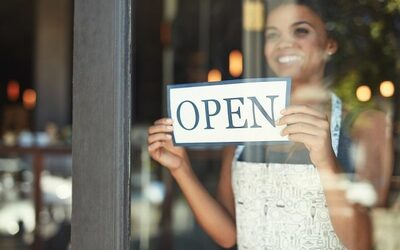 Tell Congress: Act Now. Small businesses still need help to recover!
Send a message to your members of Congress: we need them to provide unrestricted grants to save our small business community before it's too late.
It has been one-year since the COVID-19 pandemic shut down U.S. small businesses. While the Paycheck Protection Program (PPP) and the Economic Injury Disaster Loans (EIDL) provided a crucial lifeline for many businesses, the programs' rollout, technical errors, and restrictive loan parameters caused many small businesses—especially newer businesses and under-resourced communities—to fall through the cracks. Small businesses continue to struggle to keep their doors open.
We have joined with the Save Small Business Coalition and other to call on congressional leaders to provide grant funding for the smallest of America's businesses. 91% of small business owners say they want Congress to pass legislation authorizing direct grants.
You can help by using our one-click letter and sending your letter to your elected officials as well as Senate and Congressional leaders. Our template makes it easy and all you have to do is click "submit" and your letter will be sent. Send letter.
---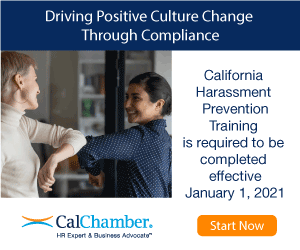 Mandatory Sexual Harassment Prevention Training Available for Discounted Price through the Oceanside Chamber
California law requires all employers with five or more employees to provide sexual harassment prevention training to all employees by January 1, 2021, and then every two years. This mandatory training for supervisors (two hours) and nonsupervisory employees (one hour) must also take place within six months of hire or promotion and again every two years. (Taking these individual-learner courses in a group setting will not satisfy the state requirements.) The Oceanside Chamber of Commerce has partnered with CalChamber to offer a 20% discount for online Employee Harassment Prevention Training, and online Manager/Supervisor Harassment Prevention Training. CalChamber makes it easy to train all your employees and managers to meet your California compliance obligations. More details.
---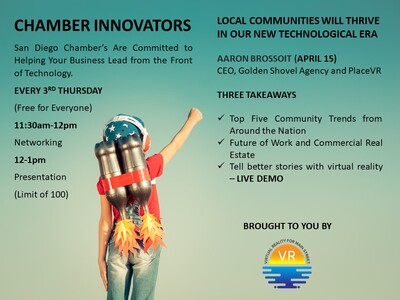 Chamber Innovators: Aaron Brossoit - CEO, Golden Shovel Agency and PlaceVR
Thursday, April 15, 2021
11:30 AM - 1:00 PM
Online Event via Zoom
Chamber Innovators is a program hosted by the San Diego Regional East County Chamber of Commerce that spotlights and educates the business community on innovation. This event offers the opportunity to network with businesses across San Diego County. Attendess will also hear from an "Big Hitter" in innovation. This month's speaker is Aaron Brossoit, CEO for Golden Shovel Agency and PlaceVR. During the presentation you will:
Learn how other communities around the nation are making their "pivot".

Learn how virtual reality can unleash your ability to connect.
This event is free and open to all Oceanside Chamber members. Registration is capped at 100 attendees, so register now! More details and registration.
---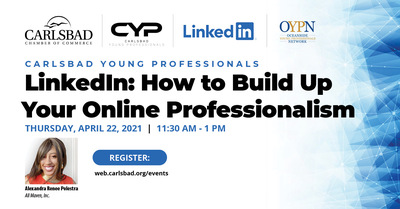 Joint Young Professionals LinkedIn Webinar: How to Build Up Your Online Professionalism
Thursday, April 22, 2021
11:30 AM - 1:00 PM
Online Event via Zoom
The Carlsbad and Oceanside Young Professionals have teamed up for a "LinkedIn Webinar: How to Build Up Your Online Professionalism"!
About the Speaker:
Alexandra Renée Poelstra, THE MAVEN of ALL MAVEN, where I craft marvelous businesses and brands for extraordinary visionaries, while helping organizations conquer whatever is keeping them from maximum potential, efficiency, impact and profit, with less headaches and more headway. Need guidance? Just #findTHEMAVEN. Register here!
---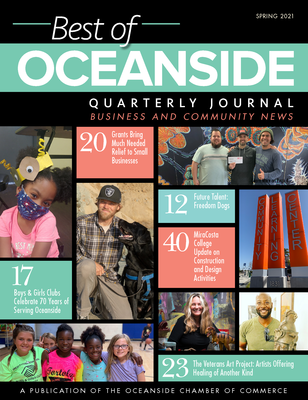 Read the Spring 2021 Edition of the Chamber's Quarterly Business Journal - A Focus on the Future of Oceanside
The spring edition of the Oceanside Chamber's Quarterly Business Journal is here! This edition features the Chamber's outlook for the future of Oceanside as we move towards full economic recovery. Learn more various economic developments here in Oceanside and help the community celebrate some exciting anniversaries including the Boys & Girls Clubs of Oceanside's 70th! As always, the publication features member spotlights including the Oceanside Museum of Art, KOCT, Freedom Dogs, Hydranautics and more. Read the full publication.
---
Sustainability Series - Get a Green, Chemical Free Clean with ENJO
Welcome to the Advancing Oceanside Podcast! Today we begin our celebration of Earth Month with a sustainability series focused on green and clean living. Today we have with us Nicole Douglas with ENJO California. ENJO is cleaning the world with chemical free products and reducing the average amount of household waste. Their patented fiber technology uses nothing other than water to clean surfaces and has a product lifecycle between 3 to 5 years. Learn more about ENJO's 100% carbon neutral production and how you can incorporate these small, sustainable changes into your everyday life as we work towards a chemically clear and plastic free environment. Watch full interview. Listen on Apple Podcasts! Listen on Spotify!
---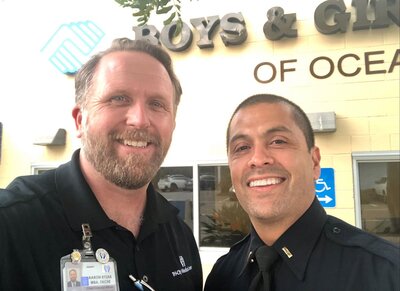 Oceanside Police, Tri-City Collaborate to Help At-Risk Youth
(Source: The Coast News Group)
Three years ago, Oceanside police officer Lt. Taurino Valdovinos set out to make a difference for the city's at-risk youth. Now, the region's local hospital is backing his vision. Valdovinos founded the Oceanside Youth Partnership (OYP) program in March of 2018, serving as a mentoring and character-building program for at-risk youth. The program aims to steer teens and young adults away from gangs, drug use and other illegal activities and toward a successful future. Tri-City Medical Center recently became a sponsor for the program. More details.
---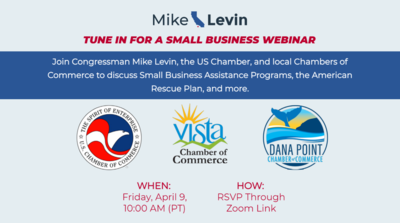 Rep. Mike Levin to Host Virtual Town Hall on COVID-19 and American Rescue Plan
Thursday, April 8, 2021
10:00 AM - 11:00 AM
Online Event via Zoom
U.S. Representative Mike Levin (D-CA) will host a virtual town hall on Thursday to answer constituents' questions about COVID-19 and the relief available under the American Rescue Plan. Rep. Levin will be joined by Dr. Andrea LaCroix, Distinguished Professor and Chief of Epidemiology in the Department of Family Medicine and Public Health at UC San Diego. Constituents can RSVP here and submit questions here.
---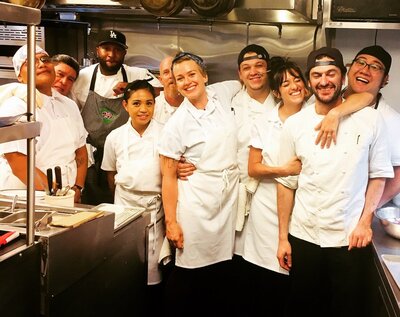 Resilience Fund: Grants for Small Restaurants
Restaurants Care, along with many corporate donors including SDG&E, is funding the Restaurants Care Resilience Fund which provides cash grants to support small restaurants and employees. Currently, 8 counties across California are eligible, including San Diego County. San Diego County businesses that have less than 50 employees, lost 20% of revenue (2019-2020), and are still open, can apply for $2,000 grants. Applications will open April 11th- 18th. A 20-minute webinar will be hosted on April 7th at 10 am for instructions on how to apply. A Spanish webinar will also be held on April 8th at 10 am. Each webinar will cover eligibility requirements, the application process, as well as take questions. More details.
---
Founders First San Diego Challenge for Small Businesses
Founders First CDC is a not-for-profit small business growth accelerator program spearheaded by a team of serial entrepreneurs and impact-focused investors. Through four (4) strategy-focused workshops and meaningful mentorship, the program educates small businesses on how to scale their business, improve their business financial health, and become job creators. The program culminates with a pitch & graduation day where cash & service prizes are awarded to the top growth plan presentations, along with the opportunity to network with potential investors and partners. Post-program support is included for all graduates. More details.