---
Chamber Partners
Emerald Partner
---
Platinum Partners


---
Silver Partners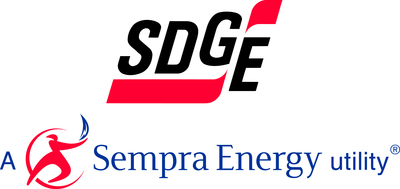 ---
Bronze Partners




---
Investors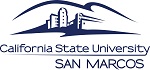 ---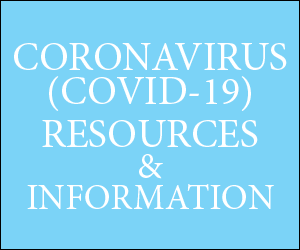 ---
---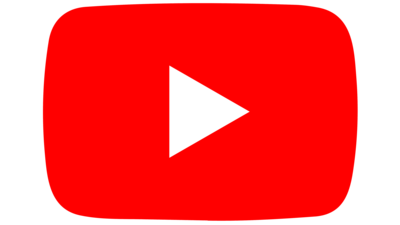 ---
First Command Financial Services
AAL Baptist Christian Counseling
Military Veterans Affairs Officer/Agent
---
Columbia Sportswear Employee Store at prAna
North County Professional Network
---
---
5/13/2021
8:00 AM - 9:o0 AM
Virtual Military Affairs Forum
5/20/2021
11:30 AM - 12:30 PM
Joint Young Professionals Resume Workshop
5/20/2021
11:30 AM - 1:00 PM
Chamber Innovators - Evan Sitler, CEO, XpertVR
5/21/2021
9:00 AM - 10:o0 AM
Virtual Social Media Workshop: Intro to Content Creation
5/21/2021
11:00 AM - 12:o0 PM
CalTMS Grand Opening Celebration
6/17/2021
4:00 PM - 5:30 PM
Virtual Thirsty Thursday with the Greater San Fernando Valley Chamber
6/24/2021
5:00 PM - 7:00 PM
Heroes of Oceanside and Camp Pendleton
---
Oceanside Celebrates Water Awareness Month with Virtual Reality Water Video
Frontwave Celebrates First Female Marine Graduates from MCRD San Diego
SDCCU Miracle Month of May is Collecting Monetary Donations for Children's Hospitals in Southern California
Puppy Mills – Beware of the Puppy ScamBy District Attorney Summer Stephan
Sen. Patricia Bates to Pursue Fentanyl Drug Trafficking Bill in 2022
Mayor Gloria Expands Free Wi-Fi to Help Close the Digital Divide
Sponsor Wreath for Placement at a Military Cemetery
Open this email in your web browser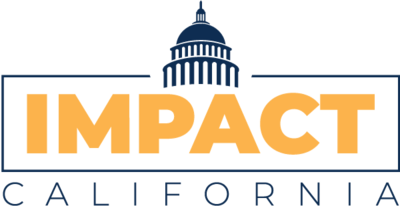 Action Needed to Oppose Costly Business Mandates
The Oceanside Chamber is actively participating in a coalition to defeat two bills that would have a serious impact on small businesses as we work toward economic recovery.AB 995 and AB 1119 would impose more new mandates on small businesses including:
Increasing the minimum number of paid sick leave days employers must

Expanding reasonable accommodation requirements under FEHA, which could include an obligation to provide additional time off
We are meeting with Assemblymember Tasha Boerner Horvath this afternoon to discuss our concerns about these bills. We need your action as well. Please take a couple of minutes to go to the Cal Chamber action center and send your note to the Assemblymember. Take action now.
---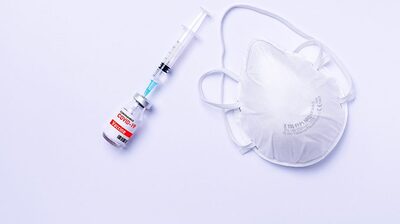 New COVID-19 Emergency Regulation Amendments Coming from Cal/OSHA
(Source: CalChamber)
In a development that every employer in California should be watching closely, Cal/OSHA released the new proposed text ("amendments") for California's COVID-19 emergency temporary standard ("ETS") on Friday, May 7th as part of the agenda for the May 20th Standards Board Meeting. The text of the amendments merit a close review with counsel because there is virtually no chance that the Standards Board will change or reject these changes – meaning that we can assume these will pass and go into effect shortly after the May 20th Standards Board vote and the subsequent Office of Administrative Law review. And, though these changes are helpful in parts, they certainly indicate that employers will continue to have significant obligations even after the Governor's much-discussed June 15th opening date. More details.
---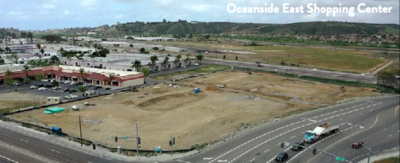 Oceanside Economic Development News
Oceanside has a dynamic business climate with new restaurants, retail shops and manufacturing businesses moving into the City. The City's Economic Development Division assists businesses with expansion and relocation to Oceanside by offering site searches, business visits, demographic and statistical information, and assistance with permit processing and business license issuance. Check out the latest new and coming business news. More details.
---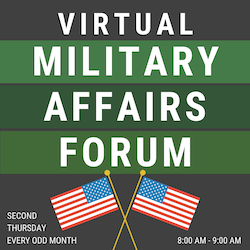 Tomorrow! Virtual Military Affairs Forum to Feature Sandy Hendren, Community Outreach & Event Manager for the Semper Fi & America's Fund
Thursday, May 13, 2021
8:00 AM - 9:00 AM PST
Online Event via Zoom
The Oceanside Chamber of Commerce Military Affairs Forum provides an avenue for Oceanside Chamber members to learn about key issues relating to Oceanside's relationship with Marine Corps Base Camp Pendleton and the servicemembers serving on the base. This month's guest speaker is Sandy Hendren, Community Outreach and Event Manager for the Semper Fi & America's Fund. This meeting is open to all Oceanside Chamber members, and is held the 2nd Thursday of every other month (odd numbered months), from 8am to 9:00am at the Oceanside Chamber offices. More details and registration.
---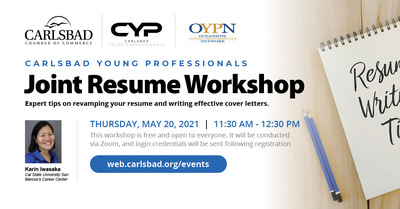 Joint Young Professionals Resume Workshop
Thursday, May 20, 2021
11:30 AM - 12:30 PM
Online Event via Zoom
Concerned that your resumes and cover letters are getting overlooked? Join the Oceanside and Carlsbad Young Professionals for a Joint Resume Workshop on Thursday, May 20th from 11:30 AM - 12:30 PM. Karin Iwasaka from Cal State University San Marcos's Career Center will be giving expert tips on revamping your resume and writing effective cover letters. During the workshop, you'll learn strategies to create documents that are screened through applicant tracking system (ATS) software and stand out to recruiters. Whether you're currently searching for employment or just looking to keep your resume updated, this workshop is for you! This workshop is free and open to everyone. It will be conducted via Zoom, and login credentials will be sent following registration. More details and registration.
---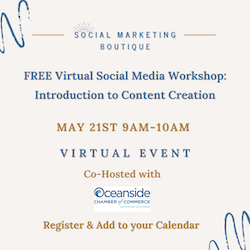 Virtual Social Media Workshop: An Introduction to Content Creation
Friday, May 21, 2021
9:00 AM – 10:00 AM
Online Event
Jacqueline Farkas, owner of Social Marketing Boutique, is hosting an Introduction to Social Media Content Creation Workshop on Friday, May 21st from 9 AM - 10 AM. During this workshop, you'll learn the new trends, tips and strategies to help improve your social media presence. This event is free and open to everyone. You must register prior to event. Zoom login instructions will be sent following registration. More details and registration.
---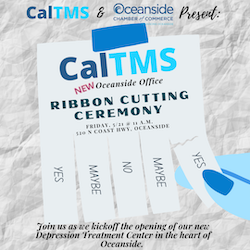 CalTMS Grand Opening Celebration - New Depression Treatment Center Calls Oceanside Home
Friday, May 21, 2021
11:00 AM - 12:00 Noon
CalTMS
520 N. Coast Hwy., Ste. 103
Oceanside, CA 92054
Join CalTMS on Friday, May 21st at 11 a.m. as they kickoff the opening of their brand new office located in the heart of Oceanside at 520 North Coast Highway. As one of the Chamber's newest members, CalTMS is thrilled to call Oceanside home as they help meet the behavioral health needs of the community by providing Transcranial Magnetic Stimulation (TMS) Therapy. TMS Therapy uses short pulses of magnetic fields to stimulate the under-active area of the brain thought to be involved with mood regulation. This innovative treatment has helped countless patients worldwide overcome depression when other treatment methods proved unsuccessful. More details and registration.
---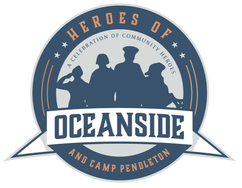 Save the Date! Annual Heroes of Oceanside and Camp Pendleton Limited Tickets Now Available
Thursday, June 24, 2021
5:00 PM - 7:00 PM
Arrowood Golf Course
5201A Village Dr.
Oceanside, CA 92057
The Annual Heroes of Oceanside and Camp Pendleton Dinner will be held Thursday, June 24, 2021 from 5 PM - 7 PM at the Arrowood Golf Course. The event served to recognize representatives from Marine Corps Base Camp Pendleton, Oceanside Police Department, Oceanside Fire Department, Oceanside Lifeguards, Healthcare Workers and Teachers from the local school district(s) for their outstanding contributions to the well-being and advancement of our City. The event will also feature awards recognizing the work of our business community.
Due to limited capacity, this event is only open to Chamber members. We will only be selling 20 tickets. Admission cost is $65. There are also sponsorship opportunities. View sponsorships. More details and registration.
---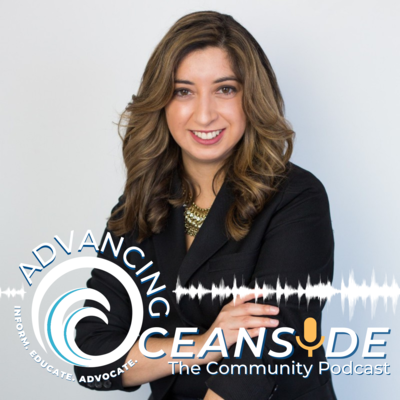 26. Small Business Social Media Strategies, Content Creation, Storytelling & More | Jacqueline Farkas, Social Marketing Boutique
The Advancing Oceanside Podcast is diving into a hot topic for small businesses, social media marketing. Joining us is small business owner and social media expert, Jacqueline Farkas founder of Social Marketing Boutique. Jacqueline is passionate about educating and inspiring small business owners and specializes in designing creative content and developing marketing strategies. She is a creative business owner who is multi-passionate and great at what she does. In just under 30 minutes, Jacqueline provides small business owners with the tools they need to start their social marketing strategies. And, now, I hope you're ready to take notes, Social Marketing Boutique owner, Jacqueline Farkas. Watch full interview. Listen on Apple Podcasts! Listen on Spotify!
---

Inner City Capital Connections
ICCC is excited to return to San Diego for the 4th time in 2021, thanks to our lead sponsor, Kaiser Permanente! San Diego is home to 162 ICCC alumni, and since their participation they have averaged 82% growth in revenue, and raised $5.35M in capital. The ICCC San Diego program will be offered virtually in 2021, with the Opening Seminar Series taking place the mornings of Tuesday, June 29th and Thursday, July 1st. Are you a business owner from San Diego and surrounding communities looking to pivot your business and to gain insights to help your business survive, recover and grow? If so, apply to participate in ICCC today! The application deadline is Friday, May 28th. Once you submit your application, you will be prompted to schedule a phone interview with ICCC. For questions about the application process, contact Indhira Taveras at itaveras@icic.org or 617-238-3030. More details. 2021 ICCC Application Form.
---

New Program Leverages Data to Cut Business Costs
The Oceanside Chamber has teamed up with Optimally who brings their proprietary big data technology to the forefront of how companies can reduce operating expenses. Optimally owns one of the largest data lakes in North America, housing $6 Trillion worth of vendor specific invoice data from more than 10 million businesses. The Optimally Data Science team has normalized and categorized this data, allowing Optimally the unique ability to benchmark pricing inequities between your current vendor pricing vs. the same vendors best-in-class pricing. This benchmarking technology is the most innovative tool available for businesses to ensure that their vendor pricing does not leave them at a competitive disadvantage. Optimally will provide our members a "free analysis." This analysis is the first step in leveraging big data to set your savings benchmarks. More details.
---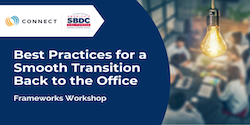 Best Practices for a Smooth Transition Back to the Office
Wednesday, May 12, 2021
1:00 PM - 2:00 PM
Online Event
With vaccination rates increasing and government-issued restrictions loosening, many companies can expect at least a portion of their workforce to physically return to the office in the coming months. Allen Matkins labor and employment attorneys Amy Wintersheimer and Nicholas Schuchert will outline key safety guidelines and identify potential liabilities that employers should be aware of in order to provide a safe and healthy work environment. More details and registration.
---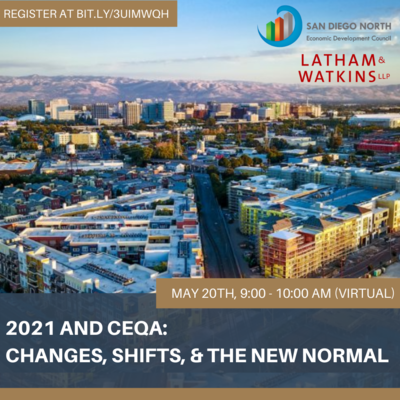 The SDNEDC Presents the 2021 North County CEQA Update: Changes, Shifts, & the New Normal
Thursday, May 20, 2021
9:00 AM - 10:00 AM
Online Event via Zoom
Join SDNEDC for a presentation from Latham and Watkins' Daniel Brunton, Partner & Clifton Williams, Land Use Analyst to learn about the critical changes and trends in litigation of the California Environmental Quality Act (CEQA). The legislature and courts are making significant alternations to how project applicants and cities need to act in order to navigate the shifting landscape.
Changes Include:
Focus on GHG reductions

New ways of calculating traffic impacts

Addressing environmental justice concerns
Attendees will gain insight into these evolving policies and learn what to do to ensure their North County project develops a defensible CEQA document that informs stakeholders about project impacts and best-in-class mitigation measures. More details and registration.
---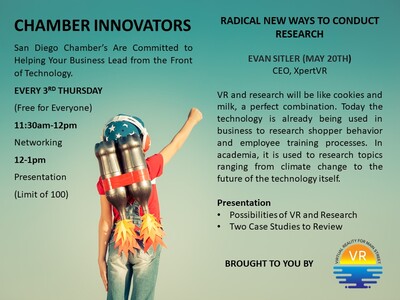 Chamber Innovators - Evan Sitler, CEO, XpertVR
Thursday, May 20, 2021
11:30 AM - 1:00 PM
Online Event via Zoom
In the near future, VR and research will be like cookies and milk, a perfect combination. Today the technology is already being used in business to research shopper behavior and employee training processes. In academia, it is used to research topics ranging from climate change to the future of the technology itself. With the constant innovations happening in the space we're not far from it taking over every aspect of research.
Presentation
New Possibilities of VR and Research

Two Case Studies to Review
More details and registration.
---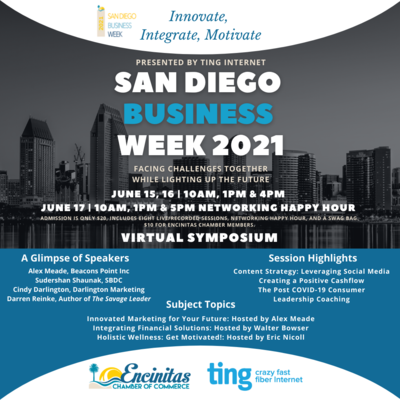 The Encinitas Chamber to Host San Diego Business Week 2021
Tuesday - Thursday
June 15, 16 & 17
Virtual Event
The San Diego Business Week 2021 has brought together eight leaders in marketing, business growth and finance to help local businesses bring business back in 2021.
$20 Admission includes:
Eight inspiring live sessions addressing impactful initiatives for all business sizes

Q&A discussion with a Fortune 500 renowned national speaker and author on transforming leaders, teams, and organizations

Learn processes or best practices to increase productivity and efficiency from a southern California energy supplier

All sessions recorded with 30 day access

1-on-1 networking possibilities with like-minded people

Tools and techniques to improve your current marketing, financial and leadership skill set

Swag bag with promotions and gifts from community businesses, as well as cocktail mixers for happy hour
More details and registration.
---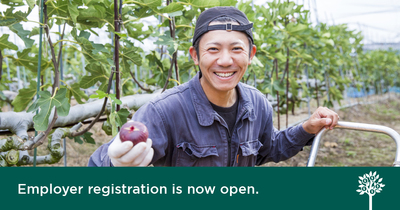 CalSavers Deadline Approaching
Eligible employers with more than 50 employees must register by June 30, 2021
State law now requires all businesses with five or more employees to participate in CalSavers if they do not offer a retirement savings plan from the private market. Eligible employers must register for CalSavers by their state required deadline, which vary by employer size. The deadline for employers with more than 50 employees is June 30, 2021 and June 30, 2022 for employers with five or more employees. The registration deadline for employers with more than 100 employees passed on September 30, 2020 (extended from June 30, 2020). Eligible employers who have not yet registered should do so as soon as possible to avoid penalties. Eligible employers can register any time before their deadline. More details.
---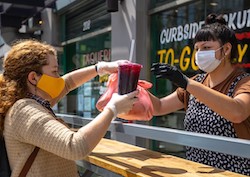 SBA Launches Supplemental Targeted Advance for Small Businesses Hardest Hit by COVID-19
The U.S. Small Business Administration launched a new round of Economic Injury Disaster Loan (EIDL) assistance – called Supplemental Targeted Advances – on April 22, 2021 that will provide $5 billion in additional assistance to 1 million small businesses and nonprofit organizations that have been most severely affected by the economic effects of the COVID-19 pandemic. The Supplemental Targeted Advance program is the latest SBA relief program to launch as part of the American Rescue Plan Act on March 11, 2021. More details.
---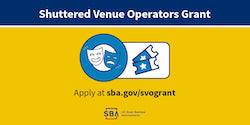 SBA Reopens Shuttered Venue Operators Grants for Applications
The U.S. Small Business Administration has reopened the Shuttered Venue Operators Grant application portal for operators of live venues, live performing arts organizations, museums and movie theatres, as well as live venue promoters, theatrical producers and talent representatives to apply for critical economic relief. More details.
---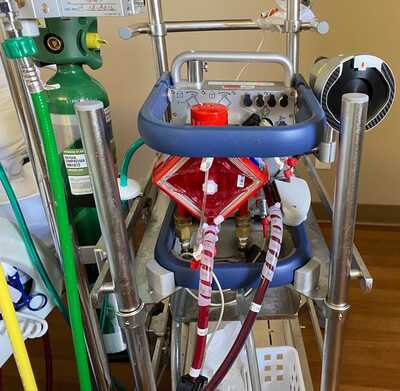 Miracle Machine for Tri-City First in North County
(Source: The Coast News Group)
Tri-City Hospital Foundation has purchased and donated an extracorporeal membrane oxygenation (ECMO) machine to Tri-City Medical Center to allow its expert staff to save patients on the brink of death from pulmonary or cardiovascular failure. The ECMO machine is the first "miracle machine" in San Diego's North County and provides state of the art technology to treat patients experiencing respiratory and cardiac failure. More details.
---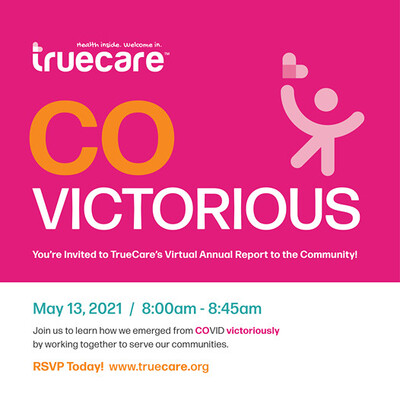 Join TrueCare for their 2020 Virtual Annual Report to the Community
Thursday, May 13, 2021
8:00 AM – 8:45 AM
Online Event
You're invited to join TrueCare on May 13th for an inspiring online event to learn how they emerged from COVID-19 victoriously by working together to serve the North County community and hear their vision for better healthcare with a heart in 2021 and beyond! This powerful and inspiring online event takes a look back on 2020 and how TrueCare's healthcare heroes provided vital services to the community in the midst of the pandemic. You'll hear from Michelle D. Gonzalez, TrueCare's President & CEO, as she shares community updates and unveils their 2020 Annual Report. More details and registration.
---

NAMI Walks - Support Tri-City Trotters
Saturday, May 22, 2021
Tri-City Medical Center invites you to team up for NAMIWalks Your Way 2021! Join their team or support them with a donation. Together, we can do something powerful about achieving Mental Health for All. NAMI is the nation's largest grassroots mental health organization dedicated to improving the lives of individuals and families affected by mental illness. NAMIWalks promotes awareness of mental health, raises funds for NAMI's free, top-rated programs, and builds community by letting people know they are not alone. Please help build awareness and funds, by joining their team or making a donation! More details.
---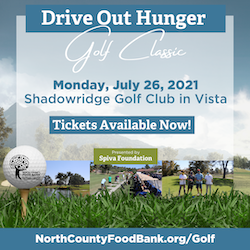 Save the Date! North County Food Bank Drive Out Hunger Golf Tournament
Monday, July 26, 2021
10:00 AM – 7:00 PM
Shadowridge Golf Club
1980 Gateway Dr.
Vista, CA 92081
Please join the North County Food Bank for our annual Drive Out Hunger Golf Classic on Monday, July 26th at the Shadowridge Golf Club in Vista. This tournament supports our vital hunger-relief programs benefiting North County families, and all proceeds go to the North County Food Bank. Hole sponsorships start at just $500, and there are a variety of ways to get involved! Please email Alden at adomini@sandiegofoodbank.org for any question and additional information. More details.
---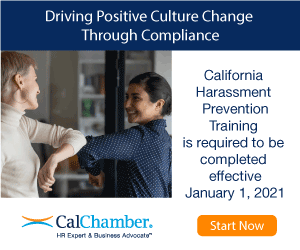 Mandatory Sexual Harassment Prevention Training Available for Discounted Price through the Oceanside Chamber
California law requires all employers with five or more employees to provide sexual harassment prevention training to all employees by January 1, 2021, and then every two years. This mandatory training for supervisors (two hours) and nonsupervisory employees (one hour) must also take place within six months of hire or promotion and again every two years. (Taking these individual-learner courses in a group setting will not satisfy the state requirements.) The Oceanside Chamber of Commerce has partnered with CalChamber to offer a 20% discount for online Employee Harassment Prevention Training, and online Manager/Supervisor Harassment Prevention Training. CalChamber makes it easy to train all your employees and managers to meet your California compliance obligations. More details.