​​​​​​
Reduction in Conco's Total Recordable Incident Rate (TRIR)
& New Safety Awareness Program

John Wagner & TJ Emanuele
We are excited to report two exciting pieces of news. First, is that Conco's 2018 TRIR was .53, which reduced our three year average TRIR to .86.
Second, is that Conco has instituted a new Behavior Based Safety (BBS) Program. The program consists of completing and submitting BBS Observation Cards when one notices any area in which safety could be improved. Raising safety awareness company-wide is the purpose of this new initiative. All Conco Employees are asked to participate, and each month during 2019, Conco will randomly select a BBS Card winner who will receive a $100 VISA gift card. In 2019, participation has already increased to over three times that of 2018.
We'd like to Congratulate John Wagner for being selected as Conco's January winner. He was selected for indicating that his crew should increase hearing protection. John, thank you for stepping forward and putting your crew's safety first!
---
Conco Technology Reduces Heat Exchanger Cleaning Time
by 60% at Colombian Refinery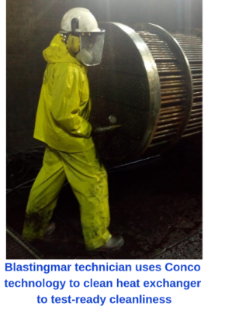 Blastingmar S.A.S., Conco's certified distributor and service provider in Colombia, has successfully completed the mechanical tube cleaning of 14,248 tubes across 29 heat exchangers at one of Colombia's largest oil refineries.
Using Conco TruFit™ mechanical tube cleaners, Blastingmar technicians maintained the highest standards of quality and safety throughout, completing the heat exchanger tube-cleaning phase of the project an entire shift ahead of what was projected. The project also boasted the first time mechanical tube cleaners were used on flat cooler tube bundles in Colombia.
The traditional high-pressure water cleaning method the refinery used in the past required an entire fourteen days, and with disappointing results. Deposition remained in the heat exchanger tubes, compromising the accuracy of the non-destructive testing that was to follow, and causing irreparable damage to the testing probes. In stark contrast, the Conco mechanical tube cleaning method, with safe low-pressure water, reduced Blastingmar's cleaning time to six and a half days, approximately a 60% reduction in cleaning time. While the deposit type and thickness varied throughout the refinery's 29 units, the same level of cleanliness resulted across all heat exchangers by using Conco's diverse line of TruFit™ mechanical tube cleaners. Conco is synonymous with test-ready cleanliness.
With Conco technology, Blastingmar S.A.S. was able to achieve legendary success for the refinery!
---
Conco Industrial Gears Up for Growth

With record numbers in 2018, Conco's Operations Team has geared up for even more growth in 2019. Principal Project Manager Dan Russo and his team have added three new BAT Trailers to the fleet in the Gulf Coast. BAT trailers are equipped with an inventory of cleaner sizes and models, which allows crews to adjust to situations that may arise while on site for cleaning. Securing a BAT trailer for your turnaround will cut unnecessary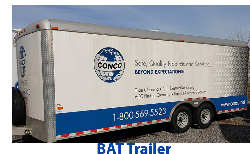 downtime that other contractors rack up by being unprepared.
Conco has also increased its number of diesel pumps across the US. Utilizing these pumps in substitution for the traditional electric pump keeps Conco crews self-sufficient and reduces wasted time. Scheduling Conco for your turnaround will increase your efficiency and flexibility, all while cutting your costs in downtime, water waste, and shut down length. Achieve legendary success. Change your world with Conco.
"With great honor, I am pleased to announce that the Conco Services Corporation Industrial Division produced its largest annual revenue to date in 2018, and had growth of 50% over 2017. We accomplished this while working safer, faster and being more environmentally friendly than our competition. Our managers, office administration, operations team and field personnel along with our great sales force worked together seamlessly to accomplish this record, and they are to be commended for the record year. To all of them I am grateful and give a sincere Thank You for your efforts." Tim Meyer, Vice President Industrial Markets.
---
New Options for Eddy Current Testing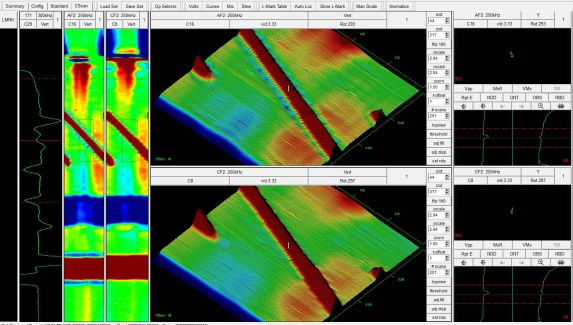 Display from the CXB-4 Array probe - shows the calibration
standard (spiral groove) used to setup the testing

Conco's Eddy Current Department closed 2018 on a high note by successfully completing a large project using the Zetec Miz 200 and Velocity software package. The team tested 100% of an approximately 32,000 tube condenser using Array technology (Zetec CXB-4 probes), and the project was completed in 14 days. Conco now offers more options when it comes to the deployment of the EC Array technology, and we can use Corestar, Zetec or a combination of both.
---

Conco Services Corporation
Expands JNW Equipment and Service Capabilities

Conco Services Corporation signed a new cooperation agreement with JNW Cleaning Solutions GmbH of Bochum, Germany, a market leader in the field of cleaning air-cooled heat exchangers and condensers, that extends and expands upon the existing agreement between the two companies.
Conco will continue to be the exclusive field service provider in the United States of JNW technology to clean the external surfaces of air-cooled heat exchangers and condensers. Under the new cooperation agreement, Conco is now the exclusive reseller of JNW Stationary Permanent Installation Equipment to cooler operators in the United States for the cleaning of air-cooled condensers and heat exchangers.
---
Himeji Eco Tech Co. of Japan
Conco's 2018 TOP GUN Award Winner!


Conco's prestigious Top Gun Award is given annually for Sales Excellence to the largest sales volume producer among the Conco global network of distribution and trademark licensees. Himeji Eco Tech Co. has earned this award FIVE years in a row, achieving outstanding sales performance, importing more Conco product and/or service than any other distributor or agent in 2018. Himeji Eco Tech Co. is achieving Legendary Success!
An Honorable Mention goes out to our runner up: Trican Pipeline and Industrial Services Ltd. of Canada.
Kiwon enTec Co., Ltd. of Republic of Korea
Conco's 2018 MAVERICK Award Winner!
Conco's Maverick Award is given for Sales Merit to the largest sales increase producer among the Conco global network of distribution and trademark licensees. Kiwon enTec Co., Ltd. is the recipient of this prestigious award, achieving the most dynamic improvement in sales increase performance of all other distributors or agents in 2018. Kiwon enTec Co., Ltd. is achieving Legendary Success!
---
Conco is Nominated for HASC Safety Excellence Award
Conco was named a finalist for a Houston Area Safety Council (HASC) Safety Excellence Award in the Environmental Small Division category at HASC's February Tailgate in Pasadena, TX. Winners will be announced on May 17th during the 32nd Annual Houston Safety Excellence Awards in Galveston, TX.

HASC is a 501(c)3 trade association that serves the Texas Gulf Coast and beyond providing solutions in the areas of training, workforce development, occupational health, industry services and more. Congrats to our Industrial team!

---
Kudos from Customers
"Great job, timely, professional and good onsite follow-up of work performed." - Santee Cooper
"They told us how to prepare in advance, arrived on time, observed all safety protocol and tested everywhere I requested."
- American Electric Power
"Very approachable and easy to get along with. (Completely satisfied with) attitude toward task at hand and communicating status of work progress and timeline."
- Salt River Project
"Did a very complete job and knew what they were doing." - Alliant Energy
In February, Conco's General Manager of the Industrial Services Division, Tim Meyer, presented the webinar titled Low Pressure Mechanical Tube Cleaning - The Safe, Fast and Efficient Alternative to Hydroblasting. The webinar was hosted by BIC and covered all aspects of the safe and effective cleaning capabilities of low pressure water.
To view the archived version, register HERE.

---

Upcoming Events
Plant Engineering, Inspection & Maintenance
Pasadena, TX
March 21, 2019
AFPM Reliability & Maintenance Conference & Exhibition
Grapevine, TX
May 21-24, 2019
Southwest Chemistry Workshop
Provo, UT
June 17-20, 2019​​​​​