In This Issue:
Chamber Support of SM 330 & AB 1607

City Council/Business Leaders Roundtable

Chamber Support of the Breeze Townhomes Project

Support of the City of Oceanside's Application for WaterSMART

Carlsbad Airport &

OceanKamp Resort Updates

Upcoming OYPN Event at Kilowatt Brewing

Thank You to Our Partners:
Emerald Partner:
​​​​​

---
Platinum Partners:



---
Silver Partners:
---
Bronze Partners:

---

The Chamber & the Community!
2019 Oceanside Harbor Days in the Book!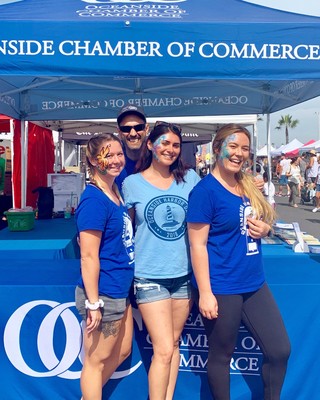 Presented by Genentech and Tri-City Medical Center, Oceanside Harbor Days, held September 21st and 22nd, featured over 200 arts and craft exhibits, a food court, costumed pirates and mermaids, and a beer garden sponsored by the Prohibition Brewing Company. Attendees enjoyed various competitions from the Fishing Derby to the Tiki Swim, Pirate costume contest, and the "Nail and Sail" contest. The Navy helped to open the event by landing the LCAC hovercraft from ACU-5 on the Harbor Beach early Saturday morning. New this year, OPD added a Pirate and Sunken Treasure Rescue in the Harbor. Crowds gathered to watch a pirate rescued from his "burning" boat, and then an OPD dive team help recover his lost treasure. Oceanside Harbor Days will be held September 19th and 20th, 2020!

10/1/2019
8:00 AM - 9:00 AM
First Tuesday Coffee
10/3/2019
8:00 AM - 9:30 AM
Emerging Issues Forum
10/3/2019
10:00 AM - 11:00 AM
OYPN Committee Meeting
10/4/2019
9:00 AM - 10:30 PM
Facebook Business Page Makeover Workshop
10/9/2019
11:30 AM - 1:00 PM
Plates for 8 at 19Ten
10/10/2019
9:00 AM - 1:00 PM
Oceanside Senior Expo
10/11/2019
4:30 PM - 6:00 PM
Exclusive 4 U Boutique Grand Opening Celebration
10/17/2019
11:00 AM - 1:00 PM
Grand Opening at Mindful Rejuvenation Inc.
10/17/2019
5:00 PM - 7:00 PM
Mixer at Frontwave Credit Union
10/23/2019
11:00 AM - 12:00 PM
Small Business Sustainability Workshop
10/23/2019
5:00 PM - 7:00 PM
OYPN Downtown Update with MainStreet Oceanside