In This Issue:
Public Policy Task Force Discusses Legislation in Support of the

Veterans Retirement Income Tax Exemption

Chamber Coalition in Opposition of SB850

Chamber's Cont. Support of "Yes on Measure K", "No on Measure A", and "Yes on Measure B"

BACPAC Updates

MiraCosta College's Gear Up Program

North County Young Professionals Mixer Recap

Thank You to Our Partners:
Emerald Partner:
​​​​​

---
Platinum Partners:



---
Silver Partners:
---
Bronze Partners:

---

The Chamber & the Community!
Oceanside Chamber CEO Graduates from W.A.C.E. Academy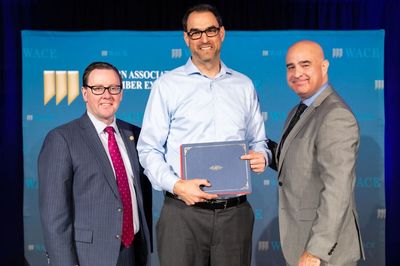 Oceanside Chamber CEO, Scott Ashton was among the 28 chamber executives to graduate last Friday from Academy, a professional development program presented by the Western Association of Chamber Executives (W.A.C.E.) The graduation took place at W.A.C.E's Annual Conference in Portland OR, attended by nearly 400 industry professionals.
Academy is a three-day (three-year) intensive program on chamber management essentials geared for today's chamber executives and professional staff. It has become the leading training program totally devoted to chamber professionals in the West.

3/3/2020
8:00 AM - 9:00 AM
First Tuesday Coffee
3/5/2020
8:00 AM - 9:30 AM
Emerging Issues Forum
3/5/2020
10:00 AM - 11:00 AM
OYPN Committee Meeting
3/6/2020
11:30 AM - 1:00 PM
Plates for 8 at Pacific Coast Spirits
3/10/2020
5:00 PM - 6:30 PM
Business After Hours at Kilowatt Brewing
3/12/2020
8:00 AM - 9:00 AM
Military Affairs Forum​​​​​​​
3/25/2020
11:30 AM - 1:00 PM
Plates for 8 at Anita's Fine Mexican Restaurant