Helping Businesses Prosper and our Community Thrive!
Your investment in the Oceanside Chamber is making a difference in our community! The Chamber's mission is to "stimulate economic prosperity and foster a vibrant community." Here's a quick overview if what your investment in the Chamber allowed us to accomplish in the recent weeks..

Public Policy & Business Advocacy
Bringing Media Attention to the Plight of Small Business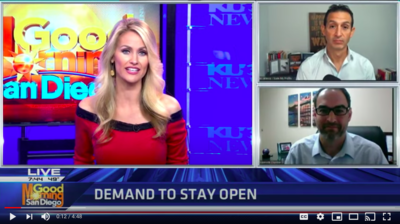 Scott Ashton, Chamber CEO, and Juan Velasco, owner of Slight Edge Salon, were invited on KUSI TV to talk about the Chamber's advocacy work on behalf of small businesses. Watch the interview.
The San Diego Union-Tribune covered the efforts of the Small Business Coalition, highlighting some of the San Diego County Chambers involved in the effort. Read the story.
---
Connecting Small Business with Policymakers
The Oceanside Chamber partnered with the Carlsbad, Encinitas and Vista Chambers to provide a group of small business owners with the opportunity to meet with State Assemblymember Tasha Boerner Horvath.
The Chambers invited members that were in the most impacted industries including restaurants, salons and health and fitness related businesses. The focus of the meeting was to give small business owners an opportunity to share with the Assemlymember how mandated closures have impacted them. The Assemblymember was asked to sign on to a letter to the Governor designating restaurants as essential businesses and to support state legislation designed to bring relief to small businesses.
---
Continuing the Fight to Save Small Business
The Oceanside Chamber of Commerce helped form a coalition of more than 80 California chambers and business organizations in order to push back against state policies regarding mandated business closures.
Below is a copy of the letter that we sent to the Governor as well as the State Senators and Assemblymembers. Participating chambers and business organizations are also in the process of sending copies out to local and county elected officials, as well as the media.
Dear Governor Newsom, State Senators, Assemblymembers and All California Elected Officials:
As leaders of organizations serving businesses of California, we are deeply concerned about State policies that are severely impacting our local businesses. The entire business community, regardless of size, is suffering right now, unable to operate at full capacity. While we are fighting for all our members, we are especially concerned about our most vulnerable, small businesses. They are disproportionately harmed through the State's arbitrary mandates that unfairly discriminate against them. We are finding it difficult to both find proof of and understand the science and data guiding these decisions that claim that our small businesses are a threat to public health. There does not seem to be evidence that proves that small businesses cannot operate as effectively as their large counterparts can.
Our small businesses are integral in defining the character of our communities… the restaurants, breweries, wineries, retail boutiques and personal service providers. Your debilitating policies are direct attacks on the quality of life in each of our communities.
As our elected officials, we need to know why you are aligning with big business which unduly marginalizes and is swiftly eliminating our independently owned local businesses. It is unacceptable for our state government to choose winners and losers in our business community.
While we care about all small businesses, it is important to point out the disproportionate impact shutdowns have had on women-owned and minority-owned businesses. According to a recent report from Stanford Institute for Economic Policy Research, "The number of active business owners in the United States plummeted by 3.3 million or 22 percent over the crucial two-month window from February to April 2020.... African American businesses were hit especially hard experiencing a 41 percent drop. Latinx business owners fell by 32 percent, and Asian business owners dropped by 26 percent... Immigrant business owners experienced substantial losses of 36 percent. Female-owned businesses were also disproportionately hit by 25 percent."
As business leaders, we see firsthand the extraordinary efforts our small businesses have made to comply with the ever-changing state mandates. Many of our restaurants spent thousands of dollars preparing to efficiently and safely operate outdoors, only to be told to shut it all down.
The most recent "Stay at Home Orders" jeopardize the potential survival of even the most resilient small businesses. It is time for you, our elected leaders, to stop the favoritism toward big business and provide fair and equitable treatment to our small businesses.
Sincerely, The following 81 chambers of commerce and business organizations representing business in California

Political Action
Chamber-Supported Candidates Win Oceanside City Council Races
Chamber CEO, Scott Ashton has been working with a broad coalition of community leaders to ensure that a business-friendly candidate is appointed to the District 1 vacancy created when Esther Sanchez won the mayoral race.
The Chamber's Advance Oceanside Political Action Committee will meet in late January to begin plans for 2021's "off-election" year activities including fundraising to prepare for the 2022 elections.
Interested in helping our business-friendly candidates get elected? Visit http://advanceoceansidepac.com for more information on how you can help.


Strategic Planning
The Chamber Board met in December to develop its 2021 Plan of Work which will include the following key areas: Business Advocacy, Political Action, Workforce Development, Economic Recovery and Event Planning.