Helping Businesses Prosper and our Community Thrive!
Your investment in the Oceanside Chamber is making a difference in our community! The Chamber's mission is to "stimulate economic prosperity and foster a vibrant community." Here's a quick overview if what your investment in the Chamber allowed us to accomplish in the recent weeks...

Economic Development
Chamber Supports Ocean Kamp Development as a Positive Economic Driver for Oceanside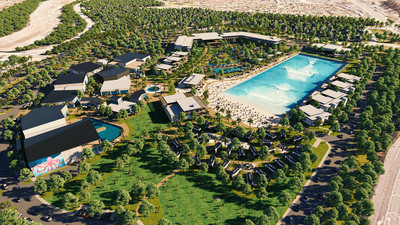 In November, the Oceanside Chamber Board of Directors voted to offer its support to the Ocean Kamp project that will take place at the site of the old drive-in theaters. Located across 92 acres along SR 76 and Mission Avenue, Ocean Kamp will feature a wave pool, a 300-key resort hotel and airstream glamping village, 126,000 SF of office, retail and restaurants and extensive indoor and outdoor meeting space.
The project will preserve 20 acres of onsite open space and plan for 700 much needed housing units with a mix of for-rent, for-sale and affordable products. It will also feature a new connection to the San Luis Rey trail. This new trail link will be a great resource for multi-modal transit into the downtown, Oceanside Transit Center, harbor and further east into the Valley.
This project creates a new destination for both locals and visitors and has a tremendous potential to attract high quality employers to our city. Over the next ten years, Ocean Kamp is projected to contribute over $80 million in revenues to the City of Oceanside and will immediately create more than 1,500 new jobs, improved infrastructure, and a state-of-the-art wave pool that will generate international attention.
Oceanside Economic Development Update Available on Chamber YouTube Channel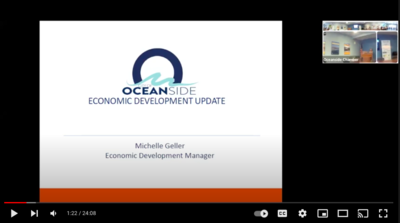 The Oceanside Chamber's December 2nd Emerging Issues Forum featured an Oceanside's Annual Economic Development update. Oceanside's Economic Development Manager, Michelle Geller provided an overview of recent and upcoming economic development activity in Oceanside. Watch the full update on the Chamber's YouTube channel.
---
Workforce Development
SOCAL Workforce Development
Project Launches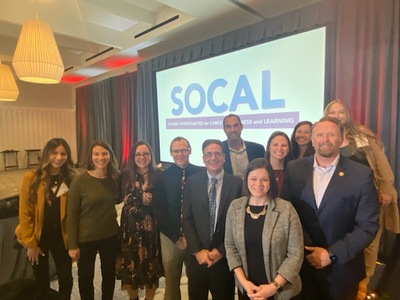 The Student Opportunities for Career Awareness and Learning, or SOCAL, is a joint project of the San Diego North Economic Development Council, Tri-City Medical Center and the Carlsbad, Vista and Oceanside Chambers of Commerce. The project originated over two years ago at Tri-City Medical Center as a way to advance its long-standing priority of strengthening North County's Healthcare workforce pipeline. TCMC originated the concept of occupational videos on demand, the name, the logo and look of the SOCAL brand.
Phase one of the project, funded by a grant from Supervisor Jim Desmond, aims to inform students and those in career transition of unfamiliar professions and what educational path they might take close to home. So far with the SOCAL project, the Oceanside Chamber of Commerce coordinated video shoots for three Oceanside companies: Hydranautics, Olli Salumeria, and Genentech. The project went live in December at the San Diego North EDC's Excellence in Economic Development Luncheon. The videos are housed on a website library at www.SocalWorkforce.org for high school students and teachers to use in career education and exploration. Students using the website can search by industry, company or career.
The project team will seek to expand the video library in 2022. Businesses in Oceanside interested in participating should contact Scott Ashton at 760-722-1534 or scott@oceansidechamber.com.
Oceanside Students Recognized as Rising Stars by Local Business Community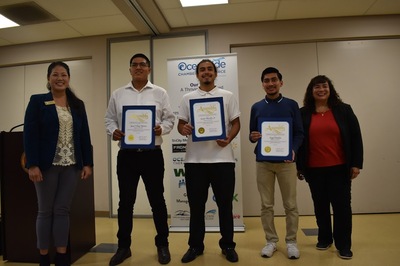 The Oceanside Chamber launched a Rising Star student recognition program in November to recognize high school seniors at our city's high schools who have overcome significant challenges in their life, but who have managed to keep, or get back on track with their education.
Honorees at the monthly Rising Star breakfasts are eligible to apply for $20K in higher education scholarships provided by Genentech that will be awarded in collaboration with the Chamber's Workforce Development Taskforce at the end of the school year.
Congratulations to November's Rising Stars: Vanessa Mendoza from Surfside Educational Academy, Julissa Beltran Ramos from Oceanside High School, and Gianna "Gia" Stafford from El Camino High School.
Additional congratulations to December's honorees, pictured with Assemblymember Tasha Boerner Horvath's District Director Janet Chin (left) and Mayor Esther Sanchez (right) Jesus "Chuy" Rivera from Surfside Educational Academy, Javier Murillo, Jr. from El Camino High School, and Angel Padilla from Oceanside High School.
Rising Star events are open to all community members who want to show their support for our students. Additional program support is provided by SDG&E and Tri-City Medical Center. For more information, visit www.RisingStarOceanside.com.