---
Chamber Partners
Emerald Partner
---
Platinum Partners


---
Silver Partners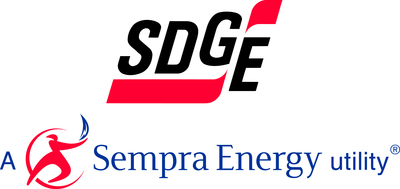 ---
Bronze Partners




---
Investors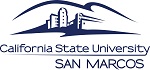 ---
---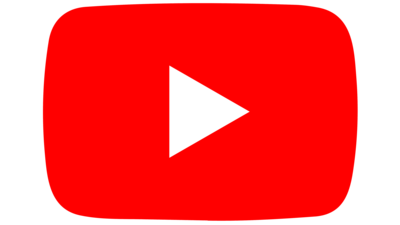 ---
HHJ Trial Attorneys: Accident and Injury Lawyers
---
---
---
7/22/2021
5:00 PM - 7:00 PM
Business Mixer at Ivey Ranch Park
8/03/2021
8:00 AM - 9:00 AM
First Tuesday Coffee
8/05/2021
8:00 AM - 9:30 AM
Emerging Issues Forum
8/12/2021
9:00 AM - 1:00 PM
North County Health and Wellness Fair
8/12/2021
9:00 AM - 1:00 PM
Natty Bella Bridal Couture Ribbon Cutting Ceremony
8/21/2021
9:00 AM - 1:00 PM
Operation Appreciation
---
El Corazon Aquatics Center Grand Opening Ceremony August 21
Congressman Mike Levin Visiting TrueCare on July 7 to Support Quality Healthcare for North San Diego Residents
Buccaneer Park Re-Visioning Project
Early Learning & Community Information Hub at Oceanside Public Library
SBA Launches 6th Annual Growth Accelerator Fund Competition, Debuts SBIR Catalyst to Award over $5 Million in Prizes
Open this email in your web browser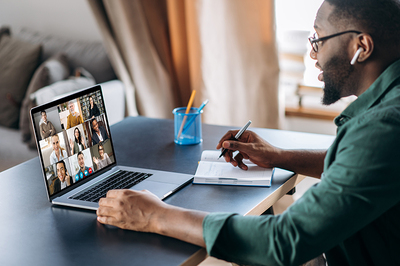 Beyond Email: How Technology Trends Help Newly Remote Work
(Source: CalChamber)
The COVID-19 pandemic shutdowns have given many thousands of employers — and millions of their employees — a crash course in Zoom, Microsoft Teams and numerous other digital tools that help make remote work more effective. And it will serve these employers well to expand on the knowledge gained, as remote work — whether full-time or hybrid (i.e., three days remote and two days in the office) — is here to stay. More details.
---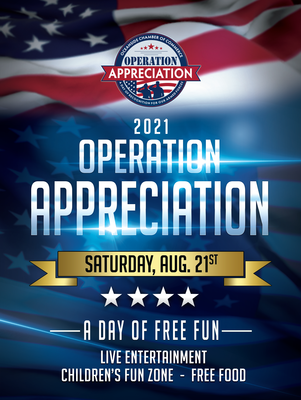 List Your Business in the Official Armed Forces Day Operation Appreciation Guide
On August 21, 2021 the Oceanside Chamber will hold its Annual Operation Appreciation event at the Civic Center Plaza in Oceanside. Thousands of local active duty military and family members will be treated to a day of food, fun and entertainment. Our media partner, Military Guides USA, will produce the official Operation Appreciation Guide, printing 40,000 copies to be distributed around Camp Pendleton, Oceanside, and at the event. List your business on our "We Support our Troops" page in the Official Operation Appreciation Guide for only $50 (Members) or $100 (Non-Members). Just complete the form attached and return it to Hana Gilbert at the Oceanside Chamber. For more details, please contact Hana at Hana@OceansideChamber.com. Download listing form. Purchase listing online.
---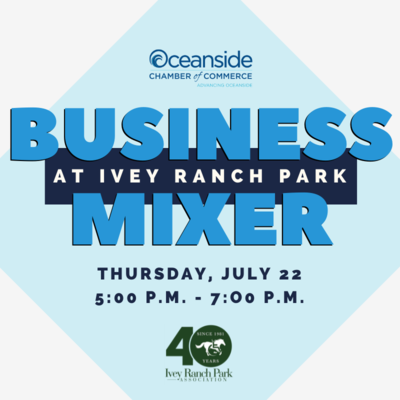 July's Business Mixer at Ivey Ranch Park Next Thursday!
Thursday, July 22, 2021
5:00 PM - 7:00 PM
Ivey Ranch Park Association
110 Rancho del Oro Dr.
Oceanside, CA 92057
Join us for our first, in-person Business Mixer of 2021! Come celebrate with us at Ivey Ranch Park on Thursday, July 22nd from 5 PM to 7 PM. This is a great opportunity to get out and meet our Oceanside Business Community! Besides networking, Ivey Ranch Park will be giving tours of their facility and learn about their work with adults and children. You'll also hear from Chamber CEO, Scott Ashton, on various updates here at the Chamber. Don't foget to purchase your raffle tickets for a chance to win some fun prizes. All raffle proceeds will support the Ivey Ranch Park Association. This event is free to Chamber members and $20 for prospective members. You must register prior to attending. No walk-ins. More details and registration.
---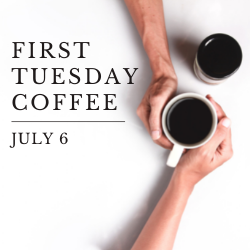 Reserve Your Spot Now for August's First Tuesday Coffee
Tuesday, August 3, 2021
8:00 AM - 9:00 AM
Oceanside Chamber of Commerce
928 N. Coast Hwy.
Oceanside, CA 92054
The Oceanside Chamber is excited to continue in-person First Tuesday Coffee Events! It has been a long time coming, but we are finally able to invite you back to our conference room. First Tuesday Coffee has always been a great opportunity for Oceanside Chamber members to connect with other businesses in North County. Attendees will have a chance to give a 1-minute introduction and will have access to a participant list to stay connected after the event. Be sure to bring your business cards! This event is free to Oceanside Chamber members and $20 for prospective members. Space is limited to 24 attendees and online registration is required. Coffee and light refreshments will be provided. More details and registration.
---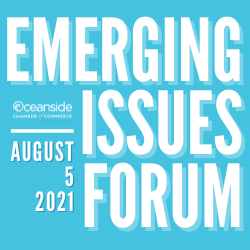 Emerging Issues Forum to Feature CSUSM's Dr. Godfrey Gibbison
Thursday, August 5, 2021
8:00 AM - 9:30 AM
Oceanside Chamber of Commerce
928 N Coast Hwy
Oceanside, CA 92054
Join us at the Chamber's August 5th Emerging Issue Forum for a presentation from Dr. Godfrey Gibbison, Dean, Extended Learning and Global Programs, California State University San Marcos. Please Note: The Forum has returned to meeting in person at the Chamber's office.
Dr. Gibbison's presentation will include...
Brief overview of Extended Learning

Regional overview: what the data tell us

The power of economic regionalism

Developing the regional workforce together: building from an economic development plan
We will also have updates from our various legislative representatives. More details and registration.
---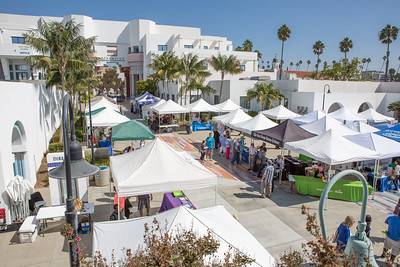 Booth Space Available for the 13th Annual North County Health & Wellness Fair
Thursday, August 12, 2021
9:00 AM - 1:00 PM
City of Oceanside
300 N. Coast Hwy
Oceanside, CA 92054
On August 13, 2020, from 9:00 a.m. to 1:00 p.m., the Oceanside Chamber will hold its 13th Annual North County Health & Wellness Fair in-person. This event provides an opportunity for local health & wellness related businesses to promote their products and services. The event also features a variety of health-related free screenings and demonstrations for community members. Due to COVID-19 restrictions, the annual event has a very limited number of booth spaces. Please contact Kristi Hawthorne if you're interested in booth space. More details. Booth registration form.
---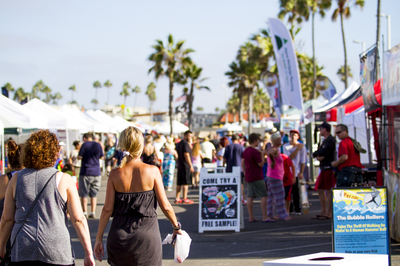 Reserve Your Booth at Oceanside Harbor Days
Saturday, September 18, 2021 9:00 AM - Sunday, September 19, 2021 5:00 PM
Oceanside Harbor District
1540 Harbor Dr. N.
Oceanside, CA 92054
On September 18th and 19th 2021 the Oceanside Chamber of Commerce along with Tri-City Medical Center and Genentech will present Oceanside Harbor Days at the Oceanside Harbor. The event will feature arts and craft exhibits, great food and fun activities for the entire family. The event is open from 9:00 a.m. to 5:00 p.m. both days.
Businesses, vendors, nonprofits, candidates, community groups, and all those interested in participating with a booth space, due to the magnitude of this event, the Oceanside Chamber has partnered with Kennedy and Associates to have Kennedy personnel directly book, coordinate and accept payment for vendor booth spaces. The Oceanside Chamber is taking no booth reservations, nor quoting booth costs for this event.
Please download a booth vendor packet, which includes an application, along with full details on each type of booth space, fee, and instructions on how to submit your application, and/or contact Kennedy and Associates, to participate. We look forward to seeing you there! More details. Booth Applications.
---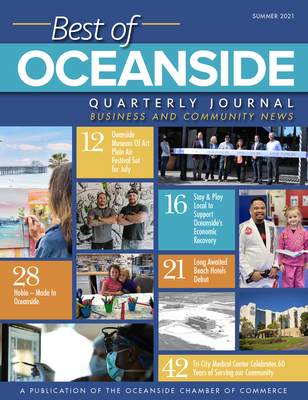 Read the Summer Edition of the Best of Oceanside Quarterly Journal
The fall edition of the Oceanside Chamber's Quarterly Business Journal is here! This edition highlights local Oceanside business and news! Our new, reoccurring feature, "Key Contributors", honors Tri-City Medical Center's hardworking employees. Take an inside look at Oceanside's Cultural Arts District, and check out some of our spots to shop and play local in our new "Shop and Play Local" spotlight. As always, the publication features member spotlights including Hobie, Frazier Farms and Oceanside RV Resort. Read the full publication.
---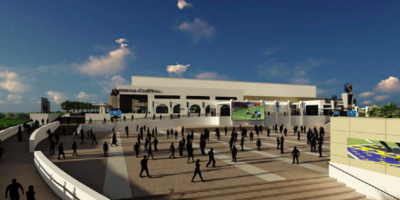 Oceanside Economic Development News
Oceanside has a dynamic business climate with new restaurants, retail shops and manufacturing businesses moving into the City. The City's Economic Development Division assists businesses with expansion and relocation to Oceanside by offering site searches, business visits, demographic and statistical information, and assistance with permit processing and business license issuance. Check out the latest new and coming business news. More details.
---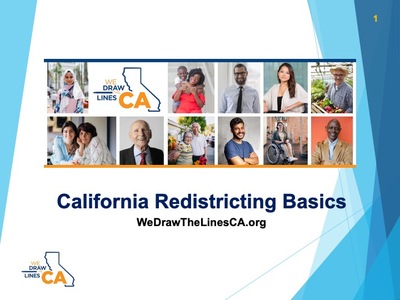 Watch July's Emerging Issues Forum "Update from the CA Citizens Redistricting Commission" on YouTube
This month's Forum featured an update from Commissioner Patricia Sinay of the CA Redistricting Commission on the work of the Commission. BACKGROUND: In November 2008, California voters passed the Voters FIRST Act, authorizing the creation of the Independent Citizens Redistricting Commission to draw new district lines, taking the job out of the hands of the California Legislature and transferring it to the citizens. In 2010, the VOTERS FIRST Act for Congress added the responsibility of drawing Congressional districts to the Commission. Watch now.
---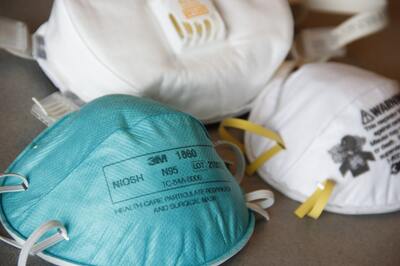 Free N95 Masks Available for Businesses
Part of the latest Cal/OSHA update requires employers to provide respirators / N95 masks for unvaccinated workers upon request. The Chamber is partnering with CA Office of Emergency Services and has signed on as a distribution center for businesses that would like to pick up a supply of the masks. The masks are free to local businesses on a first-come first-served basis. If you are interested in picking up a supply for your business please email Gwen Bryson at Gwen@OceansideChamber.com or call 760-722-1534.
---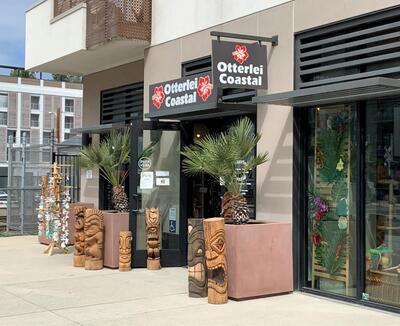 Stay & Play Local Spotlight - Otterlei Coastal
Otterlei Coastal offers shoppers unique items and décor perfect for Oceanside living. Located at 250 Mission Avenue, they have a large selection of beach and coastal decor, and Hawaiian accessories. Whether you are looking for a perfect gift or an item to embellish your home or patio, Otterlei Coastal has a great selection of Hawaiian wood carvings, wind chimes, sea life figurines, bamboo and shell curtains, rattan furniture, wall art, and mermaids!!! Whether your style or preference is coastal, tropical or Hawaiian, they can help turn your home into an oasis. Conveniently shop online or in person to view their wide selection of quality beach art and mirrors, or add the beauty of the ocean to any room of your home with their wonderful selection of tropical items at affordable prices. More details.
---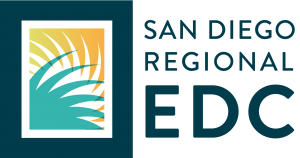 EDC Study Quantifies the Impact of AI in Region's Cybersecurity Cluster
The EDC, alongside Cyber Center of Excellence (CCOE) and Booz Allen Hamilton, released the second study in a series on the proliferation of Artificial Intelligence (AI) and Machine Learning (ML) within San Diego County's key economic clusters. "Securing the Future: AI and San Diego's Cyber Cluster" quantifies the economic impact of the region's Cybersecurity cluster and explores the proliferation of AI and ML technologies being used to thwart cybercrimes, among other critical needs by the private-sector and government. More details.
---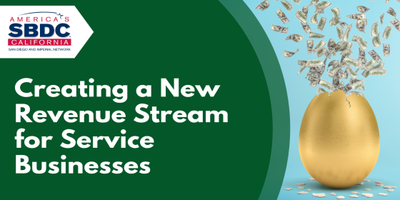 Creating a New Revenue Stream for Service-based Businesses
Wednesday, July 21, 2021
9:00 AM - 11:00 AM
Online Event via Zoom
You are a subject matter expert for your service-based business, who needs to create an additional revenue stream. Join us and learn how to educate, inspire, and profit from your skills through educational videos. You'll hear about the current educational course platforms, how to create captivating instructional videos, and then market them to the right audience. Take the first step for unlimited cash flow potential. More details and registration.
---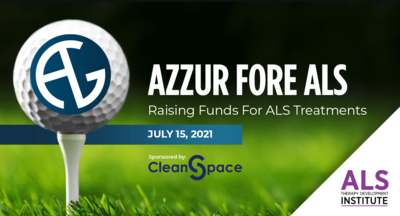 Azzur Fore ALS Golf Tournament
Join us for the Azzur Fore ALS Golf Tournament! Enjoy a day of friendly competition as you putt your way through the beautiful views at the Goat Hill Park Golf Club. Tournament proceeds benefit the ALS Therapy Development Institute (ALS TDI). Goat Hill Park is loved for its ocean views, fresh breeze, authentic atmosphere, and raw golf feel. Quite simply, you will have a hard time finding a more challenging short course with as many unique holes anywhere in the country. More details and registration.
---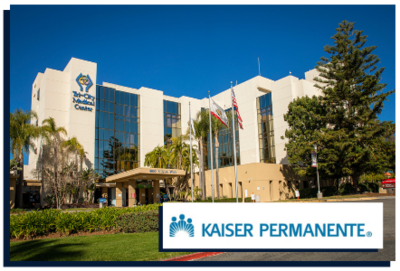 Tri-City Medical Center Partners with Kaiser Permanente
(Source: San Diego Union Tribune)
More than 185,000 Kaiser Permanente members living in North County now have an additional hospital option. Kaiser and Tri-City Medical Center in Oceanside jointly announced an agreement Thursday that adds the facility as a health plan option for a wide range of services from emergencies and inpatient care to specialty procedures and surgeries. More details.
---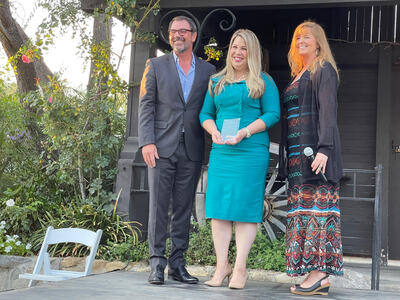 Michelle D. Gonzalez, TrueCare's President/CEO, Honored with North San Diego Business Chamber Leadership Award 2021
The North San Diego Business Chamber has honored Michelle D. Gonzalez, TrueCare's president and CEO, with their high-profile Leadership Award at its 2021 Celebration of Business. This Leadership Award honors individuals and businesses who have positively impacted another individual, business, or their community, which recognizes local industry leaders' great achievements within their companies and in the community. Just as COVID-19 was spreading relentlessly throughout California, Gonzalez was appointed in April 2020 as President and CEO of TrueCare™, a nonprofit health care provider for the underserved in North San Diego and South Riverside Counties. More details.
---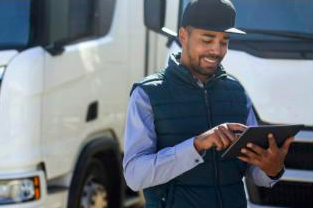 Transitioning Your Fleet to Electric Vehicles
(Source: SDG&E)
Electric fleets are the future and SDG&E wants to help get you there faster. SDG&E's new 2021 Electric Vehicle Availability Guide provides complete details on the electric medium- and heavy-duty vehicles available today.
Save time and use this resource to easily compare specs from the latest electric vehicles available so you can choose the best fit for your fleet.
Download the Electric Vehicle Availability Guide to see:
Electric vehicles by weight class (GVWR)

Current stats on electric vehicle range, base price and payload

Direct OEM contacts for sales support