10 Week Webinar Series on ICD-10
Yesterday, HHS issued a rule finalizing October 1, 2015, as the new compliance date for health care providers and health plans to transition to ICD-10. ICD-10 represents a significant code set change that impacts the entire health care community.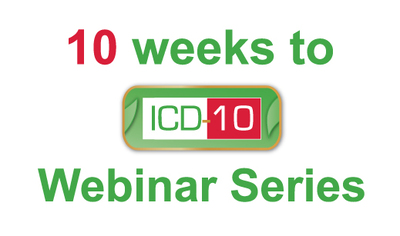 To assist Health Centers and Medical Groups with early preperation we are launching a 10 week webinar series which starts on Friday August 8th (8/8) and ends on Friday October 10th (10/10).
Please register for all the Fridays to get the most out of this webinar series. You can register by clicking on the image above and selecting the date from the dropdown.
We will conduct these webinars 10 Fridays starting 08/08/2014 concludinng 10/10/2014 and the series will be available as recordings to providers. This workshop series is free for provider organizations.

After registering, you will receive a confirmation email containing information about joining the webinar.
Regards,
Kelly Driscoll
Director of Business Development
Meaningful Use Experts
e2o Health
kdriscoll@e2ohealth.com
(800) 326-0215 extension 212

10 Week Webinar Series on ICD-10

ICD-10 Testing Opportunities

CMS is taking a comprehensive four-pronged approach to preparedness and testing for ICD-10 to ensure that CMS, as well as the Medicare Fee-For-Service (FFS) provider community, is ready:
CMS internal testing of its claims processing systems

CMS Beta testing tools available for download

Acknowledgement testing

End-to-end testing
For more information, see MLN Matters® Special Edition Article #SE1409, "Medicare FFS ICD-10 Testing Approach."